3 Day Vegetarian Diet Plan and Menu for Losing weight Fast
Open any magazine or click any health site online and you will find an article on a diet program that the author vouches to give results. Such diet plans abound everywhere. Plus, the weight loss aspect will also be thrown in to tempt you to try it. Considering that you're so spoilt for choice, it's very important that you choose the right one for your specific needs. Any diet plan you choose should meet your dietary needs and should not harm your body in the long-term.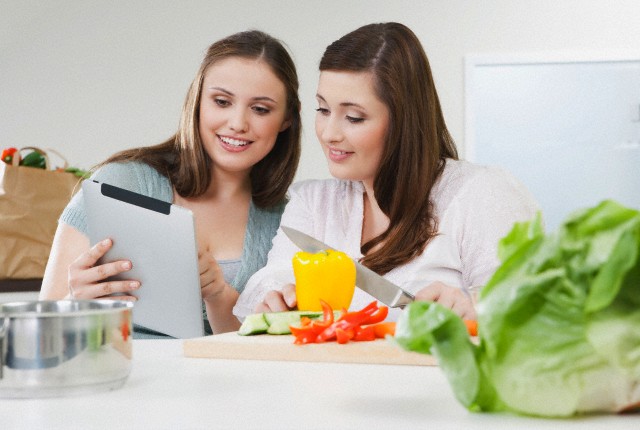 Here's the very popular 3-Day Diet or the Military Diet, if you want to lose weight. Your body gets a clean-up apart from the rapid weight loss you want. Before we move lets understand..
What is 3-Day Diet plan or Military Diet?
3 Day or Military Diet Plan is a short term low calorie diet plan which is followed for faster and short term weight loss; where in you can expect to lose 10 pounds a week easily. People who like to try this plan need to stick to the suggested fruits, proteins and other supplements very strictly in order to get desired results.
Fruits and Proteins required in this plan:
The menu plan of this diet includes vegetables, fruit, eggs, tea, coffee, toast and meat. This is where it differs from other diet plans which disallow dieters to eat bread or meat or both. You also need to drink 0.35 liters of water per day and add condiments like vinegar, soy sauce, salt, pepper, lemon, herbs and ketchup to your diet.
How does 3 day diet plan works:
Several plus factors go to make this diet plan a resounding success. First, it is a 3-day program that combines low calorie foods with carbs along with a chemically designed group of foods that boost your metabolism and impinge on your body to shed the flab.
Second, you need to follow the steps of the plan scrupulously for just three days and that's all. After that, you can eat just what you want, but your intake of water should continue to be high and you shouldn't overeat the wrong stuff on your "Cheat Days".
Third, it is result-oriented, so you can see results really fast. That keeps your motivational levels high while you're on this plan and after too. After your first week on this plan, you'll be able to see significant results.
Lastly, if you need to shed weight really fast, you can depend on this plan to give you results.
The 3-Day Diet plan Process:
Day 1:
Breakfast:
1/2 grapefruit
2 tbsp peanut butter
1 slice of toast
Tea or coffee
Lunch:
1 slice of whole wheat bread toast
1/2 cup tuna with any caffeinated brew
Dinner:
1 cup green beans
1/2 banana
85 gm of any type of meat
1 small apple
1 cup vanilla ice cream
Day 2:
Breakfast:
1 slice whole wheat bread toast
1 egg
1/2 banana
Lunch:
A slice of Cheddar Cheese or a cup of cottage cheese
5 salty crackers
1 hard-boiled egg
Dinner:
1 cup broccoli
1/2 banana
1/2 cup carrots
2 hot dogs
1/2 cup vanilla ice cream
Day 3:
Breakfast:
1 slice Cheddar Cheese
5 salty crackers
A small apple
Lunch:
1 slice whole wheat bread toast
1 hard-boiled egg
Dinner:
1/2 banana
1 cup tuna
1 cup vanilla ice cream
You needn't go strictly by the above diet plan. If, for instance, you cannot source some of the above foods, they can be substituted by other foods, such as:
Instead of 1 slice of whole wheat bread toast, opt for any of these:
1 ounce sunflower kernels
1/2 cup whole grain cereals
0.15 liters meal replacement shake
1/2 high protein nutrition bar
1/2 teaspoon flax seed in 1/4 cup low fat yogurt
Instead of 1 banana, choose any of these fruits:
2 kiwis
2 apricots
1 cup papaya
Instead of peanut butter, try  these table spreads:
Soy butter
sunflower kernels
Sunflower seed butter
Instead of tuna, try these accompaniments:
 Cottage cheese
Tofu
Pumpkin seeds
Almonds
Flax seeds
Peanuts
Instead of hot dogs, try these sandwich fillers:
Veggie dogs
Half cup beans or lentils
Bratwurst
Instead of apples, try these fruits:
Instead of an egg, try these fortifiers:
1 cup of milk
1/4 cup of seeds or nuts
1 chicken wing
2 slices of bacon
Instead of vanilla ice cream, try these flavorings:
Banana flavored milk
Apple juice
Low fat yogurt
Instead of green beans, try these veggies:
Lettuce leaves
3 cups of raw spinach
Tomato
Instead of carrots, try these veggies:
2 cups of fresh spinach
1 whole bell pepper
Instead of broccoli, try these nourishing veggies:
Cauliflower
Asparagus
Beets
Brussels sprouts
Instead of coffee or tea, try this drink:
Sugar free hot chocolate in hot water
Benefits of 3-day Diet Plan:
There are many benefits of getting on to the 3-Day Diet, such as:
It lowers your cholesterol levels. If you follow this diet plan to the letter, it can lose you 4.5 kg in just three days!! All you need to do is to follow this diet strictly.
By decreasing bad cholesterol levels, the 3-Day Diet plan lowers your blood pressure and results in being good for your heart.
If you need to lose weight in a hurry, this diet plan is perfect.
It is easy to follow, considering that you have substitute foods, so you don't need to waste time with choosing foods laid down in the plan.
It is easy to cook with the foods suggested in the plan since they are easily available
What to consider in this plan:
Eat mindfully: This diet is usually effective, though weight loss may be temporary. Since it allows you to eat only 1000 calories a day, your metabolism is greatly reduced. So, when you finish the diet plan and get back to your usual eating habits, you put back the weight you lost. To avoid this, it's best to follow a healthy diet routine after your 3-day diet plan is over.
Stay hydrated: You may suffer from diet pangs and exhaustion since your fiber needs are met with but your calorific intake is reduced. You could endure the diet pangs or drink a glass of fresh fruit juice without sugar. To get over the feeling of starvation, eat a handful of peanuts throughout the day and keep hydrated with water.
Keep off exercise: Do not exercise while on this diet, except for a brisk walk for about 15 minutes a day since you will feel very weak.
Health risks: You might also experience some health risks after going on this plan. For instance, you might have a lowered immunity, heart problems and increased weight. To avoid this, stick strictly to the program.
Food: Eat exact portions, never overeating nor under eating. Drink four glasses of water each day or orange juice. Instead of using cooking oil by the tablespoon, use cooking spray. You may use only salt, pepper and mustard for condiments, but you can use fresh lemon juice liberally. To bring flavor to your drinking water, or meat or fish, use lemon. End this diet when your three days are over, do not extend the time period.
Before and after your walk each morning, eat carbs as these foods will keep you healthy and energetic. Eat the maximum proteins at breakfast and lunch but at dinner, eat only a small quantity of lean proteins such as fish or chicken.