800 Calorie Diet Meal Plan: Menu, Benefits & Precautions
Those who are on a weight loss program know well how difficult it is to stay away from the delicious and tempting foods. You need lots of will power and determination for this. If you are thinking of losing weight without cutting down the food you have or starving yourself, you can do so. VLCD (Very Low Calories Diets) is the best option for you. Here you have to focus on the calories that you take in and try to control it. Have healthy and nutritious food that is low in calorie. This way you will get the energy you need without adding any calories.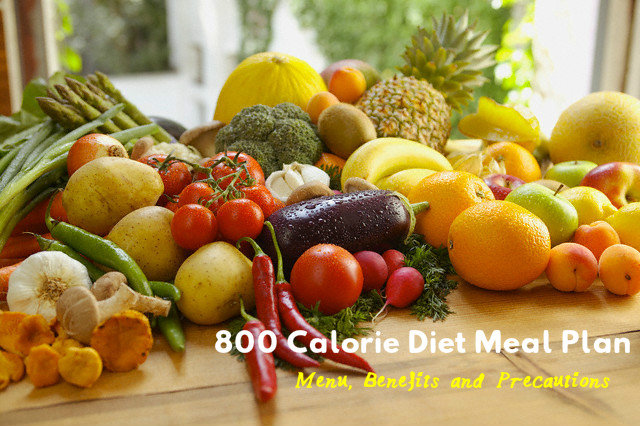 You can easily follow these diets at home and you can lose about 1 or 2 kg of weight per week. The highlight of this diet is that you need not starve yourself for losing the extra pounds in your body. When you follow 800 calorie diet, be careful that you do not overdo it. This can cause serious health problems and lack of nutrients in your body. If you lose more calories than that is intended, then it can cause variations in the levels of insulin and also affect the heart rate. This can cause serious issues. So, if you are on medication, it is better that you consult your doctor before you start following this diet plan.
This diet plan aims at providing you the daily nutrients that you require like proteins, fatty acids, vitamins and so on, but lowers the calories that you take in. You can achieve this by following healthy eating habits, which also include liquid meals. Make sure that the foods you have per day do not exceed 800 calories.
800 Calorie Diet Benefits for Weight Loss:
People who are overweight want to lose their weight fast without undergoing any health issues. For them VLCDs are of great benefit. These diets help them to lose weight effectively, without making then feel weak or drained out. By following these diets, you can stay active and energetic, and at the same time lose weight. All you have to do is to take in foods that are low in calories and high in energy and avoid foods that are high on calorie.
People who are obese or overweight suffer from a lot of health issues because of the excess weight. Some such problems are respiratory disorders, cardiac problems, gastrointestinal issues and so on. In extreme conditions it can also affect fertility. For such people, the best option is a VLCD plan. They can follow it for a week or two and see the change it brings.
As you know, most people are now very busy with their work and various other activities. So they do not get any time to go to the gym and have a good workout. For such people VLCD plan is the best, as it is easy to follow and very effective.
800 Calorie Meal Plan Weight Loss Precautions:
When there is a sudden change in your diet, it can affect your body in a number ways. So make care not to force this diet on your body, as extremely low calorie diet may cause fatigue as well as diarrhea. Apply this plan slowly, so that your body gets enough time to get adjusted to this diet plan.
Take care not to overdo it. Some are so keen on losing weight that they overdo it thinking that this way they can lose more weight. This is not a healthy habit. Make sure that you take breaks between weeks. Do not follow VLCDs continuously for weeks together as this can lead to serious problems and affect the functions of the heart, liver and kidney.
800 Calorie Weight Loss Meal Plan Sample:
Here is a sample of what you can have for meals and snacks for a day, which provides less than 800 calorie.
What to Eat for Breakfast?
You can have a cup of low calories cereal along with 3/4th cup of skimmed milk
Another option is to have 2 slices of brown bread or any low calorie bread with an egg
Unsweetened yogurt and a hardboiled egg is also a good option
What to Eat for Meals?
For meals you can have 145 to 150 gm of meat, a portion of vegetables and fruits. You can boil or steam the meat and vegetables with some spices, or cook them in low calorie oil. Cooking without oil is also a good idea. Make sure that these foods are high in protein and contain very little carbohydrates.
Meat that you take in can include blue or white fish, tuna, shrimp, lobster and so on. Vegetables may include broccoli, lettuce, cabbage, celery, eggplant, onion and so on. For fruits you can pick berries, grapefruit, oranges or pineapples.
What to Eat for Snacks?
You can have beverages that are healthy for you and low in calorie. Green tea is a good option. You may also have unsweetened yogurt. Having any of the fruits that you like to have is also an option. Do not have any fried food items or chips for snack.
You can plan your own diet for the day by keeping in mind the calorie intake of each food item that you consume. However, if you are losing weight for health reasons, and it is a must that you lose weight, then you need to consult a dietitian and take his advice. This way you can ensure that the diet you take in is rich in nutrition and loaded with energy.