Absolutely Essential Beauty Products for Girls with Oily Skin
Do you have an oily skin? Then you must be aware about the problems associated with it. Oily skin is often problematic with breakouts and zits. So you need to take proper care of your skin and keep it free from excess oil. There are many skin care products specially made to treat oily skin.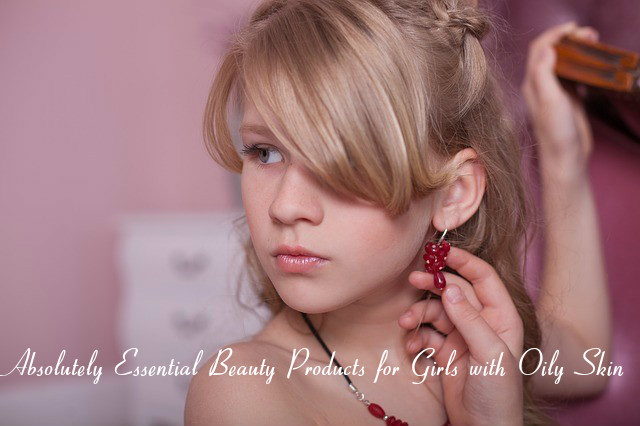 Must Have Products for Oily Skin:
Cleanser:
Many of you make the mistake of choosing cleansers with tough formulas for oily skin. This leaves your skin dry and dull looking. This removes all natural oils from your skin and as a result your skin will turn lifeless. Instead of such cleansers, you must try to choose mild and oil-free cleansers. This will cleanse your face gently and also retains the natural oils on the skin. The cleanser you use must have the ability to scrub and remove all impurities from the skin, so that your skin looks fresh and beautiful. Oily skin often causes clogging of pores, which lead to breakouts. Cleansing your skin daily helps in preventing clogging of pores.
Facial masks:
You get special facial masks made for oily skin. This mask helps to control the secretion of excess oil by the skin and thus helps in keeping your face fresh and oil free. You get such masks easily in the market. If you prefer to use natural products for your skin, then you can make facial marks at home also, using natural ingredients. Theses face packs are free from chemicals and do not harm your skin in any way.
Makeup setting spray:
When you have oily skin, the makeup fades away fast and you are left with greasy skin without any makeup. The solution for this problem is to buy a good makeup setting spray. Just spray a few times with it on your face. This can help in keeping your makeup intact for the almost the whole day.
Mineral foundation:
The foundation you choose for oily skin must be such that they do not clog pores and are light weight. Mineral foundations are oil fee and light, give a good coverage, offer SPF and the lighten blemishes on the skin. They also prevent breakouts.
Oil-free compact:
Oily skin looks shiny and greasy with excess oil in the skin. Using oil-free compact helps in controlling the greasiness on the skin. You may use it in the compact form or powder form. A compact is always light weight and blend fully on the skin, so that you get a skin that is smooth and evenly toned. If you have oily skin, you can choose non-comedogenic products, which do not clog pores and thus can prevent breakouts and blackheads.
Oil blotting sheets:
These are one of the best skin care products for oily skin. Too much powder on oily skin only helps in clogging the pores. The sheets help in absorbing the excess oil from the skin and removes shine due to excess oil. These sheets are soft and silky and do not smudge your makeup. They just soak-in the excess oil from your skin without leaving any residue behind.
Primer:
If you have an oily skin, you must surely carry a face primer with you wherever you go.  It is an unavoidable product if you want your makeup to last for a longer time. This is because when you apply makeup on your oily skin, it tends to slip off easily as a result of the oily nature of the skin. You can see the makeup getting faded, melt or make a smudge on your face after a few hours. Even creasing of the makeup is felt. So you must remember to apply a face primer before you put on the foundation. This is a must whether you are putting on a light and gentle makeup or a heavy makeup that is dramatic. The face primer allows your makeup to last longer on your face. It is good for the longevity of all makeup products like blush, bronzer or highlighter. The primer helps in applying these products easily on your skin and also makes the makeup look brighter. Just take a small blob of the face primer and apply on your face. Gently massage it on your skin with your fingers so that you get a smooth skin and can apply the makeup easily.
Scrub:
Scrubs help in exfoliating your skin and deeply cleansing the skin. It removes dead skin cells that may remain attached on your skin and unclogs the pores. You can remove blackheads and other impurities by using a scrub. To scrub your face take some scrub, about the size of a coin, in your hand and gently massage your face with it for about two minutes. Leave it on the face for a minute and then you can wash your face with cold water. This will remove all impurities and gives you a smooth and glowing skin.
Steamer:
If you have an electronic steamer at home, this is the best way to cleanse your face. As you know, oily skin gets easily clogged with dirt, grease and pollution. Steaming helps in unclogging the pores and removes all dirt and grime from the skin. If you do not have a steamer, take boiling water in a large bowl and steam your face by keeping your face over the steam coming out from the bowl. You can cover your head with a towel. This will prevent the steam from escaping in to the air.
Waterproof kajal and liner:
Whether you are using a colored liner or a liquid liner, liquid pen or a kajal pencil, make sure that they are waterproof and smudge proof. This is because when you use normal kajals and liners, they tend to slip off easily from your eyelids, which are oily.