Alfalfa Benefits and Uses for Skin, Hair and Health
Alfalfa has been in use since centuries for various medicinal purposes. In Ayurveda, it was known to be effective for people suffering from arthritis and other gastro-intestinal and digestive diseases.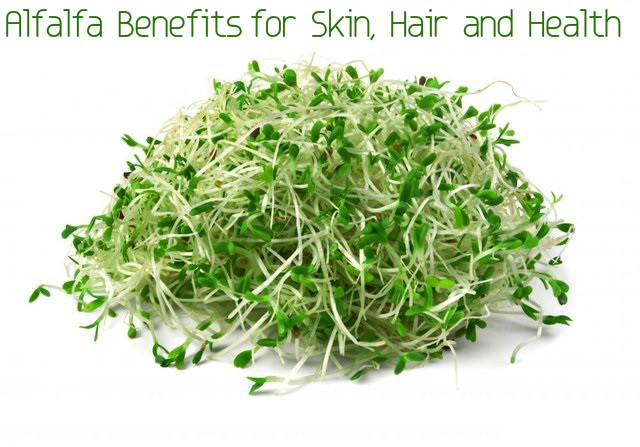 Alfalfa is rich in nutrients which makes it the father of all foods. The phytonutrients are found in abundance. Here are a few ways it could prove beneficial for the human body.
Benefits of Alfalfa for Skin:
Alfalfa is known to be a secret magical plant that is rich in nutrients. It could treat a number of skin conditions and also improve your skin from within. It gives you a healthy and glowing skin.
The alfalfa chlorophyll has healing properties, especially for the human skin. Here are a few ways you could use it for this purpose:
As a Cleanser:
The alfalfa chlorophyll cleanses the impurities in the body. It detoxifies and also fights infection. Any action involving anaerobic bacteria is reduced by its ability to break down carbon dioxide.
Makes your Skin Healthy:
Vitamin A and enzymes are found abundantly in alfalfa. They are very important to make your skin healthy. Vitamin A maintains and constructs skin that is both glowing as well as healthy. It also works from the inside to show the effects on the outside.
Prevents your Skin from Dryness:
These days, dry skin has become a major issue for the ladies out there. The high content of Vitamin A in alfalfa chlorophyll helps fight this issue and cures dry skin. Your complexion is improved, and the texture of your skin also gets better with the help of the nutrients this plant imparts to your body.
Benefits of Alfalfa for Hair:
Minerals:
Calcium, iron, and zinc contained in alfalfa help prevent and reduce hair loss. Zinc helps in stimulating hair loss. Iron deficiency is a major cause for hair loss, which is prevented by the high amount of iron in the plant.
Proteins:
Alfalfa is known to be really effective for hair growth. The high protein content in alfalfa aids in better hair growth. If you include the seeds, grains, and sprouts of alfalfa in your diet, it will definitely provide you enough protein content to grow your hair and also make it healthy and strong.
Silica:
Silica slows down the process of hair. This, in turn, prevents you from balding. The silica content in alfalfa helps grow healthy hair if you include moderate amounts of it in your diet.
Vitamins:
Vitamins like B1, B6, and C are contained in alfalfa in high amounts. They are known to benefit your hair considerably Vitamins B1 and B6 ensure that you have a healthy hair growth. Vitamin C takes charge of improving blood circulation on your scalp. Moreover, it also helps with the antioxidant action in the hair follicle. Alfalfa also contains Vitamin E which improves the pickup of oxygen. This also improves blood circulation to help your hair grow long and healthy.
Health and Medicinal Benefits of Alfalfa:
Blood Poisoning and Rheumatism are Prevented:
The different properties of alfalfa make it an effective anti rheumatic agent. Kidney stones and gravel are prevented, and also other problems like edema, arthritis, heavy metal poisoning, arthrosis, varicose ulcers, etc are controlled.
Cancer is Prevented:
Cancer is a major disease that kills a number of people from all across the world. Include alfalfa in your diet to prevent the risk of cancer. Canavanine is an amino acid contained in the plant that could prevent cancer. It also helps bind the carcinogens that are contained in the colon.
Cholesterol is Controlled:
Alfalfa helps control cholesterol by eliminating the bad cholesterol from your body. It prevents the cholesterol levels from rising too high, and saves you the risk of getting heart diseases.
Digestive Problems are Treated:
Alfalfa is known to effectively treat all kinds of digestive problems. You could prevent stomach ulcers, gastritis, bloating, nausea, indigestion, and a range of other problems using this plant. Chronic constipation is treated by the alfalfa sprouts as they are rich in fibre content.
Heart Disease is Prevented:
The large amount of antioxidants in alfalfa helps prevent arteriosclerosis. This is the start of any heart disease. It makes your blood thinner naturally, and also makes the rutin in blood vessels much stronger.
Immunity is Increased:
L canavanine and chlorophyll are phytonutrients in alfalfa which help in increasing the body's resistance to the various diseases. Blood sugar is lowered, Type II diabetes is prevented, and also adult onset diabetes is controlled. Moreover, it also prevents tumours in the body.
Menopausal Symptoms are Treated:
To counter the symptoms of menopause, there are hormones known as phytoestrogens. There are 3 types of this hormone found in alfalfa, which are coumestrol, biocanine, and genistein. Menopausal symptoms are countered by the minerals in this plant. If you add alfalfa in your diet, you could fight vaginal dryness, low levels of estrogen, hot flashes, night sweats, post menopausal osteoporosis, and such problems.
Toxins are Removed:
Alfalfa has got detoxification properties that cleanse your body. You need a daily dose of the plant to clean your body from the inside.
UTI is Prevented:
The diuretic properties of alfalfa prevent kidney disorders like water retention. The properties of alfalfa also prevent Urinary Tract Infection or UTI.
Alfalfa helps treat a number of disorders and health problems in the human body. Loss of energy, fatigue, split hair problems, memory weakness, brittle nails, deficiency of protein, decrease in alertness, weak bones, malnutrition, poor thyroid function, night blindness, low production and bad quality of breast milk, scurvy, dental problems, etc are a few problems that could be treated with alfalfa.
The medicinal and nutritional values of alfalfa make it good enough to consume as a whole plant or as dried leaves or germinated seeds. Every part has got its own benefits. It has the highest content of vitamins and minerals of all the plants in the world. Add a portion of alfalfa in your daily diet to see the difference it could make.