Alia Bhatt Beauty, Diet, Makeup and Hair care secrets revealed
If you are an avid bollywood news follower then Alia Bhatt needs no introduction for you. She is a bubbly and lovely actress born in Bhatt Family and rose to stardom after her film 'Student of the year' though she appeared as a child actress in many films before.
Considered to be the next fashionista in the bollywood film industry with her charming looks and cute collection of clothes, this extremely pretty actress has lost 16 kgs before the shooting of this film. Wow, that's amazing isn't it? Now, do you feel like knowing how she is able to maintain her fitness and beauty at such an young age, then you must read these below tips from her which she shared during one of her interviews.
Alia Beauty and Hair Secrets:
1) She likes drinking lot of water and fresh fruit juices every day to keep her skin glowing.
2) She brushes her hair twice a day.
3) Ensure that she washes her hair three times a week without fail.
4) During summers she also takes supplements to keep her skin, hair and nails healthy
5) Her favorite nail color is nudge as of now.
6) She loves to have body scrubs and massages and her favorite spa is Myrah Day spa in Juhu, Mumbai.
Alia Bhatt Fitness secrets:
1) She keeps a regular check on her diet and fitness.
2) Her daily diet consists of egg whites, milk/dahi, vegetables and chicken with sunday being her cheat day where loves to binge on with McDonald's or Chinese food.
3) She likes regular gymming along with Yoga and has a person trainer to keep track of her daily routines and diet.
4) She likes and practices Ashtanga yoga.
5) Hits gym for weight training.
6) Does 45 minutes of cardio three times in a week.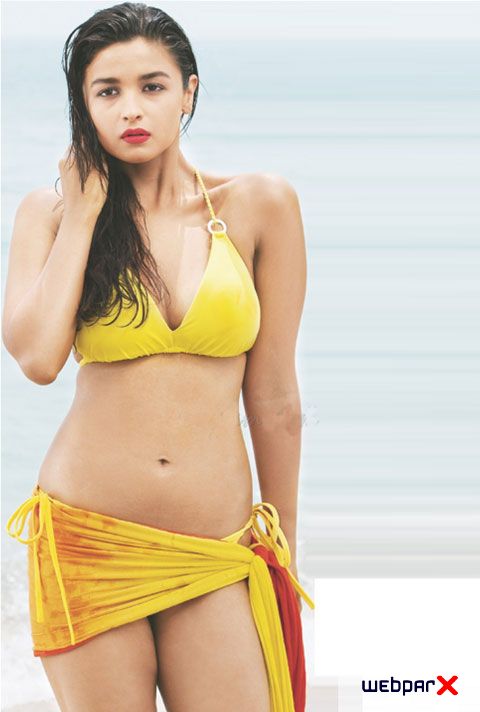 Alia Bhatt Diet Secrets:
1) Her breakfast consists of some fresh vegetable juice in the morning.
2) A bowl of papaya as mid-morning snack
3) Roti with dal, vegetables and some curd or Quinoa with chicken.
4) During the evening time she likes to have any one fruit or some kurmura
5) Dinner starts with some fish or chicken along with dal and curd
6) Finally she signs off the day with a glass of milk before moving to bed.
Alia bhatt style tips:
Though she confesses that she hasn't developed any personal style yet, she likes to have these things in her handbag whenever she moves out – Chewing gum, Hair brush, Kajal, Lip balm and Prada perfume.
Image credits: Wikimedia commons 1 and Fanpop 2