Amazing Benefits of Oats for Skin, Hair and Health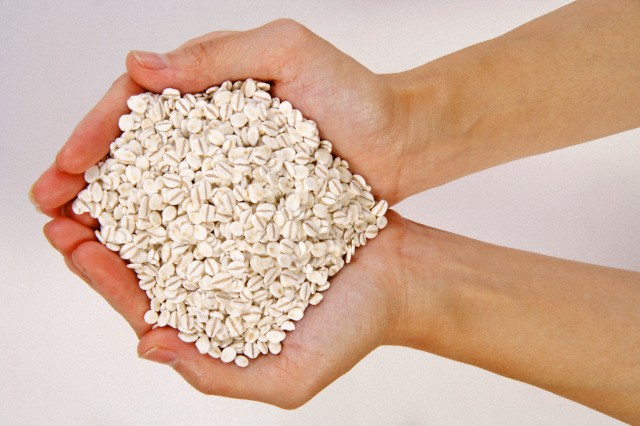 Oats is a very popular food. Most commonly eaten for breakfast, you can have it at any time of the day to get all its benefits. This cereal offers a huge lot of benefits for you. Read on to know about a few of them.
Benefits of Eating Oats for Skin: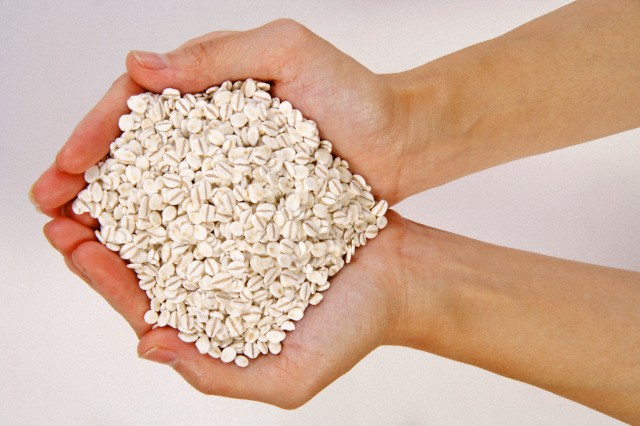 Acne:
Acne is effectively treated by cooked oatmeal.  Boil some oatmeal to make it soft, and cool it for 15 minutes. After cooling down, apply it on your acne and other affected areas. Leave it on for 10 minutes and then wash off. The excess oils and bacteria are absorbed and removed from your skin. Dead skin cells are exfoliated, and acne is prevented.
Cleanser:
Saponins are natural cleansers which are contained in oats. They remove the oil and dirt from the pores of the skin without irritating it. This makes your skin silky and soft. The pore size is also reduced. You can use oatmeal for your daily skin care regime instead of scrubs. It removes all dead skin cells that have build up in the pores effectively. Soak oats in water to get oat milk. It is a natural cleanser and toner. This can be stored in a fridge and applied on your face using a cotton pad. It makes your skin smooth and soft after a face wash. Skin and pores are cleaned by taking an oat bran bath. Use a cloth to fill in with half a cup of roiled oats or oat groans. Place this in your bath tub. Press it well to squeeze out oat milk. Use this in place of soap. It has mild scrubbing and cleansing properties.
Chicken Pox or Poison Ivy:
Eczema, poison ivy, insect bites, and skin infections are effectively treated by using oatmeal. It has been used for these purposes since olden ages, due to its anti-oxidant, anti-itch, and anti-inflammatory properties. You can treat the get instant relief from the itchiness caused from chicken pox, poison ivy, or sunburns, by using oats. Grind it in to a fine powder and pour it in to a cheese cloth. Tie this around your bath tub faucet. Have a tepid bath by squeezing out the water periodically. Rubbing the pouch on itchy skin is also effective.
Dryness:
Oats contain polysaccharides, which are very effective against dull and flaky dryness. They become gelatinous in water and form a fine protective film when you apply it on your skin. Skin problems like rashes, itchiness, peeling, scales, and so on, are all treated effectively. Make a facial mask with a smashed banana and a cup of ground oatmeal. Mix them well by adding lukewarm milk. Stir well till you get a smooth paste. Apply the paste on your face and neck. Leave it on for 10 to 15 minutes, and then wash off using cold water. Your skin is moisturized, and kept hydrated and soft.
Itchiness:
Oats are suitable for all types of skin. They have anti-inflammatory properties, and heal itchy and dry skin. Colloidal oatmeal is ground powder of oats. When mixed with warm water, it forms a thick paste. Applying this on itchy skin relieves intense itching. A number of skin conditions like dry itchy skin are healed through an oatmeal bath. Neurodermatitis is a skin disease which causes inflamed or itchy skin. It can be effectively cured using oatmeal.
Lighter Skin:
Oats are very useful for improving the skin tone and texture. It makes blotchy areas smoother, and makes your skin lighter. Body scrubs, exfoliation creams, soaps, and general body lotions use oats as a major ingredient. Reputed brands use it in cosmetology.
Moisturizer:
Dead skin cells are removed to moisturize your skin naturally. Beta-glucan is contained in oats, which forms a fine layer on your skin. It penetrates deep in to your skin and moisturizes it from inside. Wounds and shallow abrasions are healed faster, collagen deposition is improved, and the immune cells in your skin are activated. Mix two cups of oats, a tablespoon of honey, and a cup of milk to make a paste. This paste relaxes your body and keeps your skin moisturized.
Skin Protection:
Your skin is protected from harsh chemicals, and the natural barrier function of the skin is maintained. Eczema, rashes, rosacea, and other skin conditions are prevented. Oats contain lubricating fats, which moisturize your skin and form a protective layer to fight UV rays of the sun. All symptoms of ageing are also prevented.
Benefits of Oats for Hair:
Blond Hair:
For people who have blond hair, ground oats is an excellent dry shampoo. Rub some oats on your scalp and use a boar bristle brush to brush out excess oats.
Dry and Itchy Scalp:
Oats form a natural moisturizer. It helps get rid of dryness and itchiness on your scalp. Your hair becomes soft and shiny. It is a common ingredient in shampoos.
Dandruff:
Combine oatmeal with other ingredients to apply on your hair before shampooing. It helps treat dandruff.
Excess Oil and Dirt:
Oats are an effective and natural cleanser. Excess oil, dirt, and sebum that are accumulated in your scalp are removed. As such, your hair is protected from dandruff.
Hair Loss:
Alopecia, hormonal imbalance, unhealthy lifestyle, and harsh chemical treatments can cause significant amount of hair loss. Deficiency of essential vitamins and minerals is caused malnutrition. It is condition that is the main reason behind hair loss. A high amount of zinc, magnesium, iron, potassium, and other minerals are contained in oats, which promote better hair growth. You get enough Vitamin A and Vitamin C if you have a meal consisting of oats, pumpkin, and berries. Scurvy is another disease that causes hair loss, which can be treated by having Vitamin C. Vitamin A helps maintain your hair and promote better hair growth.
Health Benefits of Oats:
Diabetes Control:
Rich source of magnesium present in oats helps in regulating the glucose and insulin levels in the body which is very good for diabetes patients as well. Milk also can be added to oats to make it a low fat dairy for consumption.
Lowers Cholesterol:
Rich source of fiber present in Oats helps in containing bad cholesterol levels in human body. Heart patients suffering from bad cholesterol problems can take one to one and half cup of oatmeal every day as it contains enough fiber to reduce the cholesterol level. 1 and 1/2 cup of oatmeal = 5 grams of fiber.
Prevent Weight Gain:
Intake of Oatmeal helps you in losing some weight as well. Why because, oatmeal consumption increases the levels of the viscosity in your stomach, which inturn helps you in not feel hungry anytime sooner. It's good to start your breakfast with some oatmeal as well.
Now that you know about the benefits and uses of oats, include lots of oats in your daily diet. Use the above tips for better skin, hair and health.