Angelina Jolie's Beauty, Makeup, Diet and Fitness Secrets
Angelina Jolie is a famous American actress, who is known for her acting skills as well as other talents. She is a film maker and also a humanitarian, and has received an Academy award, two Screen Actors Guild Awards and three Golden Globe Awards. Her elegance and style is incomparable and many women follow her way of dressing and attitude. Aged 41, she is still a heartthrob. If you are curious to know about Angelina's beauty secrets, read on.
Angelina Jolie Beauty Tips and Secrets: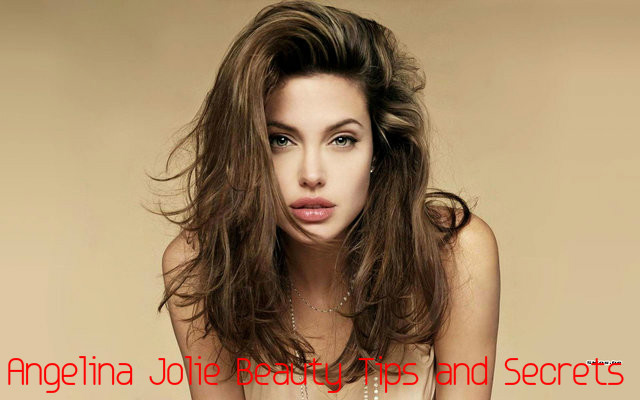 Balance between lip color and eye color: Angelina says that one of the mistakes most women do is to mess up the balance between the eye color and the lip color while touching up. She avoids using dark lip colors, so that the natural shine of her eyes is highlighted. She uses Blistex Lipbalm for her gorgeous lips. She loves to have Smokey eyes.
Taking care of your skin: Angelina is very particular about her skin and takes all measures to keep her skin healthy and in good condition. According to her belief, if your skin is healthy and glowing, you will look naturally beautiful. She never uses any harsh soap to wash her face. Whenever she goes out, she takes care to use a high SPF sun block lotion. She also keeps her body well moisturized. She does it with great care, taking enough time.
The no-makeup look: She does not like to use too much of makeup on her face. On the screen and at certain events, she uses makeup. On other occasions she prefers to appear with a no-makeup look. She has revealed it several times when she said about her beauty secrets. She looks very pretty and natural without makeup.
Angelina Makeup Routine: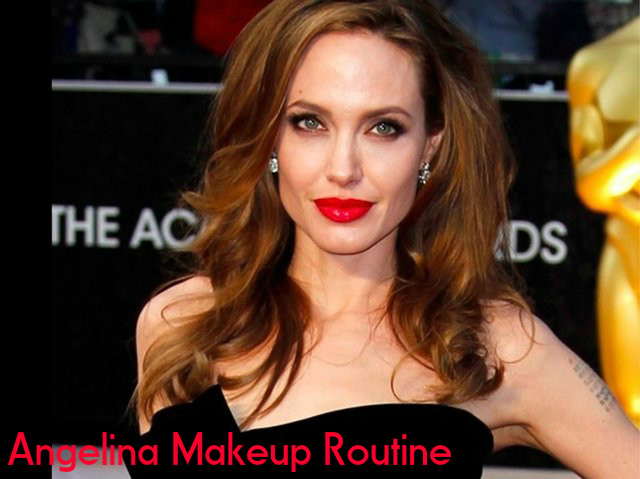 Cle de peau concealer:
Angelina Jolie is an ardent fan of Cle de peau beaute concealer. This makes her beautiful skin even more radiant and lovely. Whenever she gets a tan on her skin, she applies this concealer on her skin. This helps in concealing the tan and gives her skin a bright look.
Hourglass veil fluid makeup:
This is a fluid foundation. It offers your skin an even-toned complexion within moments after you apply it on your skin. This is also a favorite choice of Angelina.
Hair:
Angelina's second priority is her hair. According to her opinion, your hair is what defines you. Healthy and beautiful hair attracts the attention of all around you. She does not use too much of hair products on her hair. She uses only oil, shampoo and conditioner on her hair and occasional hair spa. She uses Aveda shampoo and conditioner. To oil her hair, Angelina uses Couture Colour Pequi treatment.
Laura Mercier secret camouflage:
Laura Mercier secret camouflage is another skin care product that she wears regularly on her skin. She always remembers to carry this with her wherever she goes. This product helps in camouflaging dark circles, minor defects of the skin and discoloration of the skin. It consists of two shades and you can blend them to get your desired shade.
Triad treatment:
David Colbert, a member of New York Dermatology Group, works with Angelina to keep her skin healthy and beautiful. The treatment done by him is called triad treatment and it takes only about 30 minutes. Angelina became a fan of this treatment after she was introduced to him in 2010. This includes:
A standard microdermabrasion
Laser
A glycolic peel
After this treatment, she can use any product on her skin. All the top layers of the skin will be removed by this treatment, so that there are no dead cells or dirt on the skin.
Angelina Jolie daily Diet Plan: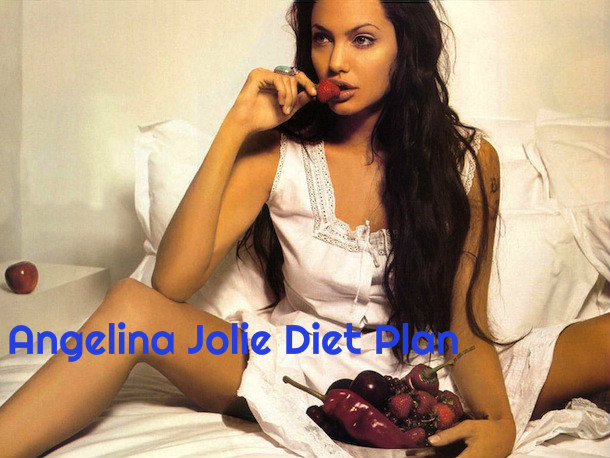 Image credits: mysweetflatbread
Low carbohydrate, high-protein diet:
Angelina never had junk food. However, she loves McDonald's cheese burger, which she has once every week. Angelina Jolie chooses to eat a low-carbohydrate diet that is high in protein. This helps in building up her muscles. She also eats green vegetables and fruits. She never takes large meals. Instead, she breaks her meals in to smaller meals and takes a small portion every now and then. Instead of taking 3 large meals a day, she takes 6 small meals a day. This helps her to stay fully energetic throughout the day. She also takes two protein shakes every day.
More and more water:
Angelina Jolie drinks lots of water throughout the day. According to her, drinking water helps in keeping the system healthy all through the day. If you do not drink water, your body will never stay radiant and clear. She says that you need to take at least 3 liters of water every day to cleanse your body.
Angelina Jolie Fitness or Workout Secrets: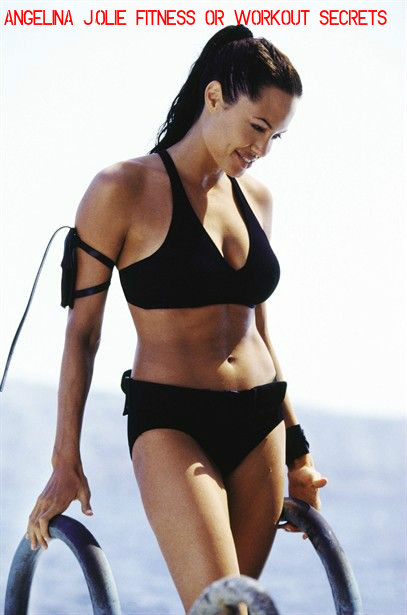 Image credits: Pinterest
Kickboxing:
Angelina visits the gym regularly and does exercises to maintain the fitness of her body. One of the exercises that she prefers to do daily is kickboxing. This is one of her favorite exercises. She does it with full enthusiasm and this helps in maintaining her flexibility and resistance.
Twisted lunge:
Angelina possesses attractive hips, which is the dream of every girl around the world.  The secret behind her attractive hips lies in her doing twisted lunge exercise. This exercise was added into her regular fitness program by her trainer Gunnar Peterson. This has helps her to maintain a sleek body shape, without any extra flab.
Yoga:
She also does yoga and attends regular yoga sessions, which help in toning her muscles. She also does Sun Salutation A and Sun Salutation B daily. Practicing yoga regularly helps her to de-stress herself. Every day, before she has her breakfast in the morning, she makes sure that she does yoga for at least half an hour.