How to Apply Bridal Eye Makeup: Step by Step Instructions
All girls wish to look their best on their wedding day. They start preparing for the D-day for months, so that they loom perfect and most beautiful on this day. Eyes being one of the most important features of your face, you should highlight your eyes when you apply the bridal makeup.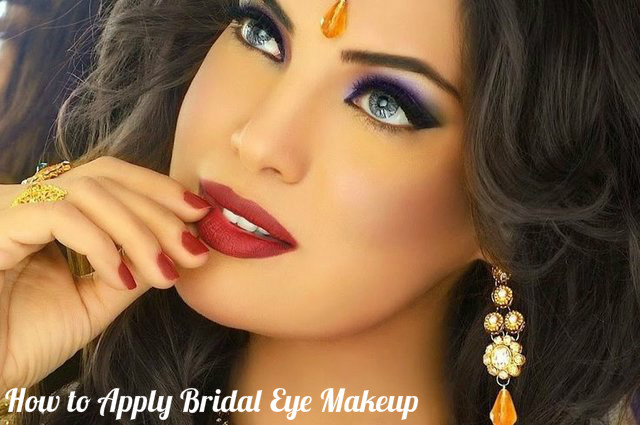 Here are some eye makeup tips to help you get the perfect eye on your wedding day:
Before makeup tips:
Shape up your eyebrows one day before the special day. If you get it done on your wedding day, it may shoe some redness and also cause some irritation. This may affect your looks negatively on your wedding day.
Make sure that you get proper sleep. This will help you avoid dark circles and puffiness or swelling under the eyes.
If you are going to do the makeup yourself, buy good quality products for your eyes. This includes:
Tissues
Foundation or concealer
Mascara
Eye liner
Kajal or kohl pencil
Eye-shadow
Some brushes
False eye lashes or lashes-curler
Step 1:
Before you apply the makeup on your face, cleanse your face well to get rid of dirt and oil from your face. Moisturize your face as well as your neck well. Once you have completed applying the moisturizer, blend a foundation on your face and neck. The foundation should match well with your skin type. Apply it evenly on your face and neck.
Step 2:
Apply a concealer on your eyes, over the dark spots if you have them, and on the dark circles. The concealed should match your skin tone. Applying this helps in providing you a flawless skin tone. Once you complete applying the concealer, you can move on to step 3.
Step 3:
Now you have to choose an eye shadow that matches well with the colour of your dress. If you cannot get a colour matching your dress, you can opt for a golden with smoky black combination. This suits perfectly with any of the dress colours. For applying the eye-shadow over your eyelid, you should pick a good branded brush that is of high quality. Apply the eye-shadow with this brush just above the crease. Start from the inside (nose-side) and them move to the outside.
Once you have applied it, you have to apply another coat of mascara starting from the middle of the lid. You have to give strokes towards the corner of your eyes and blend it well. This way you will be able to balance the tones equally all over.
Step 4:
Next is the kajal for your eyes. You can apply the kajal as you apply it normally. Make sure that the line is not thick because we are focusing more on the lid rather than the lower part of the eyes.
Step 5:
Now is the time to apply the eye liner. You have to keep your hands very steady as you apply the eye liner. You have to start by drawing a thin line near the inner corner of your eyes. Make it thicker as you reach the outer corner of your eyes. The eyeliner pattern you choose can be winged, stretched, double winged or mixed with false lashes, depending on what kind of look you would like to create.
Step 6:
Apply mascara on your eyelashes. This will make your eye lashes look thick and long. Take care to apply it firmly, without damaging the liner and the kajal.
Once you have applied the mascara, let it get dry. After it is dry, you can use a curler on your lashes. This will give shape to your lashes and enhances the beauty of your eyelashes.
For getting a glamorous look, you can put on false eyelashes. Remember not to choose false eyelashes that are overly decorated. Try to focus mainly on applying the eyeliner and the eye shadow. One thing to keep in mind is that the colours you select match well with your dress. Only then will you get the perfect look.
Some Fabulous Bridal Eye Makeup Looks are:
The golden smoky eye:
Smoky eye with gold eye-shadow gives more depth to your eyes and makes your eyes look bolder and bigger.
The bollywood eyes:
In the 1960s, bollywood heroines sported big hairdo and extreme winged eyeliner. This highlighted their features. This applies to weddings also. Winged eyeliner with brown or neutral eye-shadows provides you larger eyes with a flirty flair.
Cream lined lids:
Instead of using the common black eyeliner, experiment with soft and understated gold or white eyeliner instead. This will make your eyes look larger and brighter.
Intense smoky eye:
If you love to have good smoky eyes on your wedding day, you can go for it by choosing black, grey and taupe eye-shadows. You can also put on some false eyelashes and apply black eyeliner. This will make your eyes stand out perfectly and beautifully. This look is more suited for night wear. It goes well with silver themes lehengas and sarees.
Pretty in pink:
A pink look using purple eye-shadows is perfect for an outdoor wedding in summer. It is light and flattering.
Rosy Royal:
Blend solid pinks and shimmery golds to get a flattering and beautiful look. It creates an ombre effect and is perfect for any ceremony conducted at night or day.
The barely there eye makeup:
This is a subtle look created with nude eye-shadows and a simple line over the lashes. The makeup is hardly noticeable. It makes your eye look bright and provides a natural look.
The colourful under-eye:
This is different from other eye makeup because here your under-eyes are focused instead of your eyelids. Bright colours are used for the under-eye. This highlights your eyes as well as your personality.