How to Apply Bronzer like a Pro for Pale Skin
Pale or dead white skin can make you look lifeless, without any colour on your face. Often people think you look sick. So, it can be very irritating at times. If you have such a skin, do not lose hope. There is a way to look lively, energetic and bring warmth to your face. Bronzer is the word for you. If you are not very much familiar with this product, it is time that you understand the uses of this product and how it can save you from looking pale and deadly. Bronzer can bring warmth to your skin and give your skin a sun-kissed look. It is very beneficial for all pale skinned beauties. But it can also come back to bite you. So, use it in the right way and in the right amount. Too much of bronzer on your face can make your skin flushed.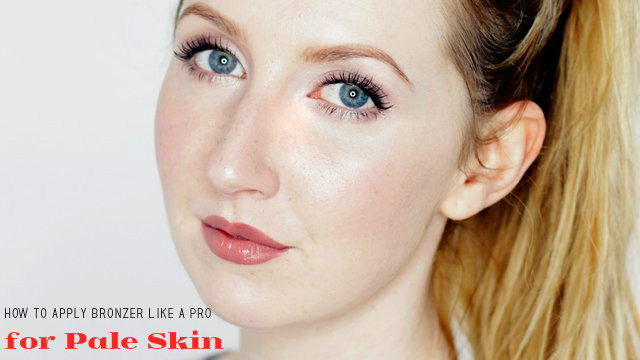 Image credits: Youtube
Bronzing Products and Tools:
Bronzer:
Bronzer is a product, which when applied, helps in giving your skin a warm and sun-kissed look. People often advise you to but a foundation that is one shade darker than your complexion and apply it on your face to give you a tanned look. This is a wrong idea. Do not listen to them. The foundation you choose should always match your neck, chest and the rest of your body. After applying the foundation, you can use the bronzer. This will help in warming up your akin. This gives you a natural look rather than applying the wrong foundation shade on your face.
Brushes:
The brush you use for bronzing is very important. If you use the wrong brush, it can make your skin look cakey or as if you have put on too much of colour on your face. Such looks can make you look unnatural. So, make sure that the type of brush you use is right for bronzing.
How to Apply Bronzer on Pale Skin:
To apply bronzer on your skin, take some of the product on the bronzing brush and tap it to remove the excess of the product. When you apply the bronzer, you must know exactly the places where you have to apply it. You need not bronze your entire face. Apply it on areas of face where sunlight would hit.
An easy way to remember the bronzing zones is to think of the '3' motion method. Draw an imaginary '3' starting from the temples of your face to the hollows of your cheek and then leading to your jaw line. You may also dust some bronzer on your forehead if you think that you need it. Remember to use it lightly, without pressing, and make sure that you do not pick too much of the product on the bronzing brush. By using a small amount of the product, you can give your face a natural look.
Best Bronzers for Pale Skin:
Bobbi Brown Bronzing Powder in the shade Golden Light:
Bobbi Brown is a well known brand in the makeup world. This is a lightweight bronzer and it can give you a natural looking, matte finish. Using this gives you the sun-kissed look that you have been wishing for!
This product is suitable for oily skin and you can use it throughout the year.
Liz Earle Radiant Glow Bronzer:
This product is available in a variety of brown tones. It also has a shimmer, which helps in making your skin look radiant. Whenever you feel that you have a dull skin, apply a little of this bronzer on your face and it will give a boost to your look. It is a buildable texture and is a lightweight product. By mixing the four shades together and applying on your face, you will get the perfect amount of warmth on your skin.
This product is suitable for all skin types and it s perfect for wearing in summers.
Makeup Forever Pro Bronze Fusion In The Shade Natural Matte Honey:
We all love to choose and apply makeup products that do not look like makeup. They are most in demand in the market. This is what makes Pro Bronze Fusion by Makeup Forever popular with women. This product blends on your akin so perfectly that you will start wondering whether you have really applied makeup on your face or not.
This product is suitable for people with all skin types. They are best for winters.
Revlon Highlighting Palette in the Shade Bronze Glow:
If you are going out on a sunny day, this product is the perfect option. It contains micro-shimmer and is great for using as a blush, highlighter and a bronzer. It provides the perfect warmth to your face and add glow to your skin.
This product is very suitable for normal skin. You can use it in summer months to add warmth and glow to your face.
Hoola by Benefit:
If you prefer to have a matte finish to your face, this product is the perfect one for you. It is very easy to blend. A little of this product goes a long way as it is pigmented. If you love contouring, it can help you do it perfectly.
You can use this product if you have an oily skin. It may be used throughout the year.
Tips to Remember:
Use a little of this product at a time. You can build it up if you require so. Make sure that you choose the right colour when you buy a bronzer. If there are lighter shades of bronzers, you can choose them as they will suit your complexion better.
So, choose the right shade of bronzer for your skin and apply it to look beautiful and gorgeous.