How to Apply Makeup on Oily Skin: Best Tips and Tricks
If you have oily skin, you face a lot of problems when you apply makeup on your face. It often fades away and melts off fast. It also oxidizes very soon, tends to clog the pores of the skin and also causes a lot of other skin issues. Luckily, now we have makeup products specially formulated for oily skin. This not only prevents the shine on the skin, but also controls the oil secreted on your skin.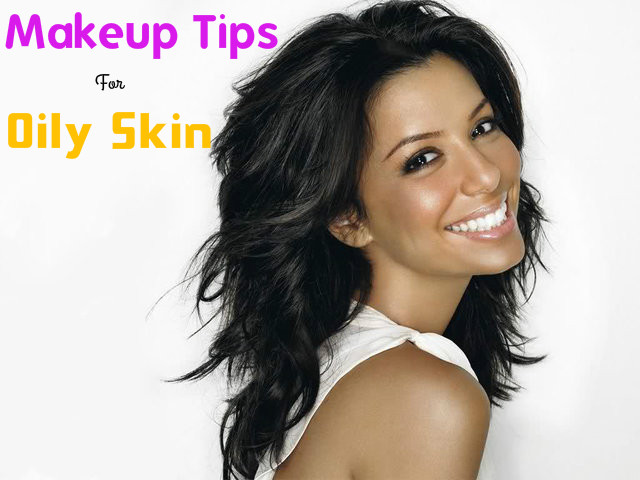 Makeup Tips for Oily Skin to Look Beautiful:
Applying kajal Perfectly is the trick:
Since your skin is oily, the kajal you apply on your eyes get easily smudged. So apply it with care, especially on the lower lashes. The best way is to set the kajal with eye shadow. This will help you kayak to stay for a longer time on your eyes without smudging and making your face look messy.
First Prime Your Skin for Makeup:
We all know that primer acts as a base and helps in the better application of makeup. In addition to that, it also forms a protective layer between your makeup and the skin, and prevents clogging of the pores. Applying primer is a good way to ensure that your makeup lasts for a longer time. When you choose primer for oily skin, take care not to get the silicone-based one. This is because oily skin is usually very sensitive and silicone-based products may cause allergy on the skin. This leads to breakouts and other skin problems. You can choose a primer that contains salicylic acid, which is good for fighting against acne breakouts.
Hat tip – Apply a toner and wipe your face to soak up the excess oil on your skin and retain its natural oils. A good way to prevent excess oil on your skin is to apply primer over your foundation. This will absorb the oil well.
Find the right foundation:
You need to be very careful in picking up the right foundation for your oily skin. Most of the foundations you get melt fast and need frequent touch ups. The best way is to choose a powder based foundation. This will reduce the shine and is also lighter on the skin. If you prefer liquid foundation, you can choose a water-based one or mousse foundation in matte finish. Apply a layer of it on the oily areas and then apply powder over those areas. Foundations containing silica can help you control oil on the skin. Make sure that you choose non-comedogenic and non-acnegenic products.
Hat Tip: L'Oreal Paris True Match Mineral Foundation is very suitable for oily skin. You can also try Bobbi Brown Skin Foundation Mineral Makeup SPF 15. However, it is costly and not affordable for all. Mineral makeup products are always best for oily skin.
Go For Minimum Layers Of Makeup:
Oily is skin is not a perfect base to apply makeup. So, if you put layer after layer of makeup on your face, it can melt or become cakey. So, avoid multiple layers of makeup when you have oily skin. Try to apply minimum layers on your face. For example, you can use a tinted moisturizer with SPF in it, thus minimizing the amount of makeup.
Opt for Matte blushes, They are fantastic!
Oily skin always has a tendency to shine. So, you should always try to go for a matte blush instead of using a blush with shimmer. Since makeup melts easily on oily skin, choose powder blush. This will last for a longer time compared to the cream-based blushes. If you still prefer to use a cream-based blush, then apply translucent powder over it and set it properly.
Select Oil Free Gentle Eye Makeup Remover:
Always remember to keep your skin in good condition. Applying makeup on a skin that is in good shape is always easier, no matter what type of skin you have. So, clean your skin with an oil free cleanser and toner if you have oily skin. Then you can apply the makeup.
Try mineral makeup, They are 100% natural:
Mineral makeup works great on oily skin. They are oil free and made up of inorganic minerals. As a result, they prevent the growth of bacteria on your skin. This makes it a perfect makeup for oily skin. The main ingredients found in mineral makeup are zinc oxide and titanium dioxide. Both are good natural sunscreens. So, you need not apply an extra layer of sunscreen on your face when you use this makeup. Zinc is also known for its antioxidant properties. This helps in preventing the makeup form getting oxidized and allows it to stay for a longer time.
Use a face powder always:
Always use a face powder when you have oily skin. It helps in removing shine and also sets your foundation. Many are confused whether they should use loose powder or compact powder. It is better to use loose powder, although both can be used on oily skin. This is because loose powder soaks oil better. Do not use powders that give shine or shimmer to your skin. This will make your skin oilier.
Hat tip: – Carry a blotting paper or a blot film with you and get rid of the excess oil with it. It can absorb the oil without disturbing your makeup.
Don't feel disheartened that you have oily skin. The good news for people with oily skin is that they tend to remain young looking for a longer time than people with dry skin. All you have to do is to camouflage it with the right makeup. This will make your face look flawless and fresh.