Benefits of Rosewater for Eyes, Skin and Ways to use it
Ever lost yourself in the magical fragrance of rose? The answer should be a big YES. We all love this most popular flower in the world, the flower of love. Rose has always been an inspiration for many writers including Shakespeare, and it has always been part of the beauty regime of women all over the world. From Cleopatra to our leading ladies in the film industry, rose flower always remain one of the best beauty enhancer.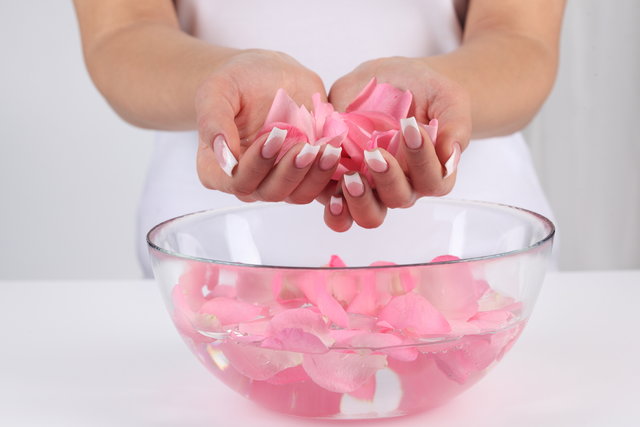 If you are looking for a softer, healthy and skin with some natural glow, rose or rosewater is the amazing ingredient that you should add to your skin care routine. Using rosewater for skin care can be beneficial in many ways. Let us see some of its common beauty uses.
Benefits of Rosewater for Eyes:
It is refreshing to use fresh water as an eye drop daily.
Daily use can prevent puffy eyes and remove dark circles.
It can also gently cleanse and cool your eyes.
Benefits of Rose water for Skin Care:
Rosewater can help your skin fight acne, eczema, and dermatitis
It helps in balancing pH level of your skin
Scars, cuts, and wounds heal faster if you use rosewater for skin care.
To moisturize, revitalize, and smoothen your skin, rosewater can be at best help.
To ease any stress and anxiety, rosewater can help you by calming down your skin
Rosewater has many anti-bacterial properties along with helping tone the skin.
It can act as an antioxidant to help regenerate skin tissues and strengthen skin cells.
Rosewater is not only good for skin, but also helps to recover the quality of hair because of its nourishing and moisturizing properties.
Dandruff caused by fungal infections, and other mild scalp inflammations can be treated with the help of rose water.
It can also help you look young by revitalising aging skin and reducing fine lines and wrinkles.
Ways to use Rosewater for Skin Care:
As a cleanser:
Rosewater can also be used as a cleanser to wipe out all the dirt and dead skin from your face. To make the rosewater cleanser, mix a cup of rosewater along with two spoons of glycerine and few drops of rose essential oil. Use this mixture as the cleanser to clean your face.
Along with your daily creams:
If you are too lazy for the above stuff, the benefits of rosewater can be made use of by using it along with your daily cram or moisturizer.
Mix a few drops of rosewater with your daily cream or moisturizer.
When you apply this mixture each time, it will help to make your skin more soft and supple.
As a facial toner:
Chemical content in most of the toners that you get in market are very high. Regular use of such products that you find in your supermarket shelves will make your skin dry and strip off its moisture. Afterwards you won't be able to step out without applying them. Rose water can be a better and more natural alternative:
Cleanse your face first.
With a soft cotton ball, apply chilled rosewater on your skin.
Rose water will help in naturally tone up your facial skin. It will help in closing the open pore on the skin, along with giving a sweet floral fragrance to your skin.
As a staining lip pack:
This is the simplest and natural DIY that you can try at home:
Take one beetroot and cut it into small pieces.
Sun-dry the beetroot pieces
Grind the beetroots into a very fine powder when it becomes completely dry.
Add a teaspoon of rosewater to this fine dry beetroot powder.
Now your lip pack is ready.
Apply this natural lip pack over your lips evenly, and keep it there for 15 minutes before you wash it off.
After this process, you can see soft pink stains on your lips instantly. If you want good looking pink lips, this is the most healthy and natural way without using any cosmetic products.
Rosewater to treat acne:
Are you suffering from acne? It good news for all acne sufferers! Rosewater can be used to treat acne naturally, and at home. All you need to do is follow the next few steps:
Mix equal quantity of rosewater and lemon juice in a bowl.
Apply this equal mixture on your face. Let the mixture stay for about half an hour.
After half an hour, wash the face with fresh water and clean the mixture. Applying this mixture daily for 2 to 3 weeks continuously will help in relieving acne, and also will reduce scars and blemishes.
Acne can be treated using rosewater in another way too. This is by preparing a home-made rosewater face mask along with cucumber and honey. Just follow the next few simple steps:
Mix together two inches of fresh, cold cucumber and two tablespoons of honey in a blender.
Make it into a soft paste by adding enough quantity of rosewater.
Clean your face with warm water before applying this mask.
Pat dry your face and then apply the mask.
Keep this mask on your face for around 15 minutes before rinsing away. Use this once in a week and enjoy how your skin feels.
As a sun body spray:
One of the great natural ways to treat your skin from the harmful effects of sun is by using rosewater.
Add together 200 ml of rosewater and 10 to 15 crushed tulsi leaves
Store this mixture in a spray bottle and refrigerate it.
This natural mixture that you prepared is good to be used after every time you come in from the sun. To calm down the skin, just spray this mixture all over your body. This mix can also help in preventing sunburn on your skin. All sorts of heat rashes and irritations can be prevented by daily use of this mixture. It can also help in healing the redness of the skin.