Best Benefits and Uses of Leeks for Skin, Hair and Health
Leeks are very nutritious and are used in the preparation of various dishes, from soup to beurek. Leeks have rich aroma, flavor and make every dish unique with its addition. The syrup, juice and the seeds of leeks are used in cosmetic and pharmaceutical industries. It belongs to the family of onion, garlic, shallots and scallions and its scientific name is Allium porrum. Leeks are rich in vitamins, minerals, fibers and antioxidants, which are very beneficial for the body.
Benefits of leeks for the Skin: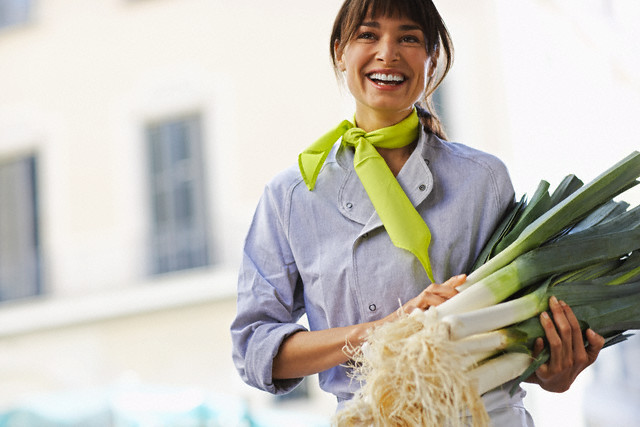 Detoxifies your skin:
Leeks are rich in vitamin C and antioxidants and are excellent for your skin. Being natural diuretic, leeks flush out the harmful toxins from your body by trapping them from the body. Thus they help in cleansing your body and make your skin look radiant and healthy.
Sun protection:
Compared to the whiter parts of the leek, its green leaves has 100x more beta-carotene and double the amount of vitamin C. This, along with vitamins A, and E and powerful antioxidants, forms a shield that protects your skin from the harm caused by the presence of free radicals in the body and from the damages caused by the ultra violet rays of the sun.
Hair benefits of leeks:
Promotes hair growth:
Leeks are rich in vitamins, minerals and antioxidants and are very beneficial for the hair. The iron present in leeks helps in the proper growth of the hair follicles. Vitamin C is necessary for the absorption of iron, which is also found in abundance in leeks. If you suffer from vitamin C deficiency, iron absorption in the body is affected, which leads to anaemia. One of the main causes for the hair loss is anaemia. So you must have iron rich as well as vitamin C rich food to treat anemia, both of which are found in leeks.
Medicinal Benefits of eating leeks: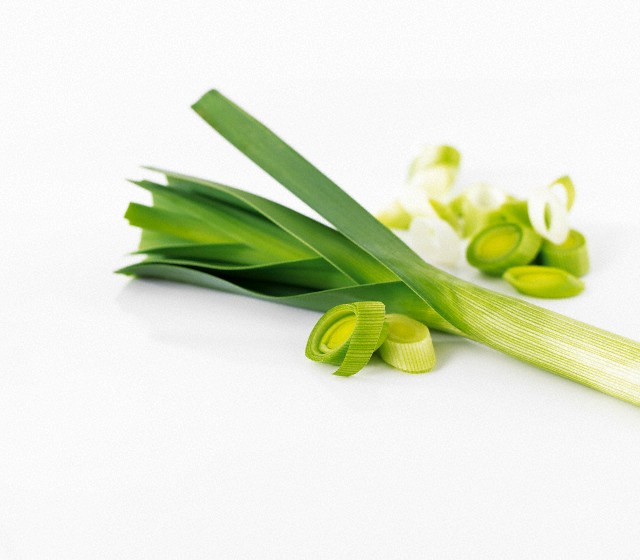 Aids digestion:
Leeks help in digestion and strengthen the stomach, gut and the kidneys. The fibers present in leeks make you eat slowly, which helps in digesting the food you eat. Thus you can avoid overeating and you feel full.
Acts as an antioxidant:
Antioxidants such as polyphenols are found in abundance in leeks. They fight against free radicals and prevent the signs of ageing and various chronic diseases.100 gm of fresh leeks provides you 3 mg of GAE (garlic acid equivalents).
Aphrodisiac:
Along with onions, garlic and celery, leeks are also known for their aphrodisiac effects. You can make a juice with leeks and celery and you will be surprised at the effects it offers.
Balsamic action:
The presence of volatile oils in leeks makes it effective for the treatment of problems related with respiratory tracts. Its balsamic action provides you relief from the symptoms of flu, cold and hay fever.
Beneficial during pregnancy:
Leeks contain vitamin B9, which is an important constituent of the diet for pregnant women. They promote the formation of new cells and are needed for the proper growth of the heart, face, brain and spine. They are also needed for normal birth weight and the formation of neural tube.
Bone health:
Leeks are rich in vitamin K, which activates osteocalcin, which is a protein that is essential for healthy bones. It is estimated that one cup of leeks provides you about 42 micrograms of vitamin K.
Good for the heart:
The risk of cardiovascular diseases like atherosclerosis and coronary artery diseases is greatly increased when level of homocysteine in the blood increases. Leeks contain 5-methyltetrahydrofolate, which is a form of folate that can reduce the level of homocysteine in the blood. Leeks also contain kaempherol, which is needed for a healthy heart.
Improves Eye vision:
Leeks are rich in lutein and zeaxanthin, which are essential for good eyesight. They aid in filtering out the harmful rays of the light when they enter your eyes and protect the eyes from harmful oxidation of DNA and cell membrane. Leeks also check cataract and age related eye problems.
Keeps Healthy cholesterol:
The fibers present in leeks lower the level of cholesterol and induce easy bowel movements. They also throw out additional cholesterol from the body and lower the production of cholesterol in the liver. They are also instrumental in lowering the LDL cholesterol and increasing the level of HDL cholesterol, because of their antiseptic properties.
Nervous system:
For the proper and healthy functioning of the nervous system you need nutrients like magnesium, folate and phosphorous. Leeks are rich sources of these substances. These vitamins and minerals contained in leeks help to improve concentration, your memory power and the ability of the brain to process information.
Protects blood vessels:
Leeks contain kaempherol, which is a flavonoid that protects the linings of the blood vessels from the harmful actions of free radicals. It induces the production of nitric oxide, which is responsible for the dilation and relaxation of the blood vessels naturally. Thus it reduces the risk of hypertension. Vitamin K present in leeks is used by all the tissues in the body and is very beneficial for the body. If the level of vitamin K is low in your body, it may cause bleeding and also affects the blood circulation.
Prevents cancer
Leeks contain allyl sulfides, which are capable of inhibiting the formation of malignant tumors. Prostate, colon and ovarian cancers are controlled by consuming leeks.
Promotes weight loss:
Leeks are fat free and have low calorie. So they are best for fighting obesity and to reduce weight. They also reduce appetite because of their fiber content. It contains insoluble and soluble fibers, which control bloating.
Reduces the risk of chronic inflammatory diseases:
Chronic inflammation is fatal to the heart, which can be cured by taking leeks. This is because it contains vitamin K, which acts against inflammation and protect the body from diabetes, obesity and arthritis.
With so many benefits, include leeks in your daily diet and remain healthy and strong.