Best and Effective Hair Removal Methods for Facial Hair
Facial hair always comes up as a menace for all those lovely looking ladies who want to look always at their best. It is one thing that makes one shy and conscious about their looks and is something very repulsive to have on your face. We will discuss here some of the easy ways to get rid of this problem and help you look good always.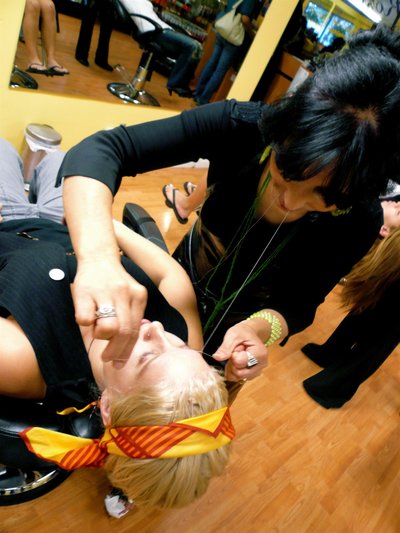 Image credits: Wikimedia
Women also have a lot of facial hair like men have. Some have it dark and thick compared to others. Women usually have dark and thick facial hair because of reasons such as stress, hormonal changes, and hereditary reasons. This can be also due to menopause, or use of steroid creams, race or ethnicity. For some females, excess facial hair growth can also occur if their hair follicles are unusually sensitive to male hormones.
Whatever might be the reason for facial hair growth in your case, there is some way for you to remove them and get back a clean looking face. You have to be very cautious while removing hair from your face since the skin on the face is far more sensitive than skin on any other parts of the body. Also removing facial hair can be a little painful process because the hair has to be removed from the roots. But that little pain can make you look gorgeous afterwards.
There are many methods available for facial hair removal. The most common of them are waxing, threading, using peel off masks, laser hair removal treatments, bleaching, hair removal creams, shaving, using epilators and other natural hair removal methods. Let us see how each of them actually works:
Best Hair Removal Methods for Facial Hair:
Bleaching:
Bleaching is a process which changes the hair colour to match the skin tone. The effect of bleaching can last for up to two weeks. It is always better to go for cream bleaches on your face compared to home-made bleaches and body bleaches. This is because the skin on face is lighter and more prone to irritation than any other part of the body.
Bleaching also has some corrosive effect on the skin. Bleaching can increase the dermatitis condition if a person already suffers from it. It can at times also lead to infection, hyper-pigmentation, and tanning, or even make the skin prone to cancer.
Electrolysis:
Electrolysis is one of the permanent solutions for facial hair removal. Here, the facial hair is burnt from the hair using electric current.  But this can be an expensive and time consuming process and might require repeating the process a few times to get permanent results. This process should be gone through only after consulting the experts as this might not suit your skin type some times. It is also not suggested for those people who use pacemakers.
Epilators:
If you don't have much facial growth, then epilators is a good option to remove your facial hair. These devices have around thousand plucks per minute and offer a painless and quick way to remove small body hairs.
Hair removal cream:
Hair removal creams are another simple and painless method which can give you instant results. It can give you only short term results since its effect lasts only for a few days. These creams come with moisturizers that make your skin soft and also do not darken your skin or cause any spots. This is one of the best and easiest home remedy to remove your facial hair.
Laser hair removal treatment:
This is one of the latest methods for hair removal, where high energy light rays are used to burn the hair from the roots and thus preventing re-growth, or even if growth occurs, the hair will be lighter and less dense. This is one of the very effective methods, but will be heavy on your pocket. This process should be undertaken only under the supervision of a reputed doctor. Laser hair treatment works only on darker hair.
Natural methods:
There are a lot of natural methods as well to remove facial hair, like sugar wax, honey wax, natural face masks using curd, gram flour and turmeric mix, or corn flour, egg white and sugar mix.
Peel off masks:
Peel off marks is another way to remove facial hair. In this method, hair removal cream is spread on the face and is allowed to dry out. When you peel off this dried mask from your face, all the dead skin, and unwanted hair also gets peeled off from your face. This is a simple and one step method to take care of your skin and also to remove your facial hair.
Shaving:
It is one of the best and easiest ways to remove facial hair. It is a quick and painless method to remove hair. This can be easily done at home. Always make sure to lather your skin to avoid cuts on the skin, and make sure that the razor you use is clean and hygiene.
Threading:
It is one of the most common and unpleasant ways to remove facial hair. Here, a thin thread is used to rip out the hair one by one from the face. It gives a good result at the end. But the process is very painful, and its effect does not last long. To make the hair growth less frequent you will have to do the process regularly.
Tweezing:
Tweezing is one of the methods which suits all those who have less amount of facial hair. Tweezers can be used to pluck off facial hair whenever they turn up. This won't work for those people who have dense facial hair.
Waxing:
Waxing is one of the most common methods for facial hair removal. People tend to go for it because it is cheap, and is less painful compared to threading. But experts suggest not going for this method to remove facial hair. This is because while waxing, the hair is pulled out of its roots, which makes the skin age prematurely. So, though your unwanted hair might go, it can lead you to look old.
There are even hormone treatments and oral contraceptives available for hair removal. But, you must consult with an expert doctor before opting for such treatments.