What is the Best Hair Color for Olive Skin and Brown Eyes?
Choosing the right hair color can make a great difference to your look. If you have olive skin tone and enchanting brown eyes, you have to keep certain things in mind before choosing the hair color. You must learn the importance of determining the right hair color for your skin tone.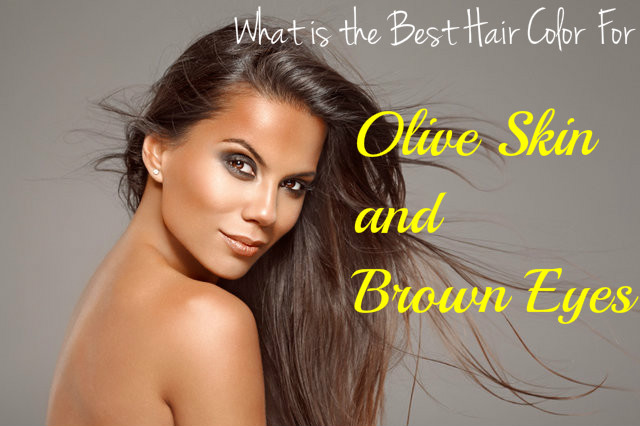 When you need a Change What to do?
When you are growing up, your mother takes care of your hair and keep it healthy and in good condition by applying coconut oil. This helps in keeping your hair strong, healthy and shiny. But with the changing trends, we all like to have some change and prefer to be a little quirky, bold and bright with hair colors, which can be dark or light. This is fun and fills your with excitement.
Think about your positive points, your attributes and your personality and try to imagine how you will look with the color you see on a magazine. Remember that what looks perfect and hot on someone else may not look good at all when you try it. So, it is important that you choose the right shades and colors that will compliment your skin tone. Never choose a color that will contrast your skin tone.
What Hair Color is best for your Skin Tone?
There are two types of skin tones, which are warm and cool skin tones. There is a way how you can find out your skin tone. This is how you can find out your skin tone. First you have to wash your face with a mild herbal cleanser and remove all dirt, grime and impurities from your skin.
Stand in front of the mirror, which is placed in a room filled with lots of natural light.
Hold a red piece and a yellow piece of paper in one hand.
In the other hand you have to hold blue, silver, green and white pieces of paper.
Now you have to place each piece, one at a time, on the surface of your facial skin.
Find out which colors flatter your skin and make your skin glow more. For example, if red or yellow flatter your skin, then you have a warm skin tone. On the other hand, if any color in the other group flatters your skin, it means that you have a cool skin tone.
You can also do it under the sun, using the different pieces of colored papers one by one. Bluish tint means that you have cooler tones, while greenish tints mean you have warmer skin tones.
A warm skin tone will always have yellow undertones and a cool skin tone will have blue undertones. So, you have to choose the right hair color that will make the undertones radiant and shiny. This is the only way to make your features outstanding and give you a gorgeous look.
Best Hair Color Choices for Olive Skin and Brown Eyes?
So now you know how to check for the undertone of your skin and that it is not permanent throughout your life. It can be affected by sun tan and other elements that can brighten or darken your skin. People with olive skin and brown eyes have green undertones.
Shades of red are best for you.
Strawberry blonde hair color also looks good.
Auburn brunette provides a classy look.
Hair Color for Red Skin Undertones:
You can have the following colors:
Mocha browns
Icy blondes
Violet reds
Note: If you have dark olive skin, you should not use medium browns and blondes.
Now let us look at the color of the eyes. Most of the people with blue eyes look good in copper hair color and girls with hazel eyes wear browns and chocolates. You can choose the best hair color for hazel eyes, which will highlight the golden hues in your eyes. You can also think of the following colors, with olive eyes to flaunt:
Orangish reds
Golden blondes
Honey blondes
Chocolate brunettes
Hair Color for Warm Skin Tones:
Ash browns are best for you.
You can also think of choosing beige.
A touch of champagne blonde is also a good choice.
Deep reds will also look sassy.
Violet and auburn mix.
Ombre Hair Color Idea with Olive Skin and Brown Eyes:
Yes, of course you can try it. Think 'sombre' and not 'ombre'. 'Ombre' is now out of fashion. Warm and cool toned skin and eyes can use sombre colors. This will give a natural touch and an effortless effect.
For brown, blue and green eyes you have a wide range of colors for your hair. When you choose the hair color for olive skin, make sure that the shade you choose falls is within three shades of your natural hair. This means that you can choose two shades lighter or darker than your natural hair color. This will flatter your looks and also make you appear natural.
It is said that when you have olive skin, you look flamboyant in dark colors, no matter what your skin tone complexion is. So, try to choose some dark shades like black, brown shades, darker red and darker shades of blonde. These shades will make you look fabulous. To spice up your looks, you can also apply red lipstick, which is the best color for olive skin.
Your outfits also play a role in determining the best hair color. For olive skin, vibrant colors like pink, red, orange and green match well and compliment the skin.