Best Homemade Conditioners for Damaged Frizzy Hair
Lustrous black and thick voluminous hair is what everyone wishes to have. It is the symbol of a healthy body, both internally and externally. In these new times of high pollution and unhealthy food habits, this just remains a distant dream for many of us. Damaged, frizzy or dry hair is something that most of us have to get along with. Damaged hair is very difficult to manage and it requires lot of care and attention. It is essential to have good food that includes balanced amounts of carbohydrates, vitamins, minerals and other nutrients to keep your hair remain healthy. Let us see some of the common reasons behind hair damage: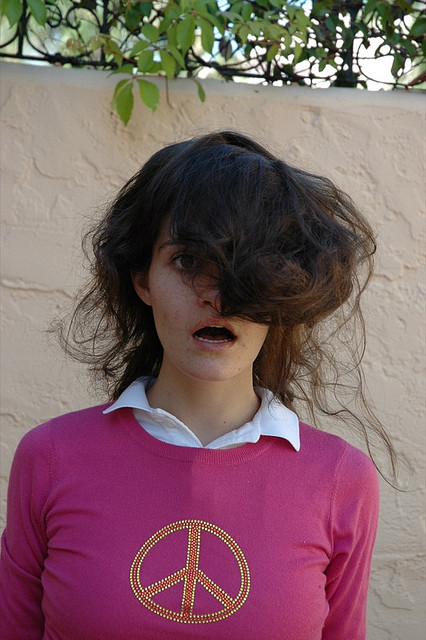 Image credits: Flickr
Bleaching , highlighting and colouring of hair
Direct heating of hair by hair dryers, straightening and curling tools etc.
Excessive exposure to sun
Not brushing the hair, or over brushing.
Over shampooing of hair
Use of weaves and extensions
Damaged hair can lead to various hair problems such as split ends, limiting of hair growth, loss of natural sheen and thickness etc. you can get back healthy hair texture by using various homemade conditioners and hair masks. Let us see some of the best remedies and tips to treat damaged frizzy hair:
Avocado oil:
Avocado oil is one of the best oil to treat dry and damaged hair. Avocado oil can reach the core of your hair strands by penetrating the hair shaft and provide moisture. This oil is rich in mono saturated fatty acids and vitamin E, which are helpful in hair growth and also giving hair a healthy shine. Massage your hair with hot avocado oil and then keep it like that for 30 minutes and the n wash it off. You can even keep it overnight and then wash it off the next day.
Avocado and Banana Conditioner:
This is one of the best homemade hair conditioners to take care of damaged hair. All you need is banana, avocado, eggs, honey and extra virgin olive oil. Peel the avocado and cut it into two pieces. Smash the avocado pieces until it becomes a paste. Mix half a banana, and 2 tablespoons of extra virgin olive oil with this avocado paste. Then take this paste and mix it with an egg in a blender until it becomes soft.
Before applying this mixture, make sure that your hair is dry. Start applying the conditioner from the top the top section of the hair and work your way down towards the tip of the hair. Take care not to apply the conditioner on the scalp. Concentrate on applying the hair conditioner on the hair tips, as they are more vulnerable to damage. Keep the conditioner applied on the hair for about 10 minutes and then rinse off with water. Your hair will become soft and shiny.
This hair conditioner is highly beneficial as banana helps in nourishing your hair and prevents it from getting frizzy. Avocado is good for hair growth and it also helps in conditioning and moisturising your hair. Olive oil helps in making your hair healthy and shiny, and honey adds sheen to the hair and make it light.
Banana Hair Mask:
This is one of the easiest hair conditioner recipes that you can try at home. All you need for this is banana, eggs, honey, milk and olive oil. Mix one banana, one egg, three tablespoon milk, honey, and five tablespoon of olive together in a vessel. Mix it well to make a smooth paste. Banana hair mask is ready now. Apply this mixture paste on the hair and keep it there for 15 to 30 minutes. Wash off the mixture well after that.
Different oils to treat hair damage:
One the best ways to bring back moisture and nourishment to the hair is by regular use of oils. Oils nourish the hair from within by penetrating into the cortex of the hair. Oils are rich in fatty acids and vitamins. It helps kin rebuilding the damaged hair surface and thereby preventing moisture loss and also protects hair from further damage. There are many different oils that you can use. Let us see some of the most common oils and its benefits.
Olive oil:
Olive oil has the ability to penetrate the hair better than any other oil. This oil is a great emollient. Hot olive oil is very good for conditioning your hair.  Massage your hair and scalp in a circular motion with one tablespoon of hot olive oil. Then keep the hair covered with wit a shower cap or plastic wrap and leave it for 40 minutes and then wash it off using mild shampoo.
Vinegar Egg Conditioner:
To make this simple homemade conditioner, all you need are the following:
Eggs- which are good natural conditioner and helps in giving natural shine to the hair
Olive oil- which makes your hair strong and healthy
Honey- which moisturises the hair and helps in lightening the hair.
Vinegar- which helps in treating hair loss
And lemon juice.
Start with whisking 2 or 3 egg yolks thoroughly. To this add about 4 oz of vinegar, and 5 oz of lemon juice. Mix this mixture well. Add about 8 oz of olive oil and 2 or 3 tablespoon of honey simultaneously and then mix the whole mixture well in a blender until you get a thick and whipped paste. Your vinegar egg hair conditioner is ready.
Apply this conditioner to the tips of your hair and leave it for about 10-15 minutes. Then rinse it off thoroughly using normal or cold water, and see the change in your hair.
Yogurt Hair Mask:
Yogurt is another great conditioner to treat damaged hair. When mixed with egg white it helps in effectively relieving you from hair damage. To make yogurt hair mask, you only need yogurt and egg. Make the hair mask by beating an egg white until it becomes nice and smooth. Add five to six tablespoons of yogurt to this beaten egg and then blend again to make the yogurt hair mask.
Apply this hair mask by massaging it into the hair and keep it covered in a shower cap. Leave it like that for about 15 to 30 minutes and then wash it off with a mild shampoo.