Best Homemade Henna Packs for Hair Fall and Growth
Henna is a very useful ingredient when it comes to your hair. This has been an age old treatment for all kinds of hair problems. It counters any problem that you have with your hair. It is very good for healthy hair, and nourishes it from the roots. For maintaining good hair health, there is nothing better than henna. Henna can be used in a number of different ways to keep your hair strong and beautiful, and even solve all problems.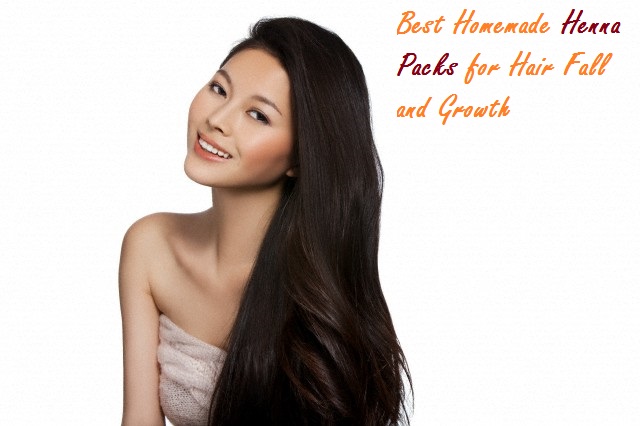 Source of Henna:
Lawsonia inermis was the older name of henna. This new name is derived from the Arabic name "hinna". This plant is used to prepare a sort of a dye which colors the hair, skin, nails, and even fabrics, temporarily. This dye is also referred to as henna. The leaf of the plant is used to derive the coloring dye. The meaning of Lawsone is "staining agent". It is released from the leaf of the plant, and that is when he color is brought out from it. It is a compound which gives a burgundy color. It has a special affinity towards proteins and binds with them. As such, these proteins derive the color from Lawsone.
Benefits of Henna for hair growth:
The natural properties of henna help in sealing the cuticles and repair them. This is done by correlating proteins in your hair. Hair growth is increased in this manner. Your hair becomes strong, breakage of hair is controlled, and you hair is made lustrous and shiny.
Henna is used as a natural hair dye. Premature graying of hair is controlled if you use henna. The pH level in your scalp is balanced by regular application of henna. This prevents loss of hair and even controls itching, dandruff, and all other kinds of hair problems.
The conditioning and cooling properties of henna give relief to your scalp.  The scalp is soothed, and dryness is controlled. The lost moisture is restored. Brittle and dry hair is made shiny and soft.
All problems of dandruff are controlled by henna. It moisturizes your scalp, and makes your scalp clean by treating all issues.
Simple Henna Hair Packs you can do yourself:
Henna is applied on your hair in hair packs. Read on for three hair packs to benefit your hair, and get a lustrous mane.
Pack 1: Henna pack to reduce Hair Fall and Promotes Hair Growth:
Using henna with mustard oil makes your hair grow well and makes it healthy.
Ingredients:
Procedure:
Take about ml of mustard oil in a bowl. Add a few henna leaves to it, and boil well. The leaves must get burnt in this oil.
After boiling, take it and leave it to cool down to room temperature.
After cooling, use a muslin cloth to sieve the oil. Store it in an air tight container.
Use this oil to massage your hair regularly. Your hair growth will increase, and you find a reduction in the loss of hair and hair fall. The stored oil can be used for a month.
Before applying the oil, you can add some lemon juice, or a teaspoon of fresh curd to it. It offers better results.
Pack 2: Henna pack to Color and Condition your hair:
This pack is very useful for coloring your hair, and conditioning it from deep inside. Leave it for as long as you can, to achieve all benefits. the longer you keep, deeper will be the coloring effect on your hair.
Ingredients:
Henna
Lemon juice
Freshly brewed tea – black tea or green tea
Procedure:
Soak the henna powder overnight. In the morning the next day, apply the henna on your hair.
Soaking the henna in black tea or green tea is the best idea. It maximizes the effect of coloring and conditioning on your hair. The tea must be freshly brewed. It is better than using water for soaking.
Add a little lemon juice to the henna hair pack. It adds luster to your hair, and makes it shiny and beautiful.
If you want to condition your hair further, take an egg and beat it. Add this beaten egg to the hair pack just before you start applying. For people who do not like the smell of egg or are allergic to it, yoghurt or any essential oil can be used instead. Take 2 tablespoons of the ingredient you choose and add to the pack.
Make sure to apply this hair pack once in two weeks. It makes your hair shiny and promotes the growth of hair. The strength of your hair is increased, and it also gets better volume. Henna has a magical effect on your hair.
Pack 3: Henna pack for Preventing Dandruff:
All common hair problems like itchy scalp and dandruff are cured by using henna. Use henna regularly to get rid of dandruff, and even prevent it from returning and affecting again.
Ingredients:
Henna
Fenugreek Seeds
Mustard Oil
Procedure:
Take some fenugreek seeds and soak them overnight. In the morning, grind them well and make a paste.
Mix henna, mustard oil, and the paste made from fenugreek seeds
Make a hair pack to apply on your hair and scalp.
Let the pack stay on for about half an hour.
Wash your hair well and condition it.
Apply this hair pack on a regular basis. It makes your hair healthy and protects your scalp from all kinds of issues.
Every girl wants beautiful, thick, and healthy hair. The products available in the market contain lots of chemicals which may offer temporary effects, but can be quite harmful in the long run. It is better to avoid all such kinds of products and stick to natural ingredients only. Henna is the best relief you can offer for your hair. Use it in the best way ossible, to get the hair you always wanted. Use henna regularly to keep your hair and scalp healthy and beautiful.