Best Homemade Scrubs and Masks for Monsoon
Monsoon is a great welcome after the scorching heat of summer. But we have to take proper care of our skin during the monsoon times. The high humidity makes the skin oilier or even dry, and also causes you irritation. There is also the chance of fungal infection on the skin. One of the things that are necessary in monsoon is exfoliation of the skin. This removes dead skin cells and makes your skin smooth and rejuvenated. It also increases blood circulation in the skin. You can easily make these scrubs at home instead of spending a huge amount of money by buying them.
Scrubs you can try at home during Monsoon:
Brown sugar scrub:
Image credits: wikimedia
Brown sugar is also an excellent scrub to exfoliate your skin in monsoon seasons.
Mix brown sugar and olive oil and make a thick granular paste. The amount you take depends on how much you need.
Scrub your whole body with this paste and then wash off with water. You will get a smooth and soft skin.
Banana scrub: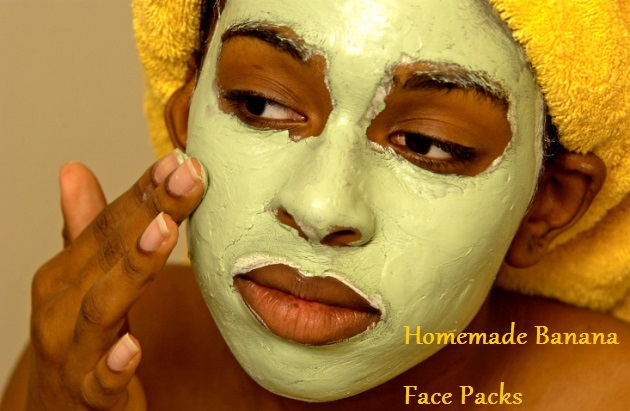 Scrubs made with banana are very effective for keeping the skin tight and to moisturize the skin. It unclogs the pores and removes dead skin cells. As bananas are easily available, you can make a scrub of banana whenever you feel like.
Take one banana and mash it with a fork.
Add 4 teaspoon of sugar to the mashed banana.
Mix a few drops of vanilla extract.
Massage the skin with this scrub in gentle circular motion.
Rinse off after a while.
You can also mix one ripe banana with 1 tablespoon each of lemon and honey and mix them well. Apply this on your face and the neck and wash off with warm water after the mask gets dry.
Oatmeal scrub:
This scrub is excellent for dry skin. Elbows and knees are particularly benefitted by using this scrub.
Take half cup each of oatmeal, yogurt and the put a few drops of Vitamin E oil to them.
Mix all of them well and apply this on your body before you take your bath.
Scrub your body gently with it and then wash off well with water.
This will provide you beautiful skin that is smooth and glowing.
Peaches scrub:
Peaches are excellent for your skin. They help in tightening your skin and also add shine to your skin, making it bright and glowing.
Take the pulp of peach and mix it with egg white. Blend them well till the mixture becomes smooth.
Apply this mask on your face and let it remain on your face for about 20 to 30 minutes.
You can also mix peach pulp with milk and cream. This will make the skin brighter. Wash it off after 5 minutes.
You can make a hydrating scrub with peach paste by mixing it with 1 cup of white sugar and 1 cup of olive oil. This exfoliates your skin and rejuvenates it, keeping it well hydrated.
Papaya scrub: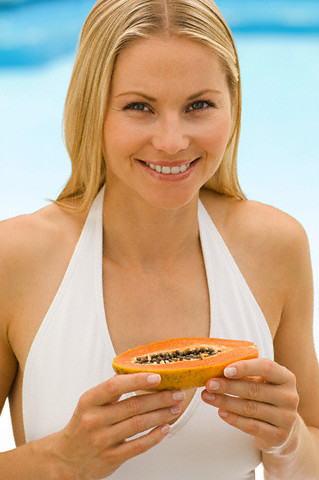 Papaya is a fruit that is very good for your health as it contains Vitamins and antioxidants. It is not only good for eating but also good for your skin when you apply it on your skin. It has natural enzymes which act as exfoliants, making your skin healthy and beautiful.
Mash papaya and mix it with oatmeal and sugar.
Scrub your face with this and also your body if you feel like.
Let the scrub remain on your skin for a few minutes.
Then wash off with water.
This will rejuvenate your skin and makes it smooth.
Strawberry sugar scrub:
Strawberries are great for exfoliating your skin. It also contains Vitamin C, which helps in removing sun tan, thus making your ski bright and glowing.
Take a bowl and mash strawberries in it.
Put in 3 teaspoon of honey.
Apply this mixture on your skin and wait for a few minutes.
Wash off with lukewarm water.
You may also make strawberry sugar syrup with strawberries and 1 cup of sugar. Massage this syrup on your skin in gentle circular motion. Rinse off with lukewarm water. This provides you bright and smooth skin.
Some of the Masks you can use in Monsoon:
Besan Mask:
Take one teaspoon besan, 1 to 2 tsp. rose water, a pinch of turmeric and 2 to 3 drops of fresh lemon juice.
Mix tem well and apply this on your face.
Let it remain on the skin for about 20 to 30 minutes and then wash off with water. This will provide you smooth and glowing skin in monsoon.
Multani mitti mask: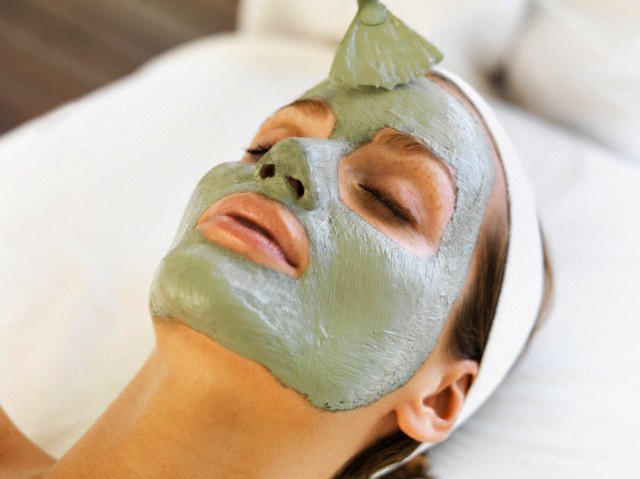 Take one tablespoon of fuller's earth ( multani mitti ), and mix it with water to make a paste.
Apply this on your face and wait till is dry.
Wash off with water.
Orange peel Mask:
Take 2 tbsp. Powdered orange peel, low fat milk and a few drops of lemon juice. Mix them all well and then apply this paste on your face. Wait for 5 minutes and then wash off with cool water. This is excellent for your skin.
Some Points to remember while using Scrubs:
Cleanse you face before you apply scrubs or masks on the face.
Take care not to scrub your skin more than twice a week.
The sugar you use for scrubbing must have tiny granules and not large and coarse granules.
Make sure that you do not scrub your face for more than 2 minutes. If you overdo it, you will get red and raw skin, which will not good.
After using the scrub, don't use a moisturizer immediately.
Keep the scrubs in your bathroom, so that you can use it when you need it.