Best Natural Home remedies treatment for Cough and Cold
If you've tried everything possible for your cough and cold but found no relief, don't waste any more time and money on those over-the-counter medications touted to be the best for cough and cold relief. Instead, enter your kitchen and you'll find all kinds of natural remedies there, waiting to be used. If you want to be pleasantly surprised about the wealth of remedies you have here, let's take a tour of your kitchen. Here we go:
Honey: Apart from a proven body of research claiming honey's invaluable effectiveness in treating a stubborn cough and cold, even the World Health Organization cites it to be good in these cases and to get rid of the associated irritation one experiences. Honey has antimicrobial and antioxidant properties that help you fight bacterial, viral and fungal infection.
For best results, take honey "neat" or mix it with lemon juice or coconut oil. Or mix it with a shot of bourbon and watch it calm your sore throat.
Lemon: When all your coughing leaves your throat raw and sore, you need something to soothe it. Coughing through the night not only robs you of precious sleep but leaves you helpless without a cure. If you suffer from a cough at night, soothe your throat with a mix of one cup of honey and 3 tablespoons of lemon juice. Blend this mix and then add warm water until you have a smooth solution. Have a couple of sips as you go to bed and watch your throat infection receding.
You can also make tea for a cough of lemon and honey. Boil two cups of water and add to it one tablespoon of ginger root (grated), half a sliced lemon and a clove of garlic (minced). Let it simmer for 20 minutes and then let it steep. The longer you let it rest, the better relief it will give you. Add a little honey to sweeten your tea.
If the above ideas don't grab you, you can always suck on a slice of lemon sprinkled with salt and pepper. This should give you some relief from a cough and cold.
Ginger tea: Ginger is anti-inflammatory in nature and can treat your cough and cold due to its decongestant and antihistamine properties. By making a cup of ginger tea, you can say goodbye to your terrible cough and cold. Alternatively, you can take advantage of ginger's ability to prevent cough viruses from entering the respiratory tract by eating two garlic cloves every day, or take garlic supplements.
Black pepper: Add oneteaspoon of black pepper to a cup of boiling water and let the solution steep for about 15 minutes. Next, add two tablespoons of honey and drink the tea. Black pepper helps to improve circulation and also acts as a decongestant. Honey helps to soothe your irritation in the throat and gives relief from coughing.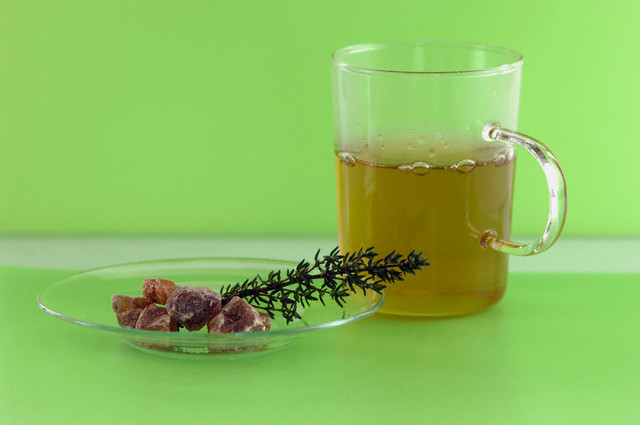 Thyme tea: This herb has powerful leaves that help with reducing cough and cold and relax the wind pipe and ilealmuscles, besides also reducing inflammation. Boil its leaves in water and steep for some time and add honey to it and enjoy this soothing mix.
Sage: One of the most effective herbs for cough and cold relief, you can chew its leaves and swallow its juice for sore throat relief.
Licorice: Licorice root is particularly effective for treating persistent coughs. Take a slice of licorice and steep it for 24 hours in a cup of hot water and sip as required.
Horseradish: Though hot, horseradish can liquefy phlegm and relieve coughs.
Honey, oil and lemon juice: Make cough syrup with a cup of honey, ½ cup olive oil and four tablespoons lemon juice in a saucepan. Warm for five minutes and stir until the solution thickens. Take a teaspoon of this every couple of hours and see the difference in you.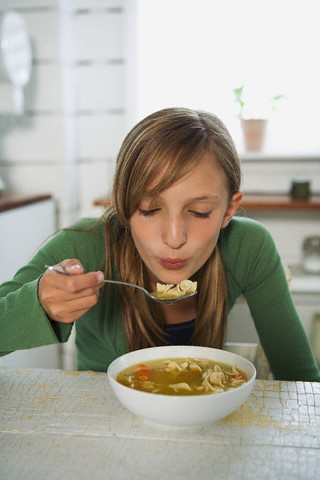 Chicken soup: Chicken soup is endowed with several properties that help relieve cough and cold. It lowers inflammation in the wind pipe, clears mucus and provides the body with the necessary antioxidants. It also improves your immunity and keeps you hydrated.
Salt and baking soda: For cough relief, make a nose wash of warm water and salt and with the help of a syringe or neti pot, let water enter each nostril and rinse the area. Getting mucus out of your nostrils will certainly help relieve your cough.