Best Natural Homemade Conditioners for Dry Hair
Most of you must have suffered from dry hair and are still facing the problem. Dry hair is difficult to manage and to keep in place. Such hair also breaks off easily and leads to hair fall and split ends. Dry hair can also lead to the formation of dandruff on your scalp and the hair. Using good hair conditioners is the best way to solve this problem. Hair conditioners help in lubricating your hair from the shaft and make the hair smooth, tangle free and easy to manage. You get different types of hair conditioners in the market. Some of them are to be used after you shampoo your hair. Apply them on the hair, wait for a few minutes and then wash off. Some are leave ons whereas some you have to apply and leave overnight.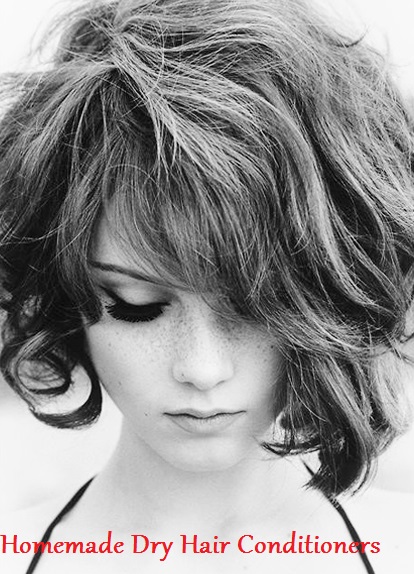 Image credits: totalbeauty
You can also make hair conditioners at home, using natural ingredients. They are easily available and do not cause any harm to your hair as some chemicals do. They are easy to make and use. Moreover, they are less costly than the conditioners that you buy from the market. You can use them daily with no worry that they may cause any harm to your hair. If you are busy and cannot make it daily, you can prepare these conditioners and store them for a week in the refrigerator.
Some home-made conditioners for dry hair:
Coconut oil and honey Hair conditioner:
This is a natural conditioner and one of the best for dry hair.
Ingredients Required:
Virgin coconut oil – 1 table spoon
Honey – 1 table spoon
Lemon juice – 1 table spoon
Curd – 1 table spoon
A few drops of rose water and if you wish, you can take a few drops of your favorite conditioner.
Procedure:
Take all the three ingredients in a bowl and mix well. Apply this mixture on your hair and wait for 10 minutes. Wash off with water. According to the length of your hair you can increase or decrease the ingredients.
Coconut milk deep conditioner:
Ingredients Required:
Coconut milk – ¼ cup
Honey – 1 table spoon
Rose water – few drops
Vitamin e capsule – 1
Glycerin – few drops
Few drops of your favorite hair conditioner, which is optional.
Now you get coconut milk in packets, which may be in the liquid or powdered form. There are also sachets of coconut milk powder available, which you can easily store. You can also prepare coconut milk by grinding grated coconut and squeezing out the milk. But this time consuming and only those who have enough time to spare can do it.
Procedure:
Take a bowl, put all the ingredients in the bowl, taking care to break open the vitamin e capsule. Mix all the ingredients well in the bowl. Apply mixture on your hair. After applying the conditioner, cover your hair with a plastic cap and let the conditioner stay on your hair for about 15 minutes. After the time is over, wash your hair with lukewarm water. It makes your hair very smooth and manageable.
Coconut milk, almond oil conditioner:
Milk – 1 table spoon
Honey – 1 table spoon
Coconut milk – 1 table spoon
Rose water – a few drops
Sweet almond oil – 2 to 3 drops
Take all the three ingredients plus rose water and almond oil in a clean bowl and mix well. You can also add a few drops of your favorite hair conditioner with the mixture if you wish so. Apply the conditioner thus made on your hair and cover your hair with a warm towel. Let it stay for about 15 minutes and then rinse off with water. Coconut milk, honey and almond oil help in sealing moisture in your hair because of their moisture attracting properties.
Banana, honey and olive oil conditioner:
Ingredients Reuired:
Ripe banana – 1
Honey – 2 table spoon
Olive oil – 2 table spoon
Mix all he ingredient well in a blender and make a smooth paste out of the. Apply this paste on your hair and then wear a plastic cap to prevent the paste from dripping out. Wait for about 30 minutes and then wash off with water. This makes your hair well hydrated and smooth.
A few tips to remember:
By adding a few drops of your favorite conditioner, you can give your hair extra fragrance.
Use these homemade conditioners regularly and you will start getting the results within a few weeks.
You can use any other natural oil instead of coconut oil. It is not compulsory that you should use only coconut oil.
All the ingredients used in making the conditioners are natural and full of nutrients that nourish your hair. Some of their properties are:
Coconut milk – The thick white milk that you get from the coconut is rich in proteins vitamins and minerals, and excellent for your hair. It is lighter than the oil you extract form coconut and you can use it daily on your hair. It acts as a natural conditioner for dry hair and keeps your hair well nourished and hydrated.
Coconut oil – This is very beneficial for dry and damaged hair. It also has a lovely smell and is easy to wash off as it is light and non-greasy.
Glycerin – Glycerin also helps in sealing the moisture on your hair. Vegetable glycerin is the best form of glycerin that you can use.
Honey – Honey has the ability to attract moisture and it also contains minerals and vitamins in large amounts. So it aids in sealing the moisture in the hair and preventing your hair from getting dry.
With so many ingredients with which you can make hair conditioners, you need not worry about dry hair. Just try out some of them and forget that you ever had any problem with your hair.