Best Skin Care Tips and Secrets for Over 50 Women
Reaching your 50s means that you have to really take care of your skin and hair. At this age you are still concerned about your looks and want to look great, but various skin problems begin to trouble you. So it is necessary that you follow a skin care regime to retain the glow and youthfulness of your skin.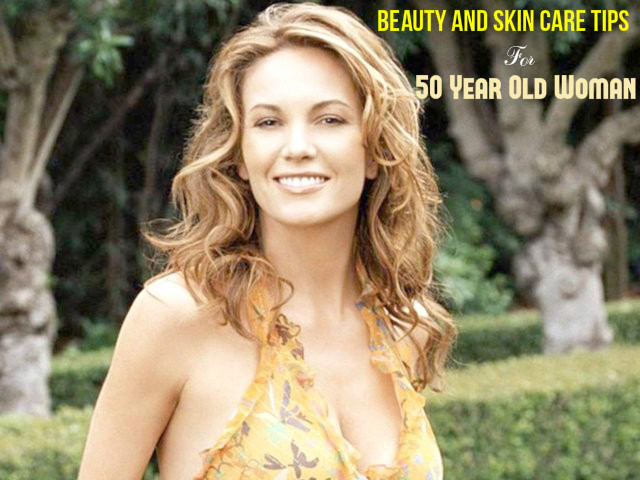 Beauty and Skin Care Tips for 50 Year Old Woman:
Breathing Exercise Benefits you:
Pranayama, which is a yogic breathing exercise, is shown to have immense benefits for your skin. Practicing breathing exercise for at least 30 minutes daily can help you look great even at 50. It improves the supply of oxygen to all cells of the body and provides you a radiant and healthy skin.
Be gentle on skin:
Always try to be gentle with your skin. If you treat your skin gently, it will suffer from less damage. Never wipe your skin dry by rubbing your skin vigorously with a rough towel. You may use a soft towel and pat dry your skin.
Drink Enough Water and Stay hydrated:
Water is one of the best cleansers and it helps in making you clean from inside. So it is important that you drink lots of water. This becomes all the more important as you age. Make sure that you drink at least 8 to 10 glasses of water per day. This will flush out all the toxins from your body and keeps your skin well hydrated and moist. As more toxins are removed from your body, your skin glows even more.
[Also Read: Benefits of Drinking Water]
Exfoliate skin gently everyday:
When you exfoliate your skin, the dead skin cells that accumulate on the topmost layer of your skin are removed and helps in enabling the skin to breathe properly. Make it a habit to exfoliate your skin once or twice a week. You must use a gentle scrub to exfoliate your skin. Don't think that exfoliating only your face is enough. Use a body scrub and scrub your whole body. This will make your skin smooth and soft and bring up the soft layers of the skin to the top. A bathing brush with bristles that are very soft can do the exfoliation for your skin. Exfoliated skin absorbs the goodness of the moisturizer better and thus keeps your akin well hydrated and smooth.
[Also Read: How to Exfoliate Your Skin]
Eat right to live healthy:
One of the most important points to remember when you are over 50 is that you must have food that is nutritious and healthy for you. This is sure to provide a glow to your skin from inside. Eat the right kind of food like lots of leafy vegetables, nuts, fruits and so on. Having a cup of green tea in the morning with your breakfast is an easy way to detoxify your body and get a healthy and glowing skin.
Follow Skin Cleansing Regime:
When you cleanse your skin, the dirt and excess oil present on the topmost layer of the skin are removed, so that you can easily exfoliate your skin. Take care to select a cleanser that suits your skin type. Dip a cotton ball in the cleansing lotion and wipe your skin gently in upward strokes. This will remove all dirt and grime from your skin and help in providing a natural glow to your skin.
Moisturizing skin after shower:
With advancement in age, your skin becomes drier and starts losing its natural moisturizers. So it is essential that you keep your skin well hydrated. Along with drinking of enough water, you must also apply a good moisturizer on your skin, which can deeply nourish your skin and keep it well moisturized. Just after you have your bath, apply a rich and creamy moisturizer on your body and face. This will provide you the best results.
Start using under eye cream:
The skin under your eyes is more sensitive than the skin on other parts of your face. This is because the skin here has no sebaceous gland ad hence is more prone to wrinkles and bagginess. So use a good quality under eye cream every day before you go to sleep. This can prevent dryness of the skin under your eyes as well as darkening and wrinkles. The puffiness under the eyes is also removed by using under eye cream.
When moving out, Use a sunscreen:
Applying a good quality sunscreen is a must when you go out in the day time. Apply a generous amount the sunscreen at least 20 minutes before you go out in the sun. When you buy a sunscreen lotion, make sure that it contains enough SPF to provide you full protection from the UV rays of the sun. This is because UV rays can harm and damage your skin and make it tanned. It also makes your skin more prone to wrinkles. Apply the sunscreen lotion on all parts of your body that are exposed to the sun like the face, arms, neck, hands and so on. You may also carry an umbrella with you if the rays of the sun are very intense.
[Also Read: How to Pick Sunscreen and 
How to Protect your Skin from Sun]
Washing skin with warm water is best:
The quality and health of your skin depends a lot on the temperature of the water you use for cleaning your face and body. If you have the habit of using hot water for taking bath, discontinue it as hot water can strip off the moisture from the skin, making your skin dry, dull and scaly. It can also make the process of aging fast and cause wrinkles to appear on your skin much early. The best is to use lukewarm water for washing your face and to bathe. This is considered as the best skin care treatment for women who have crossed 50.
So, instead of getting worried about your skin getting dull and wrinkled, try out some of the tips given above. This will surely help in rejuvenating your skin and making it glow.