5 Best Sunglasses for an Island or Beach Getaway
Is there an exotic vacation in your future to an exotic island or a beach? Packing the perfect sunglasses is just as important as a bottle of sunscreen and a good paperback. Sunglasses will protect your eyes wherever you roam. Most importantly, however, the perfect pair of sunglasses will add a stylish touch to your vacation look. After all, there are few things better than looking good while getting your tan on. But when it comes to making a choice as to what type of sunglasses you should take with you on your island getaway, sometimes it can be difficult to make the right decision. What kind of sunnies should you take? Should you take more than one pair? There are many things you will need to consider, including the climate, style, and your activity. If you're going to be not only sunbathing, but playing a game or two of volleyball, you will need a reliable pair of sunnies. Ultimately, it depends on the getaway you're going to have! Mexico. Bahamas. Punta Cana. California. Jersey Shore and so on. Below, are 5 good sunglasses for all your travel needs.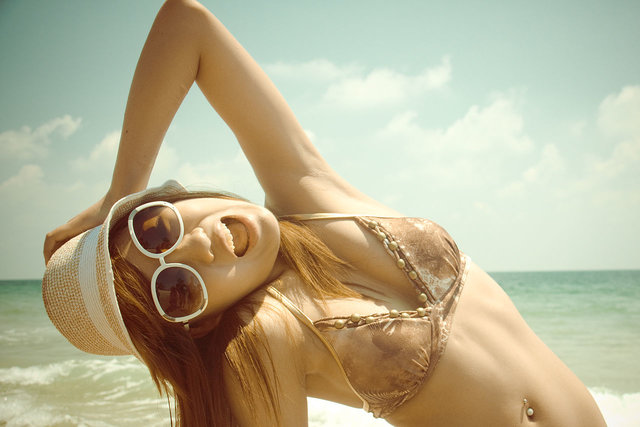 Sporty frames:
Headed on a vacation full of hiking, biking, rock climbing, or other intensive outdoor activities? You'll want to take along a pair of sporty sunglasses specifically designed for adventure. Reliability and durability are the name of the game when it comes to choosing sunnies for your outdoor activities. Sports sunglasses often have polycarbonate lenses, which are extremely strong and resistant to scratches, scrapes, and projectiles. These styles also tend to have wraparound lenses, which help protect the sides of your eyes from all that sun, not to mention that gentle curve keeps those sunglasses more securely to your face. If you're getting prescription sunglasses, definitely make sure the lenses are both polarized and have anti-reflective coating. This will help minimize any glare from the sun, which will keep you safe as you wander around Mother Nature.
Statement Showstoppers:
If the pool or beach is the focal point of your getaway, then a pair of stand-out sunnies is an absolute must. Oversized frames are all the rage, particularly those with super-round lenses, or with a dramatic cat-eye flair at the top. Ombre lenses are another cool detail you can look for, but again, make sure they have an AR-coating to protect your peepers while you're getting a tan.
Rimless Frames:
Maybe your vacation style is a bit between the two above. You won't just be by the pool, but you're not necessarily going on a pulse-racing adventure, either. Although they may not garner as much attention as oversized frames or super round sunglasses, rimless sunglasses are a great multipurpose pair to bring with you on your vacation. They're extremely lightweight, easy to pack, and go with pretty much every outfit you have. Two traits you want in your eyeglasses are: convenience and durability. They are easy to take with you and hard to break. So, whether you're going on a walking tour or spending the afternoon boating, rimless sunnies are a great sidekick for wherever the wind takes you.
The Classic:
Another great all-purpose frame? The classic Ray-Ban Wayfarer sunglasses. The simple black frame and the neither too-round nor too-square shape looks good on everyone. Period. If you want a little more flair, you can also get these classic sunnies in all sorts of colors and lens styles, though we like classic black the best for its versatility. Speaking of which, Wayfarers now also come in a folding style, which bends at the bridge for ultimate portability. Just tuck them in your pocket and be on your way — it's that easy.
Floaters:
Maybe your island getaway is all about the water. Whether you're at the beach, pool, boating, or water skiing, floating sunglasses are a unique way to make sure your specs don't get lost. I have lost count the number of times I've lost my glasses or sunglases due to a huge wave. Swept away just like that. However, there's no need to worry. Some brands, like Revo glasses, feature a leash-and-buoy system to make sure you can spot your sunnies if they fall off in the water. Other brands, like Bomber and Waves, have buoyant frames that do the floating themselves. You'll be able to find floating sunglasses in a ton of shapes, styles, and colors, so do yourself a favor and consider these cool aquatic options if you're spending lots of time in the water.
There are all sorts of sunglasses to suit your vacation style: oversized frames, sporty sunglasses, rimless, and more. Regardless of what island or beach you choose, there's a pair of sunglasses out there for every style, personality, and person. Whether you're climbing a mountain or laying poolside, consider just how you'll spend your time off, and you'll be able to figure out which sunglasses to pack for that perfect getaway.
About the Author: Liskula Cohen is a Canadian-born former model who has worked in New York, Paris, Milan, Tokyo, and Sydney, among other cities. She is the founder and blog editor of FrontRowEyewear. Find Liskula on Twitter: @Liskula