Best Ways to Make Makeup Last Longer on Oily Skin
Oily skin has its benefits as well as difficulties. Some of the benefits of having oily skin are that you will have less wrinkles and fine lines on your face. So, you will look young for a long time than those who have dry skin. At the same time, you are faced with certain problems when you have oily skin. Oily skin is more prone to acne and pimples and it is also difficult to choose the right makeup for oily skin. One of the biggest problems with oily skin is that the makeup that you apply on your skin will not stay for a long time. So, here are some long lasting makeup tips for oily skin.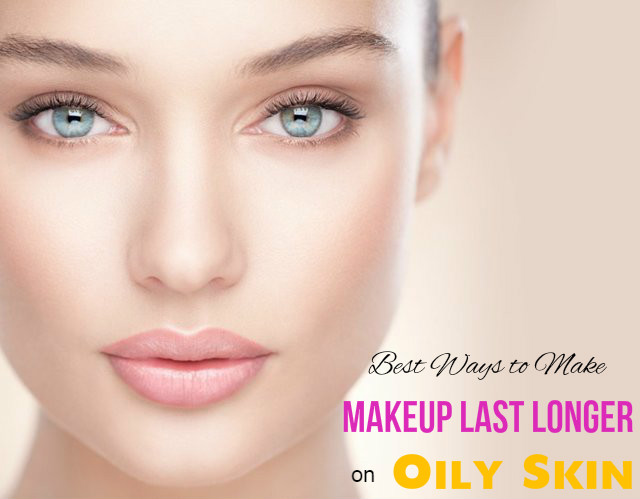 Long Lasting Makeup Tips for Oily Skin:
Closing pores on face: Closing the pores is necessary when you have oily skin. Often you may see that the makeup you have put on your face cake up on the surface of the skin and clog the skin pores. This can lead to breakouts on the skin, causing more problems. So, it is important that you tone your skin and close the pores partially, after you cleanse your skin.
Exfoliation: Exfoliation is very beneficial for oily skin and helps in controlling the oil secretion. But you must remember that too much exfoliation is not good for oily skin. It can lead to excess production of oil and make things worse for you. So, take care to exfoliate your skin mildly.
Matte Primer: As mentioned earlier, makeup fails to stay for a long time on oily skin. So, if you want your makeup to stay for more than 5 hours without getting smeared, then you have to apply a matte primer before you apply your makeup. This helps in making your makeup stick firmly to your skin and makes you look perfect even after 5 hours or more.
Preparing the skin for makeup: Before you apply makeup on your face, you have to first cleanse your skin and make it ready for makeup. Cleansing ensures that all dirt and oil are removed from the pores of the skin. This helps in making your makeup stay for a longer time.
Skin Moisturizing: moisturizing your skin is important. You can use a non-cream based and oil-free moisturizer for oily skin. Use a sunscreen with more than SPF 15, which also moisturize your skin. When you buy a sunscreen, check whether it contains zinc oxide or titanium dioxide. These are good for your skin as they have anti-bacterial and anti-inflammatory properties.
Tips for Laying the Makeup:
Once your base is ready for the makeup, there are certain ways by which you can make your makeup stay for a long time.
Finding the right concealer: When you choose concealer for oily skin, remember to buy only stick concealer. Blend the concealer with the tip of your ring finger rather than using makeup brushes or sponges. Avoid using oil based liquid concealer as it can make your skin oilier. You can also use spot corrector concealer pens.
Select the right foundation: Select the right foundation which is long lasting and stays for a long time on oily skin. This means that you have to get one that is free of oil and fragrance.
Follow Right technique while applying foundation for oily skin: When you have oily skin, the best way to apply foundation on your face is to do it with the help of a foundation brush. This helps in covering the pores properly and allows the makeup to stay for a longer time on your skin. If you have dark spots on your skin, then you can apply the foundation with the tip of your ring finger. Try not to use makeup sponges.
Applying Eye shadow: Powder eye shadow is better for people with oily skin. It is better not to apply creamy eye shadow as it can get smeared and spoil your look.
Use the right applicator: Using a brush for applying eye shadow is best as it helps in covering fully the tiny pores on and around your eyelid. As a result, the eye shadow will stick to the skin and stays for a longer time.
Selecting the Right Blush: If you want to have a glossy glow on your cheeks, you can use a big blush brush to apply it. Remember to use only powder blush and no creamy or liquid blush.
Avoid stick or mousse blush: Stick blush will not blend well on oily skin and it will also not stay for a longer time. Mousse blush makes your skin look oilier. So try to avoid them.
Use Non shiny lipstick: A shiny or glossy lipstick can make your skin look oilier, even if you do not have an oily skin. So, oily skinned people should always choose matte finish lipsticks. After you apply the lipstick, you can put a little of translucent powder on it.
Apply Lip-gloss properly: If you want to apply a lip-gloss on your lips, apply it only on the center of the upper lip and lower lip. This will give the effect of a gloss without making your lips look shiny.
Note: Make sure that you remove all traces of makeup from your face before you go to bed. Never be careless about it because in that case the pores of your skin will get clogged and remain clogged throughout the night. The oil glands keep producing oil even when you sleep. So, it may give rise to acne and pimples on your face. This is the reason why you must always cleanse your face and remove all dirt, grease and makeup from your face before you sleep at night. Cleansing, toning and moisturizing must be a part of your daily makeup regime.