Best Ways to Remove or Reduce Facial Scars Quickly
If you have oily and acne-prone skin, then you may have acne scars on your skin. This is very embarrassing, especially when you have to attend a wedding or any special occasions. Even girls with combination skin stand at a risk of getting acne and acne scars. Acne goes off in a few days, but the scars left behind take a long time to fade off. If you want to get rid of these scars at home without going for laser treatments, read on and you will get a solution.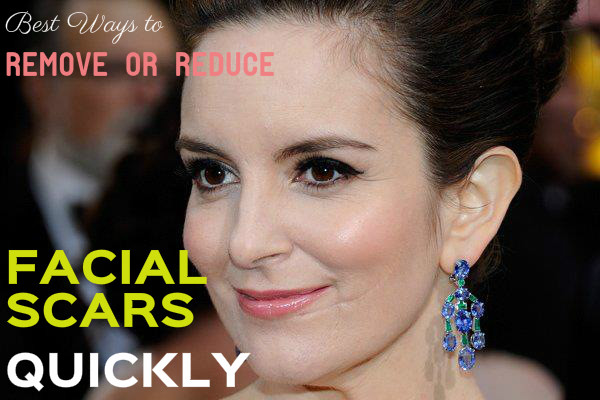 It is natural that you wish to get rid of these scars immediately. But it is important that you follow certain things to get the result that you desire. Follow the routine listed below patiently and for a few and you will get the results.
Face Scar Removal Tips:
Here are some home remedies that you can follow to remove deep facial scars. These help in loosening and scrubbing off the scars caused by acne.
Aloe vera:
Aloe vera soothes swollen skin and also helps in the healing of damaged tissues. To get best results, use the fresh gel directly from the leaf of aloe vera rather than buying products containing aloe vera gel from the market.
How to use aloe vera gel:
Take aloe vera leaf and peel the outer green cover of the leaf.
You will see a gel like substance inside. Take this gel and apply on the scars.
Wait for about half an hour and then wash off with water.
By applying aloe vera gel twice daily, you can remove scars as well as have a glowing skin. The skin will also become tighter.
Baking soda:
By scrubbing your face with a soft and naturally made scrub, you can remove the discolored and scared areas on your skin. Baking soda is one of the best scrub you can use for this purpose.
How to use baking soda:
Take a small bowl and put one spoon of baking powder in it. Now add one teaspoon of water to it and mix well to get a fine paste.
Rub this paste on the affected areas for a minute. Remember that you rub it on your skin in circular motions.
After 1 minute you can wash your face with lukewarm water.
Honey:
Honey is very effective for getting rid of acne scars.
How to use honey for acne scars:
Apply honey on the scars and let it remain on your skin overnight. Wash your face in the morning.
Another way is to mix two tablespoons of honey with 1.4 cup of oatmeal. Apply this on the scars and wait for 15 to 20 minutes. Then wash off with lukewarm water.
Take 1 tablespoon of honey and add ½ teaspoon of cinnamon powder to it. Mix well and apply on the acne scars. Let it remain for an hour and then wash off with water.
Lemon juice improves skin tone:
Once you remove the dead skin cells, you can apply any substance that is rich in vitamin C. This helps in the formation of new skin cells. Concentrated lemon juice is rich in vitamin C and great for applying after the removal of dead skin cells.
How to use lemon for skin:
Cut a lemon and squeeze out the juice in to a small bowl.
Take some cotton balls and soak them in this lemon juice for a few seconds.
Place these cotton balls on your face.
Wait for 5 to 10 minutes and then remove the cotton balls.
Let the skin dry.
You can also use lemon juice as a facial mask and apply it daily on your face. This will help in building new skin cells. Lemon juice is also good for giving you an evenly toned skin.
Olive oil:
Non-comedogenic oils are great for getting rid of discolorations caused by scars. These help in loosening the scars and soften them. Olive oil is one of the most effective oils for this purpose.
How to use olive oil to get rid of acne scars:
Take one teaspoon of olive oil in your hands and massage your face with it slowly.
After massaging your face for a few minutes, dip a towel in hot water and squeeze out the extra water. Put this steaming towel on your face.
This helps in opening up the pores and also makes your skin soft.
When the towel gets cool, you can remove it from your face and wipe off the oil.
Raw potato:
Applying raw potato on acne scars regularly will help in the removal of these scars.
How to use raw potato:
Cut raw potato into round slices and then take a slice and rub gently on your face in circular motions.
Continue rubbing till you feel that the potato slice has become dry.
Now take another slice and repeat the same. Repeat the same procedure for about 20 minutes. Now wait for some time, so that the potato juice on your skin gets absorbed by the skin.
Wash off with water and apply a good quality moisturizer on your skin.
You can continue with the treatments mentioned above for a week or two weeks. You must care not to use these products extremely as some of them can cause negative effects on your skin.
Apart from the home remedies mentioned, there are also a number of cosmetic procedures for the removal of scars like dermabrasion and laser resurfacing. You also get a lot of gels and creams that can help you get rid of the scars caused by acne.
Dermabrasion:
Dermabrasion is a process in which the scarred skin is scrapped surgically to get rid of the scars. This treatment helps in making your skin smooth. Dermaplaning is another treatment which is quite similar to dermabrasion. This also helps in reducing scars on the skin. Laser skin resurfacing is a process in which the scarred skin is removed layer by layer.
Mederma Cream for Acne Scars:
Ointments like mederma cream are considered good for reducing scars. This cream contains onion extracts. Kelo-cote advance formula scar gel is a gel containing silicon and can be used for reducing acne scars.