Best Yummy Apple Cider Vinegar Recipes for Weight Loss
Apple cider vinegar has lots of health benefits and there are many recipes with this that you can try at home. It is very beneficial for your skin and improves your skin tone. It is also good for digestion and keeping the blood sugar within normal levels. Adding apple cider vinegar makes the dish very tasty as well. However, when you take it in the raw form, it is not very palatable and you will not like its spiky loud taste. So here we will discuss about some wonderful techniques and recipes, which enable you to include this in your regular diet and enjoy all the benefits thus offered.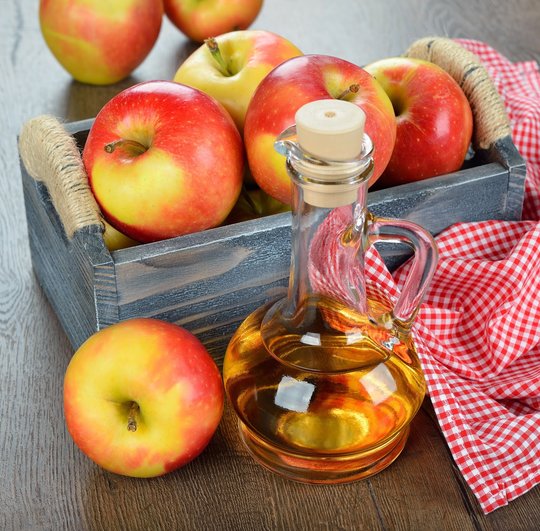 Homemade Apple Cider Vinegar Recipes for Weight Loss:
Apple cider vinaigrette:
To make this dish the ingredients you need are – 1 cup apple cider vinegar, 2 tablespoons curry powder, one third cup lemon juice, half cup of finely chopped chives that is fresh from the farm and three fourth cup of extra virgin olive oil. Mix all of these ingredients together and add to salads or as a filling in salmon and chicken.
Apple cider vinegar with warm water:
You can mix apple cider vinegar with warm water and have it in the morning. This is as good as having water with lemon and honey in the morning. You will get the same benefits, as this is a good detoxifier and antioxidant.
Broccoli cabbage soup with apple cider vinegar:
Broccoli cabbage soup is an appetizer that is delicious to taste. You can have it every day as it is low in calorie. It is an ideal dish for anyone who wants to follow a low calorie diet for losing weight. You can make it all the more tastier by adding apple cider vinegar to it. Sprinkle some black pepper powder also and have this soup hot. You will love the taste of it.
Green salad dressing:
Apple cider vinegar is often used as a dressing in green salads. Green salad is quite plain, and do not have any particular taste or flavor because no oil or spice is added to it. This makes it unattractive and people often prefer not to eat it, although some consume it because of its nutritious qualities. Adding apple cider vinegar to it makes it tasty, so that all can consume it and get all the nutrients present in it.
Quick cucumber snack:
Are you on a weight loss diet and eating cucumber throughout the day? You must be bored having this vegetable. Here is a solution to make your diet more interesting. Next time you have cucumber, try adding apple cider vinegar to it. You will love the taste of it. It will no longer be a punishment to you. Adding apple cider vinegar to cucumber not only makes it palatable, but also increases the nutritional value of the dish.
Root vegetable soup:
To make this soup, you can take various seasonal vegetables that are available like beet root, potato, parsnips, carrot etc. You also need onions, and extra virgin oil. Boil all the vegetables in a bowl and add salt to taste. Add apple cider vinegar at last before you take it out of the flame. This will give a tangy and sour flavor to the soup and make it tasty.
Super juice:
As you know, you cannot have apple cider vinegar in the raw form. Super juice is an excellent way to have this and enjoy its taste as well as its health benefits. To make this juice, take 2 cups of water and add one teaspoon of lemon juice and half a cup of apple cider vinegar and one fourth cup of raw grape juice to it. Add 1 teaspoon of honey to make it sweet and then add half teaspoon of cinnamon. This makes a tasty drink that you will love to have.
Tangy carrot apple salad with apple cider vinegar:
After you make apple carrot salad, you can add a teaspoon of apple cider vinegar to make it more delicious. This makes the dish more appetizing and palatable.
Tangy spicy pasta:
Pasta is a dish that we all love to have. It has a unique taste and it is spicy too. But have you ever thought of how it would taste if you add a few drops of apple cider vinegar to it? Next time you make pasta, add about a teaspoon of apple cider vinegar to it. This will add more flavor and taste to the dish and you will love it. When you make pasta without adding any oil to it, it has a dull taste. But if you add apple cider vinegar to this dish, it will remove the dull taste and makes it tasty. This way you can avoid oil and still have delicious and spicy pasta, with a tangy taste.
Triple citrus dill vinaigrette dressing with apple cider vinegar:
Triple citrus vinaigrette is a delicious dish made with citrus fruits. You need half a cup each of orange, lemon and grapefruit juice for this. Also add one fourth cup of apple cider vinegar. This will make it tangy and more tasty. Add one baked or boiled potato, half cup of flax seed oil and dill leaves and blend all these well to get a puree. You will enjoy the taste of this puree. You can add this as a dressing on salads or use with cooked dishes. It will make the dish tasty and more nutritious.
Try to make some of the recipes mentioned above and you are sure to like it. You can make them easily without spending too much of time. It is delicious and helps you in losing weight more effectively.