Bhringraj Oil for Hair Growth: Benefits and How to Use
Bhrigaraj or Eclipta Alba is known for its multiple health benefits. This herb is excellent for hair and used widely as an all-round hair tonic. Bhringraj is greatly beneficial for the scalp and hair and is considered as one of the best natural oil that you can use regularly on your hair.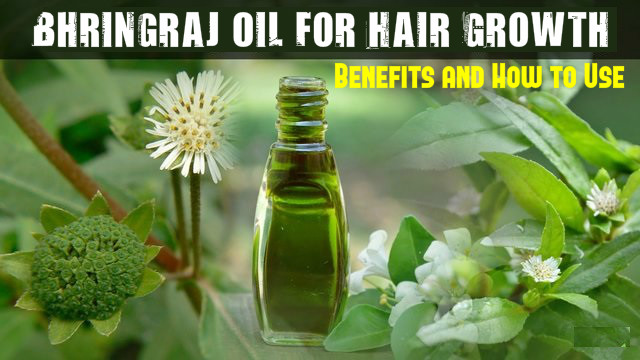 Bhringraj oil is made from a powder and base that is similar to coconut oil or sesame oil. Most of the dermatologists prescribe this hair oil for hair treatment as it can easily penetrate in to the hair follicles and scalp. As a result, your hair will grow faster by applying this oil. Bhrigaraj is a medical herb and this is seen growing in many parts of the world.
You can apply this hair oil on your scalp and hair to treat premature graying of hair and also to increase the growth of hair naturally. With regular use, this oil will help in providing you hair that is lustrous and thick. It adds more volume, color and texture to your hair. It is also good for people who suffer from premature balding of hair. You can prevent dryness of the scalp and get rid of dandruff by applying Bhringraj oil regularly on your hair. It can keep your hair and scalp well nourished and prevent split ends.
Benefits of Bhringraj (Oil, Leaves, Powder and Tonic) for Hair Growth:
You can use Bhringraj in many ways to treat hair problems. Below are mentioned some of the ways you can apply it on your hair.
Bhringraj leaves powder:
Bhringraj leaves are also very beneficial for the scalp and hair.
Take some leaves of Bhringraj and smash them to get a paste.
You can apply this paste directly on your scalp and hair to get the best results.
Bhringraj leaves are more effective than any other ingredients for stimulating hair growth.
Bhringraj oil:
Bhringraj oil is the most common treatment preferred by people for treating hair. You can apply this oil regularly on your hair. You get a number of components of Bhringraj oil in the market. You can also make a combination of this oil at home.
You can make Bhrigaraj oil with Bhringraj powder at home. This is great for promoting hair growth.
Take Bhringraj powder and add it to sesame oil.
Mix both the ingredients well.
The mixture thus made can be used safely for a long time.
Bhringraj tonic
You can also take Bhringraj tonic orally for preventing hair fall and increasing the growth of hair.
Top Benefits and Uses of Bhringraj Oil:
Bhringraj has lots of benefits for your hair. Because of its immense benefits, it is considered as a complete tonic for hair problems. Here are given some of the effective uses of this oil for tackling various hair problems.
Ancient ayurvedic oil for hair loss treatment:
Bhringraj oil is an important part of ancient ayurvedic treatment and is excellent for your hair. This natural hair loss treatment has been proved to be very beneficial for your hair and scalp. if you prefer to use a natural product on your hair and that too tested for its efficiency, then Bhringraj oil is one of the best options. This oil is very safe for use as it does not contain any harsh chemicals in it, nor does it contain any superficial agents. You can use this oil for a long time, well assured that you will not experience any side effects as  a result of it.
Effective Ayurvedic Body Massage Oil:
Massaging your scalp with Bhringraj oil helps in increasing the blood circulation in the scalp. This helps in rejuvenating the hair follicles and improves hair growth. It also provides you relief from pains and migraine. Massaging with this oil can also provide you relaxation help you sleep better.
Natural treatment for premature graying of hair:
Nowadays most of the people suffer from premature graying of hair. Often your hair gets damaged due to overuse of hair styling products, improper diet, environmental pollution and irregular lifestyle. All these factors can lead to premature graying of hair. When you use this oil continuously, it can improve the condition of your hair to a large extent. Moreover, Bhringraj oil keeps your hair and scalp well nourished and rejuvenates your hair follicles, as well as prevents discoloration of hair.
Useful natural remedy for hair loss:
If you are suffering from hair loss problems, apply Bhringraj oil regularly on your hair. This is an ayurvedic hair oil, which is very effective for curing acute hair loss. You can also apply this herb directly on your scalp. This herbal formula is great for rejuvenating the hair follicles. It contains natural ingredients, which can keep the scalp well nourished. It is considered as one of the best natural therapies for preventing hair loss. This herb is full of essential nutrients that can make up for the deficiency of minerals that can cause uncontrollable loss of hair.
Works like Natural Hair conditioner:
You can mix Bhringraj oil with coconut oil, herbs and also with amla or shikakai, and prepare hair conditioners. It can nurture your scalp and make your hair stronger.
Now that you have seen the various benefits of Bhringraj oil, apply it on your hair and scalp regularly to stay free from various problems of hair. A number of well known brands have launched their own Bhringraj oil products, which claim to work wonders for your hair. You can buy any of these brands or prepare Bhringraj oil on your own at home.