Breakfast Hacks to Make Your Morning Bright and Healthy
People often skip breakfast because they are in a hurry and they do not want to lose time preparing it and having it. But it is the most important meal of the day and you must try never to avoid it. There are some fun ideas that will inspire to prepare breakfast and look forward to having your breakfast.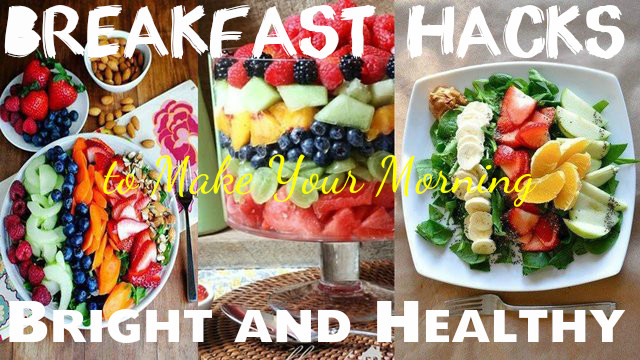 Breakfast Hacks to Supercharge your Morning Routine:
A crock-pot casserole:
Although it looks complicated, it is easy to make and will be done fast. The recipe given below can serve 12.
Ingredients Required:
30 ounces of frozen hash browns
1 pound browned sausage
8 ounces of shredded cheddar cheese
8 ounces of shredded Mozzarella cheese
6 green onions, which are sliced and divided in half
12 eggs
½ cup of milk
½ teaspoon salt
¼ teaspoon pepper
How to Prepare:
Put the hash browns at the bottom of the greased crock-pot. Now you have to layer half the sausage, cheese and green onions. Again you have to layer hash browns, sausage, cheese and green onions.
Whisk eggs, salt and pepper in a bowl and drizzle this on the layers. Cook in low heat for 8 hours or on high for 4 hours. You can serve it with some salsa.
Apple pancakes:
Take an apple and remove the seeds from it. Cut it horizontally so that you get little rings of apple. Dip each ring in pancake batter and cook them on the frying pan. This is yummy and healthy as well.
Benedict turns Italian:
We all love to have egg Benedict. When it comes combined with delicious pizza, you cannot resist it. To make it, you have to set Benedict over a pizza base instead of buns. After placing the eggs on the pizza base, top it up with cheese and bake it for a minute, till you see the cheese melting. Your delicious breakfast is ready to devour.
Bacon and egg cups:
This is an easy to make dish and is very tasty and healthy too. Lay your bacon in muffin tins to make cups out of it. Add an egg into this cup and top it with seasonings like herbs, cheese and so on. This makes a perfect breakfast.
Bacon pancakes:
Fry bacon and then add some pancake batter over the bacon that you are cooking. This is a wholesome breakfast and is tasty also.
Egg hot chilli peppers:
This can make your breakfast really fun. Toss some bell pepper slices on a frying pan and crack an egg within each slice, so that it does not flow off the boundaries of these slices. This enhances the color of the egg and also adds more flavor to it. You may also add some cheese, ham or bacon over or under the egg when you cook it. Similarly, you can also toss onion rings on the pan and make egg in the same way.
Frenching toast:
If you have some old pieces of bread in the kitchen, put them on the crock-pot. Now whisk eggs, milk, cinnamon, brown sugar and vanilla together, and put this mixture over the bread. Cook for about 6 hours and you will have warm and juicy pudding. You can serve it with maple syrup.
Frozen oats:
Mix oats, nuts, berries, some apple juice and yogurt and froze the mixture. When you eat it, add some milk or yogurt to it.
Fruity crumble:
Pick any of your favorite seasonal fruit and caramelize it so that it releases some juice and becomes somewhat soft. After it is cooked, refrigerate it. When you are ready for breakfast, take it out and add some granola to it. This is very delicious and full of nutrients.
High protein breakfast:
To make this, you need an egg, parsley, avocado, pepper and salt. You can also use some bacon if you want to. Preheat oven to 400 degrees. Scoop out the flesh of the avocado and the crack an egg into the center of the fruit. Put it in the oven and bake for 18 minutes. Now add chopped parsley and crumbled bacon on the top and sprinkle salt and pepper over it. This is tasty as well as a healthy breakfast.
Hard baked eggs:
Boiling eggs every day can make it boring. You can try and bake eggs instead of boiling them. Put an egg in the muffin tray and let it cook for about 30 minutes at 350 degrees in the oven. You will love its taste.
Muffin love:
These muffins are healthy and sumptuous, and make an amazing breakfast.
Ingredients Required:
1 pound breakfast sausage
8 ounces of sliced mushrooms
12 eggs
2 medium sized tomatoes
6 egg whites
½ cup milk
¼ cup dill
¾ cup Parmesan cheese
Salt and pepper to taste
How to Prepare:
Heat the oven to 350 degrees and keep the muffin tray greased.
In another pan, cook crumbled sausage for about 8 minutes in medium heat, till it becomes brown in color. Keep it aside and let it cool.
Now cook mushrooms for about 8 minutes in the water left in the pan after removing sausage. Add tomatoes and cook again for 3 minutes.
Lightly beat the eggs and egg whites and add the rest of the ingredients as well as the sausage, tomatoes and mushrooms. Put this in muffin tray and sprinkle cheese on the top. Bake it for about 25 minutes and the breakfast is ready.
Pancake squeezy:
After the ketchup is used up, save the ketchup squeezy. Wash it well and you can use it as a pancake squeezy. This makes pancakes fun to have.
Smoothie bags:
Make tiny bags with all ingredients that you need for making smoothie. Prepare these bags at night, so that in the morning all you have to do is to blend them to get a delicious smoothie. This is very useful if you have no time to spend making breakfast.
Scrambling eggs:
It takes only two minutes to prepare this dish. You need 2 eggs, 2 tablespoons each of milk and shredded cheese, salt and pepper to taste and some herbs according to your preference. Take a mug that can be put in a microwave and grease it. Add eggs and milk and mix well. cook it on high heat for about 45 minutes. Stir the mix a bit and cook it again for 30 seconds. Sprinkle cheese, pepper and salt on top.