Bridal Tips for Indian Skin Tones (Fair, Medium and Dark)
Wedding is one of the most important events in the life of a girl. The day of wedding is an unforgettable day for any girl. On this day she is the centre of attraction. Most of the girls have a definite plan about their wedding day. The makeup of the bride on her wedding day is very important. It is captured forever in photographs and videos. So, her makeup has to be the best. The makeup that she wears should be in accordance with her skin tone.
Indian skin tone differs from one person to the other. However, they can be broadly categorized into three groups, which are very fair to fair, medium and dark. So, when you apply the bridal makeup it important that you do so based on your skin tone. Here are some Indian bridal makeup tips for fair skin, dark skin and medium skin brides of India.
Indian Bridal Makeup Tips:
Fair to Very Fair Skin Tones: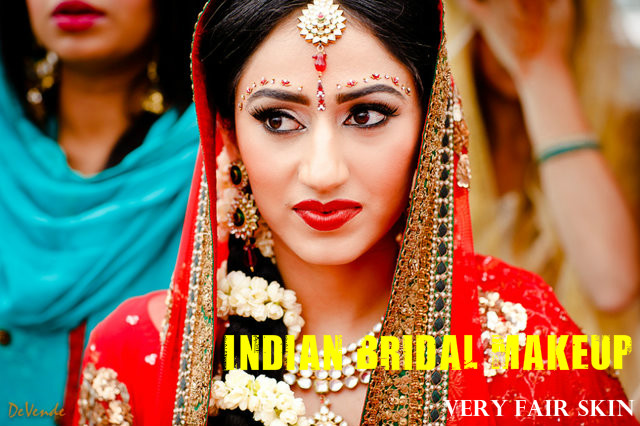 This means that you have the palest skin tone. So, all cool tones will suit you. You will look amazing in bright pinks, bright reds and other such colours. Choosing the right foundation for your skin tone is very important when you have very fair to fair skin. Otherwise you will look ghostly pale once you have applied your makeup. To get the unique look, you can pick bright colours for your lips. Pinks and pink based peaches will make you look very charming. MAC and Inglot can provide you many such beautiful colours. You can experiment with your eye makeup by using varied hues. Pale, natural colours suit pale skin. You can choose champagne hues, soft pinks as well as cool brown and grey hues, and look gorgeous. One thing to keep in mind is that your eye makeup and lip makeup should balance each other and not cancel each other. The blush you choose for fair skin can be beautiful shades of coral and pink. Apply the blusher lightly on your cheeks. Too much of the blusher will spoil the look.
Medium Skin Tones: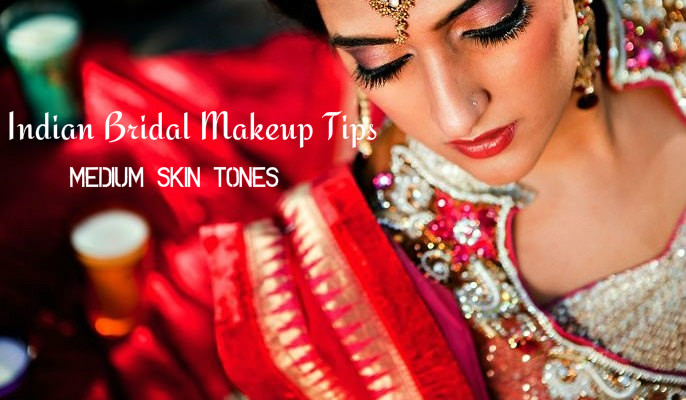 You are lucky if you have a wheatish to medium skin tone. You have a large collection of makeup products to choose from. You will look perfect in most of the warm toned cosmetics as well as some of the cool toned cosmetics. The foundation you choose must be right for your skin tone. It is the foundation that forms the base for all the other makeup. For your lips, red colour lipstick will be suitable. You can also choose red based berry shades and this will provide a typical Indian bride look for you. If you want to put on pink lip colour, remember to avoid using lighter shades because these shades can give you a washed-out look. Pink coloured lipsticks that are more inclined towards peach or red will make you look gorgeous. Your eye makeup should also be done with care. To make your eyes more dramatic and beautiful, use black eyeshadow and line your eyes with an eye liner that is jet black in colour. Fill your eyes with kajal. You can add shimmery eyeshadow with some glitter. Line the inner lower rim of your eyes with brown pencil and this will make your eyes pop. If you want to apply a heavy makeup on your eyes, then you should keep your lips simple. On the other hand, if you are going to apply bold and bright lipstick on your lips, you have to keep your eye makeup simple. This helps in making you look balanced and you will look very inch a diva.
Dark Skin Tones:
Olive skinned women look fabulous in arm-toned lipsticks. You can use various shades like berry shades, dark reds, pink based purples and maroon shades. These shades suit dark skin perfectly. It is very important that you choose a matching foundation. Try not to use foundations that make your skin darker or lighter than your normal skin tone. Choose foundation shade that will look like your second skin. Take care to pick colours that are muted. This will help in making you look perfect instead of looking as if you have applied too much of makeup. If you do not get the perfect shade, you can blend two shades and get the required shade. The colours that you pick for your lips and your eyes should be such that they complement each other. The earthy toned blushes are perfect for you. They will provide a healthy glow to your face and make you look fabulous. MAC provides some great blushes that match the dark skin.
Once you have completed the makeup, set it with a light tinted powder or a translucent powder. Try to use as little powder as possible. The shade of the powder should match your skin tone.
A Few Makeup Tips to Look Younger Before the D-day:
Do your makeup trials beforehand
Try to use oil free products as much as possible
Always use a primer
You may need different concealers for different parts of your face. So, it is better that you talk to your MUA.
You can apply powder blush over the cream blush to make the blush stay for a longer time. Make sure that they belong to the same colour family and blend well together, so that a customized colour is provided.
To make your eyes look more beautiful and make them pop, you can use shimmer powder on the inside corner of your eyes.
So, follow the tips given above and look absolutely gorgeous on your wedding day.