Brown Rice Benefits and Uses for Skin, Hair, and Health
In India, most of the people love rice so much that they cannot imagine a day without having rice. Brown rice is one of the most popular varieties of rice that is eaten by people. It is made by removing only the hull. All other parts remain intact in brown rice. So, it is more nutritious and low in carbohydrates. Brown rice is beneficial for your health, skin and hair in many ways.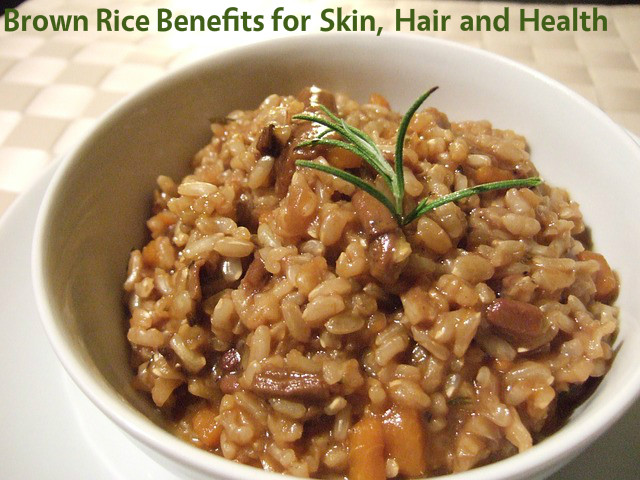 Benefits of Brown Rice for Skin:
Get Flawless skin:
Brown rice can make your skin healthy and blemish free because of the presence of fibre and essential minerals in it. Protein in this rice is a good defoliant. They are very effective for promoting cell growth and for stimulating proper blood flow, so that your skin looks vibrant and glowing. To get a flawless skin you can use brown rice in the following way:
Take half a cup of brown rice and clean it well to get rid of any impurities in it.
Now soak it in a cup of water for 15 minutes, so that the nutrients in rice seep in to the water. Strain it and keep the water.
You can use the rice for cooking purposes.
Dip a cotton ball into ye liquid you have saved, and cleanse your face and neck with it, massaging gently for a few minutes.
Wait for 10 minutes until the mix dries completely.
Applying this liquid every day will help in giving you radiant skin.
Improves Skin Elasticity:
Brown rice contains selenium, which is good for maintaining the elasticity of the skin. What you have to do is:
Take 2 tablespoons of brown rice and grind it to get a fine powder.
Mix half a tablespoon of this powder with one tablespoon of plain yogurt and apply it on your face after washing your face.
Wait for 10 minutes and then rinse with water.
Repeat this process twice a week to get best results.
Prevents premature aging and wrinkles:
Being loaded with proteins, brown rice is great for repairing damaged skin cells and for preventing sagginess of the skin and the appearance of wrinkles and fine lines on your skin. When the blood sugar levels are not stable, it can lead to stress. This can be one of the causes for aging. Brown rice contains complex carbohydrates, which help in regulating blood sugar levels. As a result, premature aging is also prevented. Rice bran is aid to be very effective for preventing wrinkles when applied on the skin.
Brown rice is also good for treating rashes, acne, eczema and sunburns.
Benefits of Brown Rice for Hair:
Repairs damaged hair:
Hair needs lots of nutrients and minerals for its proper growth. Brown rice is loaded with nutrients and minerals. It is good for preventing hair from breaking and ensures proper growth. Proteins in this rice increase cell growth and the supply of blood to the scalp. For treating damaged hair, all you have to do is to grind brown rice and mix it with an egg white. Add water to it and whisk this mixture so that it becomes a bit frothy. Apply this on your hair and scalp and rinse after 10 minutes. Applying this twice a week can repair damaged hair.
Treats dandruff:
Just massage your hair and scalp with fresh rice water twice a week and this helps in getting rid of dandruff.
Works as a natural conditioner:
Take a cup of brown rice water and add a few drops of an essential oil of your choice. You can use rosemary, geranium, lavender or any other essential oil you want.
Shampoo your hair and then apply this mixture on your hair.
Wait for 10 to 15 minutes and then wash it off with cold water.
You can follow this process every time you take a head bath.
Health and Medicinal Benefits of Brown Rice:
Bone health:
Brown rice is good for improving the strength of your bones and to keep your bones healthy, because of the presence of magnesium in it. So, you can treat osteoporosis and other disorders of the bone by consuming brown rice.
Help in losing weight:
If you are trying to lose weight, then brown rice is better for you. This, along with proper exercise, can help reduce weight. Manganese present in brown rice is very effective for synthesizing the extra fat present in your body. It is also good for increasing the levels of HDL cholesterol, which can fight against obesity.
lower cholesterol level:
The modern lifestyle often leads to a rise in cholesterol level in the body. Brown rice is rich in naturally occurring oils, which can help in maintaining the levels of healthy cholesterol in the body.
Prevents cancer risk:
The antioxidants and fibre present in brown rice help in preventing cancer. It also contains some important phenols like ferulic acid, tricin and caffeic acid, all of which are effective for preventing uncontrolled growth of breast and colon cancer cells.
Prevents heart disease risk:
Consuming brown rice is an excellent way to prevent artery blockage caused as a result of plaque build-up. This is because of the high amounts of selenium present in this rice.
Prevents neuro-degenerative diseases:
Brown rice is good for preventing neurodegenerative disorder like Alzheimer's disease, because of the presence of gamma-aminobutyric acid in it.
Protects you from free radical damage:
The antioxidants in brown rice help in protecting your body from the damages caused by the free radicals present in the body. Superoxide dismutase is an essential antioxidant enzyme in brown rice, which can protect your cells from oxidation damage.
Treats insomnia better:
Brown rice can help you treat insomnia and have a good sleep at night. This is because this rice has relaxing properties. The sleep hormone called melatonin present in brown rice also help in getting a good sleep by relaxing your nerves.
Brown rice is also good for your nervous system, cures asthma and keeps your immune system strong. However you should avoid having it in high quantities as it contains arsenic in high amounts.