Calendula Herb Benefits and Uses for Skin, Hair and Health
Calendula is also known as pot-marigold and is an herbal plant that has lots of medicinal values. Commonly it is known as Marigold and it has anti-inflammatory properties, which makes it good for healing wounds, cuts and inflammatory skin diseases. Petals of marigold are edible and used in the preparation of salads. Calendula is good for your health, as well as your skin and hair.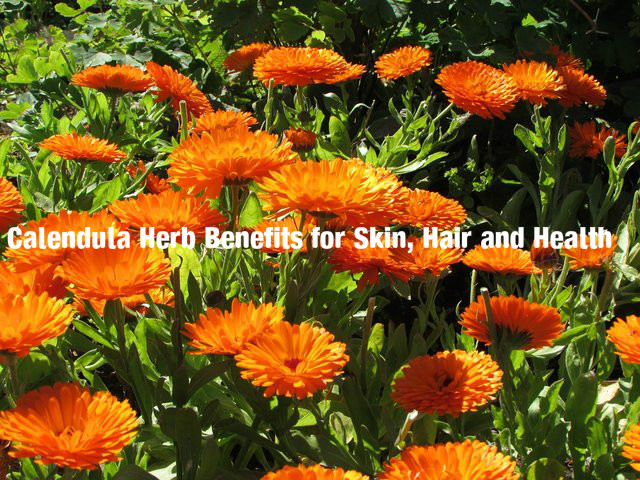 Skin Benefits of Calendula:
Cures fungal skin infections:
Calendula is very beneficial for curing fungal skin infections like athlete's foot and ringworm.
Heals irritated and wounded skin:
Many of the medical preparations that you make for treating sunburns, rashes, minor cuts, insect bites, scrapes and other similar irritations of the skin contain calendula as one of the main ingredients. This is because of its anti-inflammatory properties. Its regenerative properties make it excellent to treat wounds and minor cuts. You can make your lips soft and supple by applying this herb salve on your lips.
Heals dry skin:
If you have a dry skin, apply the oil of calendula regularly on your skin. This hydrates your skin and makes your skin supple and young looking. It keeps your skin well moisturized and helps in removing old scars. You can also get rid of post operative injuries and rashes by applying this oil.
Prevents premature aging:
If your skin is dry, it leads to premature aging of the skin. Calendula helps in deeply hydrating your skin, thus making your skin young and supple. Applying the oil of calendula on the area around the eyes helps in getting rid of puffiness.
Prevents acne:
Due to the antibacterial properties of marigold, you can use it for getting rid of the bacteria that thrive in the pores of the skin, which can cause acne outbreak.
Soothes contact dermatitis:
When your skin is exposed to radiation therapy, occurrence of dermatitis takes place. Calendula helps in preventing it. Ointments contain calendula oil is good for treating diaper rashes in babies.
Hair Benefits of Calendula:
Gives dandruff free hair:
Applying calendula oil regularly on your hair helps in keeping the scalp well hydrated, thus preventing dandruff.
Helps in hair growth:
One of the main causes of hair fall is the dandruff that grows on the scalp. Damaged scalp is also responsible for hair fall. Calendula oil is very effective for treating both these conditions. The regenerative properties of calendula help the hair follicles to grow well, thus providing you a thick and strong hair.
Health and Medicinal Benefits of Calendula:
Fights fever:
Fever itself is not a disease, but it is a symptom that warns you of an underlying health issue. Fever makes you week by draining off all energy from your body. High fever can also be scary. Calendula helps in lowering the temperature of your body in a natural way, thus providing you relief from the fever.
Good for mouth health:
Calendula is can be used as a good mouth wash and you can gargle with this tea regularly to treat and heal many of the mouth related disorders like gingivitis.
Heart health:
You can prevent various cardiac disorders like heart issues, cardiac arrests, deposition of cholesterol, heart blockages etc by drinking calendula tea regularly.
Heals inflammation:
Calendula tea is very beneficial for providing you relief form genital inflammation and hemorrhoids. Take a bath using calendula tea and you will get great relief from the swelling and the pain.
Improves digestive system:
By drinking calendula tea regularly, you can ensure that you have a healthy digestive system that functions properly. This tea helps in treating bladder infections as well as ulcers and upset stomach. Calendula tea cleanses your digestive tract and helps in treating any disorders related with digestion. You can also prevent metabolic ailments by consuming this tea.
Protects from cancer and arthritis:
Calendula tea is a healthy drink as it is rich in minerals and vitamins. You can reduce the risks caused by cancer, rheumatoid arthritis and bone-joint inflammations by consuming this tea regularly. This is because of the presence of beta carotene in calendula tea.
Protects liver:
Calendula helps in cleansing your liver and ensures that your liver secretes bile properly. As a result, you will be able to lead a healthy life as all the processes inside the body are carried on well.
Soothes sore throat:
If you are suffering from sore throat, calendula tea can provide you great relief by soothing your throat. It is also good for healing tonsillitis. This is because of its anti-inflammatory properties, which act on the inflamed mucus membranes to provide you relief immediately.
Other uses:
Calendula is effective for treating conjunctivitis and irregular menstrual cycle. It is also good for ensuring proper circulation of blood in the body.
Calendula Other Uses:
Calendula crèam preparation:
Mix 6 ounces of calendula oil with 3 ounces of shea butter, 2 ounces of sweet almond oil and 2 ounces of cocoa butter in a bowl kept on a low flame. When you see the ingredients melting, stir them well for 20 minutes on low flame and then cool it and keep it in a glass or plastic jar.
Calendula oil preparation:
Take dried calendula flowers in a glass jar and fill the jar with olive oil. Close the bottle and keep it in a dark place for half a month, but make sure that you shake the bottle every day. After half a month, you can strain this oil in to another jar. Mix vitamin E oil to it and preserve it. You can apply this oil on your skin, hair and scalp.
Calendula scalp oil preparation:
Mix 6 ounces of calendula oil with 10 to 15 drops of rosemary essential oil, tea tree essential oil and sage essential oil, and 2 ounces of jojoba oil. Shake all of them in a sprouted applicator bottle. Apply this oil directly on your scalp.
Calendula tea preparation:
Take 1 to 2 teaspoons of calendula petals and put them in a cup of boiling water. Steep for 10 minutes and then strain it. You may mix some honey or lemon juice to the tea if you like it that way.