Cheekbone Contouring – Makeup Tips and Tutorial for Beginners
Contouring the cheekbones is often regarded as a hard task. Many times when you try to contour and blush your cheeks, the final result is not what you expect. But it doesn't mean that only professionals can contour the correct way. Using the right mix of shades in the right proportions of your face is what you need to do. This will highlight certain parts of the face and gives some shape and definition to your face. With some practice, anyone can do it.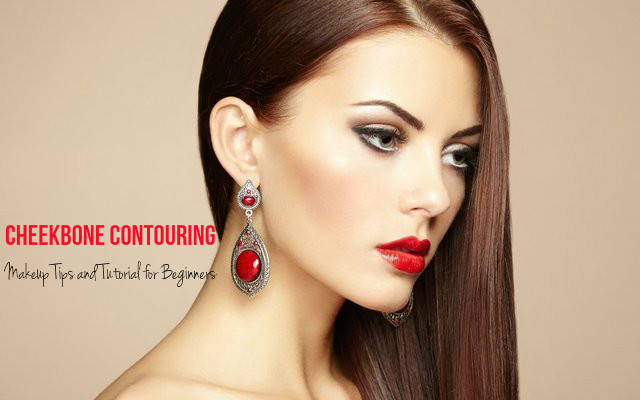 How to Contour Cheekbones – Step by Step:
Makeup materials for contouring your cheeks:
Foundation
Brushes
Blush
Bronzer/contour powder
Highlighter
Step 1:
First, it is important that you know where to contour your cheeks.
The best way to find it out is to suck in your cheeks. This way you will know where the hollows of your cheeks are. Now you have to tilt the brush at 45 degree angle and place it on your cheekbone.
You may also locate your cheek bone by sucking your cheeks in and feeling the cheek bone with your finger.
Step 2:
Placing is the key to perfect contouring.
Another easy way to know where to contour is to place the brush vertically on your face, where your eyebrows end.
Step 3:
Once you have found out where to contour, you have to take an angles brush. Load it with a contour powder or a bronzer. Make sure that it is two or three shades darker than your skin tone.
Place this brush at a point just below your hairline, or the point where the tip of your index finger was touching.
Now you have to swipe down to less than half the length of your cheekbones.
As your swipe down, take care to apply less pressure on the brush, so as to prevent the contoured shadows from crossing your cheekbone area.
Step 4:
Next, you have to take a blush that suits your skin tone well. You may also go for pinks, mauve, browns or bronze. Apply the blush on your face using a fluffy powder brush. Blend it well on your skin.
Pat the brush slightly and then blend the blush and bronzer. This way you can make sure that the makeup on your face does not look uneven and patchy.
Step 5:
Contouring and highlighting help in complementing each other.
You can choose a highlighter with a cream base for highlighting your cheekbones. It should be suitable for your skin tone. Use a small fluffy brush to apply it.
Apply the highlighter above your cheekbones, the area where you have contoured, which is half an inch from your hairline.
If you do not have a highlighter, you may also use a shimmer blush. Choose peach or brown tones for this.
Shimmer blush or powder highlighter is perfect for people who do not have prominent and subsidized cheek bones. Apply it on the apples of the cheek in a sweeping motion, using a blush brush.
Final Look:
By following the above mentioned tips correctly, you will be able to achieve naturally contoured and elevated cheek bones and the perfect shadow effect.
If you want to have stronger contours, you can darken the contours by swiping the angles brush with bronzer or a deeper shade foundation or concealer.
After contouring, if you feel that it has become too dark, you can reduce it by applying some translucent powder over the contoured area. This helps in reducing the intensity of the shade.
Other Easy, Fastest and Proper Way to Contour and Highlight your Cheekbones:
List of makeup items you need:
Highlighter – you get it in different formulas, like powder, cream and liquid. If you do not have a highlighter, then you can use an eyeshadow as your highlighter.
Bronzer – Bronzer helps in making your cheeks look natural, it is important that you choose the right colour of bronzer for your face.
Contoured angle brush – This brush helps in sculpting and shading your cheekbone.
How to Apply:
Swirl the brush around in the bronzer powder for about 5 times and then tap the brush about 3 times to remove the excess powder.
Keep the mirror slightly tilted towards you and look straight in to the mirror. You will see shadowed lines underneath your cheekbones. Point your brush into that shadow area and swipe some bronzer there, and then up in a crescent shape towards the top of the ear.
Check and see if your work is correct, by sucking your cheeks in. If it is light, do it a few more times and if you have overdone it, you can gently wipe off the extra bronzer with a tissue. Then you can take a liquid highlighter and apply it above the bronzer line. If it is a powder highlighter, use a brush to apply it. Blend it on top of your cheekbones Focus more on the top, outer area, and blend well, so that a soft glow is created.
If you wish so, you can apply a sweep of blush colour to complete your look. Apply the blush to the apples of your cheeks. This will give more depth to your face. Choose a colour that is suitable for your skin tone.
Now that you have learnt how to contour your cheekbones, try it out for yourself and see the difference it makes to your face.