Coachella Diet and Workout Plan for Women to Get Fit
Coachella is a music festival that takes place every year at the Empire Polo Club in Indio, California. Short shorts, crop tops and oversized shades are the norm in this festival. So, women try to get in shape for the festival, so that they look gorgeous in their short shorts and crop tops. If you are one among them, this post is really going to help you.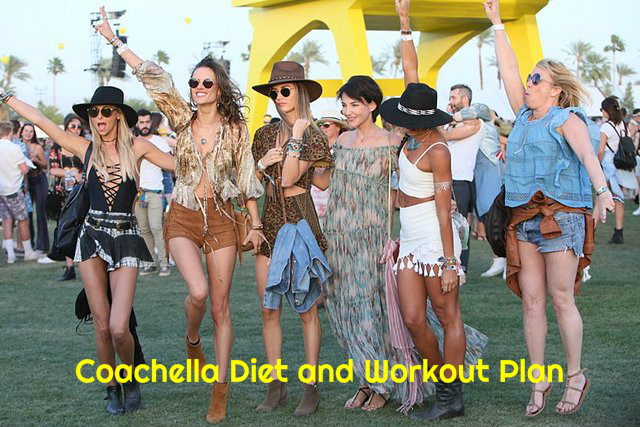 What is Coachella Diet?
The mad rush for getting into shape for the Coachella festival has given rise to the Coachella diet. This diet does not include the beer and the shots you may consume at the festival. So, what is Coachella diet? Is it a special duet plan for losing weight and getting into shape?
Coachella diet is not a fixed diet plan; it is a diet that is combined with some exercise routines that will help you get into shape for the festival. These workouts are a part of the Coachella diet.
Coachella Workout Plan:
Abs Workout:
Here we will have a look at how you can achieve lean stomach, as directed by the Pilates instructor Alexandra Coleman.
To begin the exercise, you have to lie on the floor on your back. Now bring your arms behind your head.
Next you have to raise your knees and try to keep the soles of your feet flat on the ground.
Interlock your fingers and support your neck with your fingers.
Next you have to push your torso towards your knees. As you attempt this movement, initiate the movement from the chest. Try to avoid putting any stress on your neck, as this can injure your neck.
You need not push your torso all the way to your knees. Now hold this position and take one of your legs up and keep your knees at a 90 degree angle to the ground. Keep the other leg suspended in the air and not on the ground.
Now you have to suck your belly button towards your spine.
As you do so, bring the other leg also up and join both the legs together. At this position, your knees are bent and your feet are parallel to the ground. Stay in this position.
Switch legs and repeat the procedure.
You can also practice simple yoga asanas to tone the muscles of your abdomen and achieve flat stomach.
Plank Pose:
Plank pose is a modified yoga pose and it is very effective for toning your abs and legs. Practicing this pose regularly can help you get the lean abs that you need for Coachella. Here is how to do this pose:
Get down on the floor on your knees and then bend your torso forward in such a way that your hands are on the floor.
Now you have to straighten your arms and legs.
Bend your elbows slowly, so that the elbows are flat on the floor.
Make sure that you keep your spine straight.
Remain in this pose for about 45 to 60 seconds and then relax.
With practice, you can increase the plank time.
Legs Workout:
You can wear short shorts only if your legs are toned and beautiful. Otherwise it will not look good. So, it is important that you work on your lower body shape and achieve a pair of shapely legs. Here are some exercise routines that can help you get those toned legs.
Performing some squat routines like goblet squat is good for the legs. If you are looking for some intense exercises, then you can try doing jump squat. Here are some simple steps for jump squat:
Stand on the yoga mat with your back straight and your legs slightly apart from each other.
Now you have to bend your knees and get into a sit-down position, as if you are sitting on an imaginary chair. Your thighs should be parallel to the ground.
Pause and remain in this position. (You can lift a goblet and go back to the standing position to complete one goblet squat if you are trying goblet squat).
Now you have to launch your body upwards. As you raise your body, you have to lift your hand above your head.
Try to land in the am position.
If you want to intensify your jump squat, you can do so by trying to lift weights in your hands.
Other Simple Yoga Asanas to Tone Your Abs:
Cobra Pose:
This is great for reducing belly fat.
Lie on your stomach and stretch your legs. Keep your palms underneath your shoulder.
Make sure that your chin and toes are touching the floor.
Inhale slowly and raise your chest upwards as you bend backwards.
Remain in this position till you are comfortable.
Exhale slowly and get back to the original position.
Repeat 5 times. Rest for 15 seconds between each pose.
Bow Posture:
Lie on the floor and stretch out your legs. Keep your arms at your side.
Bend your knees and reach your arms back so that you can hold your feet or ankles with your hands.
Inhale and try to lift your head. Bend your head backwards and try to lift your legs as high as possible.
Stay in this position for 15 to 30 seconds as you breathe normally.
Now exhale and get back to the initial position.
Repeat this exercise at least 5 times and take 15 seconds rest between each pose.
So, try these exercises and get the body shape that you desired for the Coachella festival.