Cocoa Butter Benefits and Uses for Skin, Hair and Health
Cocoa butter is one of the common ingredients added to chocolates. It gives a creamy and smooth texture to the chocolates. Other than its wonderful taste, cocoa butter also has lots of other benefits. It is an ingredient used in toiletries, food, medicine and ointment for years. Other than its health benefits, it is also good for the skin.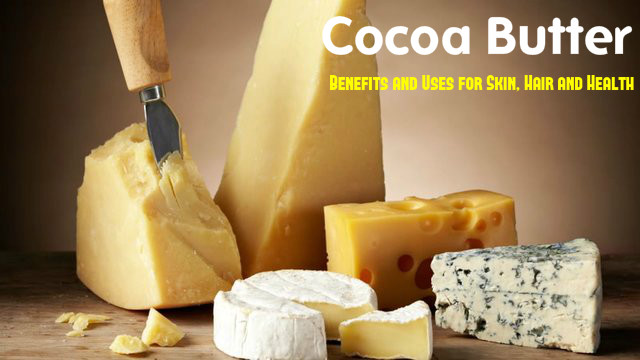 Benefits of Cocoa Butter for Skin:
Anti-aging Formula:
Cocoa butter is a rich source of antioxidants like oleic acid, palmitic acid and stearic acid. These are good for your skin and help in fighting against the free radicals. As a result, there is a reduction in the appearance of wrinkles, fine line, age spots and other signs of aging on the skin. It is also a mild sunscreen and protects your skin from its harmful actions. By applying cocoa butter regularly on your skin, your skin will look healthy and young.
Make Homemade Shaving soap:
Cocoa butter is often added to lotions and creams because of its creamy texture. You can also make shaving soap with cocoa butter.
Ingredients list:
½ cup cocoa butter
½ cup organic coconut oil
20 drops essential oil
Preparation Process:
Take cocoa butter and coconut oil in a small pan and melt them on a low heat.
Mix well with a wooden spoon and remove from heat.
Now you can add the essential oil and cool the mixture.
Mix it with a hand mixer till it is fluffy.
Store in an airtight container in a cool place.
Removes stretch marks fast:
Coca butter is great for reducing stretch marks, to even skin tone and to reduce scars. It is also good for people who have sensitive skin or those suffering from skin irritations like eczema and dermatitis.
Soft and full lips:
Using 100% cocoa butter stick helps in moisturizing your lips and makes your lips feel full. To make it at home, melt cocoa butter and add essential oils and your favourite colour to it.
Use as Moisturizer:
Cocoa butter melts just above the room temperature and is an excellent natural moisturizer. Being high in fatty acids, cocoa butter cream penetrates deep into the skin and hydrates your skin well. To get the maximum benefits from cocoa butter, you can make your own whipped body butter at home.
Ingredients list:
½ cup of shea butter
½ cup of cocoa butter
½ cup organic coconut oil
½ cup almond oil
20 drops of lavender essential oil
Preparation Process:
Take all the ingredients, except the essential oil, in a pot and mix them.
Heat the ingredients on a medium heat so that they melt. Stir continuously as you melt them.
Keep it aside to cool.
Now you can add the essential oil and place the mixture in the refrigerator for 1 hour, so that it becomes slightly hard.
Whip it in the hand mixer for 10 minutes and then place it again in the refrigerator for 15 minutes.
Store this in a glass jar in a cool place.
Benefits of Cocoa Butter for Hair:
Hair conditioner:
Make a good leave-in hair conditioner with cocoa butter.
Ingredients list:
½ cup cocoa butter
2 tbsp organic coconut oil
2 tsp vitamin e oil
6 drops of vanilla essential oil
Preparation Process:
Take all the ingredients, except the essential oil, in a small pan and melt it on a low heat. Stir constantly.
Now remove from heat, and pour into an airtight container after 10 minutes.
Add the essential oil.
Keep it in the freezer for 15 minutes and then take it out to soften the butter, and then apply on your dry hair.
Rub it on your scalp at night and wash it off in the morning.
Benefits of Cocoa Butter for Health:
Aromatherapy oil:
Pure cocoa butter has a fragrance that you can use in aromatherapy. Blend it with a few drops of neroli oil with a fresh floral scent with citrus undertones. This oil is good for relieving anxiety and depression. For relaxing your mind and body, add green or red mandarin oil to cocoa butter. This will give you a sound sleep.
Cocoa Butter Bath for Relaxation:
After a stressful day, if you take a long cococa butter bath, you feel very relaxed. Adding cocoa butter to a warm bath is a wonderful way to unwind. The deep, rich scent of vanilla and chocolate is really pleasant. You can add about 2 tablespoons of cocoa butter to warm water.
Adding essential oil to this bath makes it all the more effective. If you have dry foot, you can make a foot soak by adding one tablespoon of cocoa butter and a few drops of essential oil to warm water.
Eases constipation:
Consuming cocoa butter is an excellent way to improve bowel functioning. This means healthy bowel movements and healthier time between bowel movements. Children who suffer from sensory processing issues benefit a lot by consuming cocoa butter.
Encourages happiness:
As you know, chocolate can make everyone happy. Cocoa butter in chocolate has the ability to increase the levels of endorphin and serotonin in your brain. This helps in improving your overall mood. Magnesium in cocoa butter can lower the levels of progesterone, which is responsible for mood swings during PMS. Phenyl ethylamine in cocoa butter is responsible for increased stamina and mental alertness.
Improving immunity:
According to research made, cocoa butter is also said to boost your immune system. Including cocoa butter in your diet can maintain proper balance of the hormones. Using cocoa butter is said to be beneficial for dealing with heart disease, mood disorders, high blood pressure, psoriasis, arthritis, fibromyalgia and so on.
Improves heart health:
Unlike other fats, cocoa butter is a healthy fat that you should include in your regular diet for having healthy heart. This is because of the presence of polyphenolic components in cocoa butter. These compounds can lower the inflammatory markers that lead to the hardening of arteries. Cocoa butter is also good for fat metabolism and reduces the risk of heart attacks.