Coconut Milk for Hair Growth – How to Extract, Apply & Use
Many people get confused with coconut milk and coconut water. Coconut milk is obtained from the kernels of mature coconuts. Scrap coconut and squeeze it to get coconut milk. Coconut milk is used to prepare many dishes and is very tasty. This is rich in fat but it is good for weight loss as the fat in it is healthy and good for the body. Niacin and folate are found in high quantities in coconut milk. These help in protecting your body from various types of cancer and also increase the blood circulation in the body. Other than its health benefit, coconut milk is also good for your skin and improves the texture of your hair.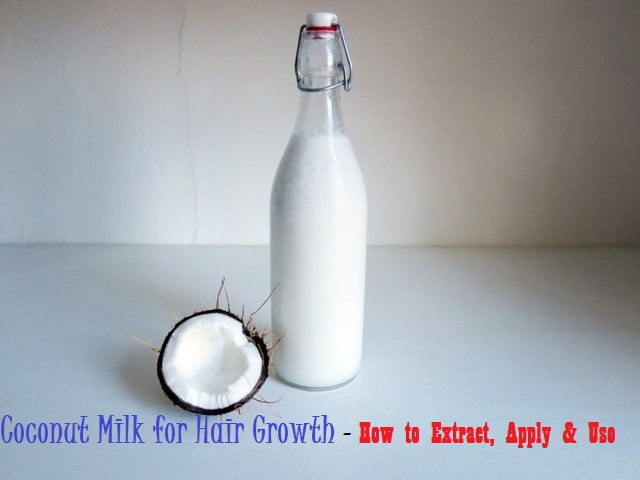 You can improve the growth of your hair by applying coconut milk on your scalp and the hair. It is an excellent remedy for any problem connected with hair. Vitamin E and fat present in coconut milk provide good nourishment to hair and help in increasing hair growth. If you have dull and damaged hair, apply coconut milk and soon you will find a great change in your hair. Just take some coconut milk and apply on the scalp and hair. Wait for a few minutes and then wash with water and mild shampoo. Do this twice daily and you will soon get positive results.
How to Extract Coconut Milk from Coconut:
Take one fresh coconut and grate it on a coconut grater.
After grating the coconut, take some of the grated coconut and put it in a muslin cloth or a cheese cloth. Press it to squeeze out the milk from the grated coconut. Collect this milk in a bowl.
Once you take out the milk from the grated coconut, filter it to remove particles of the coconut from the milk.
Heat a pan and then pour this milk in to the pan. Cook it for about 3 to 5 minutes. Take it out from the flames and cool it. Freeze the milk in the refrigerator for a night. It is ready to use on your hair.
How to Apply Coconut Milk for Hair Growth?
First you have to comb your hair and detangle it.
Now take a cotton ball and dip this in the coconut milk. This will make it easy to apply on your hair.
Apply the milk with the cotton ball on your scalp, hair as well as the tips of the hair.
Massage your scalp gently with your finger tips. Massaging the scalp helps in increasing blood circulation in the scalp and enhances hair growth.
Now tie your hair and put a hair cap over your hair. This helps in providing heat to your hair in a natural way and also prevents the milk from falling down from the hair.
Let the coconut milk remain in your hair for 4 to 5 hours, so that the roots of the hair also receive the milk and get nourished.
Wash off with a good quality mild shampoo.
Apply a conditioner after you shampoo your hair.
Applying this regularly is surely an excellent way to get healthy and shiny hair. It not only increases hair growth, but it also makes your hair smooth and silky. You will never have any problem with your hair in future.
How to Use Coconut Milk to Treat Baldness:
Baldness is a common issue and many of you face this problem. If you are suffering from baldness, take coconut milk and add some organic compounds to it. This way you can cure this problem.
Take about 50 ml of coconut milk and add 10 ml of plain yogurt to it.
Now take a small quantity of camphor solution and add it also.
Mix them well and massage it all over your scalp. Massage well and do not miss out any of the area where there is baldness.
Let it stay in your hair for 1 to 2 hours and then wash off with warm water.
Do not use a hair dryer. Let your hair dry naturally.
Treat your hair this way for two to three times a week. After two weeks you will see that your hair is growing better than before.
Deep Conditioning with Coconut Milk:
Take 4 table spoons of coconut milk and add honey and hair oil to it. For hair oil you may use olive oil or castor oil.
Mix all of them and heat the mixture for about 2 minutes. Apply this mixture on your hair. Massage well with your finger tips.
Wear a hair cap and leave it for an hour.
After the stipulated time, wash with a mild shampoo.
Do this once a week and you will see that this greatly improves your hair growth and makes it healthy and shiny.
How Coconut Milk Benefits your Hair:
Besides being a good conditioner and an anti-balding agent, coconut milk also has many other properties that make it ideal for hair care. Some of them are:
Nourishes your hair:
Coconut milk supplies your hair with all nourishments and keeps hair well hydrated from the roots to the tips. Applying it on the hair is excellent to treat dry hair and to prevent split ends and damaging of hair.
Used as a hair detangler:
If your hair is fully tangled and there is no way to untangle it, take some coconut milk and apply on your hair. Now comb your hair. You can easily detangle your hair.
Prevents premature graying of hair:
If you are suffering from premature graying of hair, take equal quantities of coconut milk and amla oil and mix them well. Keep this aside for an hour. Now apply this on your hair and scalp and wait for 1 hour. After one hour you may wash your hair with warm water.