Cumin (Jeera) Benefits and Uses for Skin, Hair and Health
Spices make your dish mire tasty and add a distinct flavor to your dish. Cumin is also a spice that is added to various dishes prepared in India. Generally they are available in three different colors, which are amber, white and black. Amber colored cumin is most common. Cumin seeds have lots of health benefits s well as skin and hair benefits.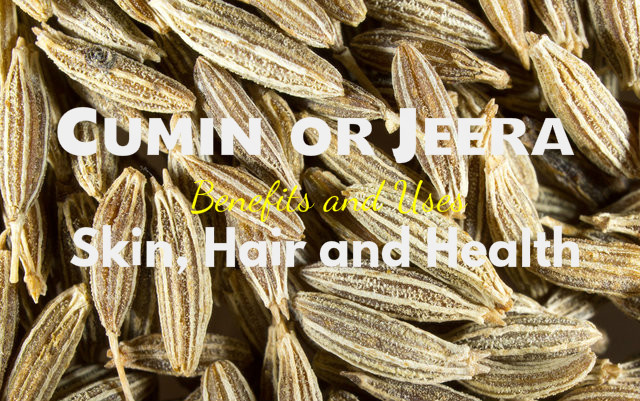 Benefits of Cumin for Skin:
Anti-ageing benefits:
Cumin seeds are rich in Vitamin E, which has anti-ageing properties. This helps in slowing down the ageing process. It fights against the free radicals that are responsible for the appearance of fine lines, wrinkles and age spots on the skin, as well as sagging of the skin. This way cumin seeds help in keeping your skin healthy and beautiful for a longer time.
Cures itchiness and body heat:
To get relief from itchiness and body heat, all you have to do is to boil water with cumin seeds, cool it and then take bath with this water.
Cumin face pack for glowing skin:
You can prepare a face mask by mixing turmeric powder and ground cumin in the ratio 3:1. If you are preparing peel off mask, you can add honey instead of water to mix the powders of turmeric and cumin. Apply this pack on your face and let the pack dry. Then wash off with water. This helps in providing you smooth and glowing skin. If you have sun burns, you can add yogurt to the face mask. After washing your face, apply jojoba oil on your face.
Skin disorders treatment:
Vitamin E present in cumin seeds helps in keeping your skin healthy and glowing. Cumin also has disinfectant and anti-fungal properties, which help in protecting your skin from the attacks of bacteria, fungus and other microbial infections. You can treat and heal boils, pimples, eczema, psoriasis and other disorders of the skin by applying a paste of cumin seeds topically on the affected areas. Adding a pinch of cumin powder to your face pack can help you treat various issues of the skin. The dietary fiber present in cumin seeds help in cleansing and the removal of toxins.
Treating boils:
Boils appear when there is accumulation of toxic substances and foreign matters like microbes in the body. By using cumin seeds regularly, you can prevent boils, rashes, pimples etc from appearing on your skin. This is because cumin seeds contain cuminaldehyde, thymol and phosphorous, which are very beneficial for the removal of toxins from the body. They detoxify the body through the excretory system and through boils. To treat acne and boils, mix ground cumin seeds with vinegar and apply o the affected area.
Treatment of burning sensation:
If you have burning sensation on your palms and toes, you can treat it by drinking cumin water. Add one teaspoon of cumin seeds to 4 liters of water and boil. Now remove it from the heat and cool it. Drink this water when you thirsty and also after your meals. Drinking it warm will give you better results.
Benefits of Cumin for Hair:
Dandruff treatment:
Massaging the scalp with the oil extracted for cumin seeds helps in getting rid of dandruff.
For Long and shiny hair:
Add one and a half tablespoons of black cumin seeds to ¾ cup of eater and boil it for 10 minutes. Cool it and separate the seeds from the liquid. Add the yolk of an egg to this cumin water and mix well to get a creamy solution. You may also add a teaspoon of virgin olive oil to the mixture. Apply this on your scalp and massage well. Wait for 30 minutes to one hour and wash off with water and a mild shampoo. Doing this every week or once in a fortnight provides you best results.
Hair loss treatment:
Black cumin is very beneficial for rating thinning of hair, baldness and hair loss. Mix equal amounts on black cumin oil and olive oil and apply this mixture on the bald area of your head after you have your bath. This helps in the growth of hair and prevents hair loss. Consuming black cumin oil in the form of capsules is also effective.
Health and Medicinal Benefits of Cumin Seeds:
Anemia:
Presence if iron in cumin seeds helps in preventing anemia, which is a disease cause when the body becomes deficient in iron. Iron helps in increasing the haemoglobin formation in the blood and allows proper transportation of oxygen to all parts of the body.
Cancer:
Cumin is effective for the treatment of colon and breast cancer. This is because of the presence of anti-cancerous agents in cumin seeds like thymoquinone, dithymoquinone, thymohydroquinone and thymol.
Cold and respiration:
Cumin seeds are rich sources of vitamin C, and also have anti-fungal properties. These are beneficial for curing cold and other problems of the respiratory organs. They are also good for the health of the kidneys.
Digestion:
The enzymes in cumin seeds are good for proper digestion of the food you consume.
Fights asthma:
Presence of Thymoquinone in cumin seeds makes it beneficial for reducing inflammatory processes and other factors that cause asthma. They are also good bronchodilators.
Immunity:
The antioxidant properties of cumin seeds help in making the immunity of the body better, thus protecting you from various diseases.
Iron rich seeds:
Iron is essential for preventing anemia, increasing the RBC in the blood and to carry oxygen to all cells of the body. so, it is very essential for the body. Cumin seeds are rich sources of iron and therefore very healthy for the body.
Maintaining blood sugar levels:
Cumin seeds help in lowering the blood sugar levels maintaining the normal levels of sugar in the blood. This makes it very beneficial for the diabetic patients.
Metabolism:
Good metabolism helps in keeping all other body processes within control. Iron present in cumin seeds helps in maintaining the metabolic activities of the body.