DIY Homemade Sugar Lip Scrub for a Super Smooth Pout
With the winter saying good bye and the coming of spring, it is time that you scrub and massage your lips, so that they are ready to face the summer. For the body you can have a lavish body scrub in the parlour, or scrub your body at home with DIY body scrubs. For the lips, you get a number of lip scrubs in the market. Else, you can make your own homemade lip scrub, using natural ingredients. These are more effective and cheaper.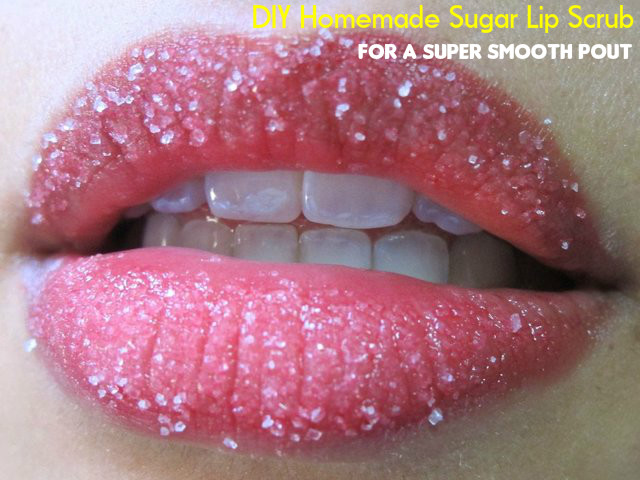 Homemade Sugar Lip Scrub:
What is required?
Sugar is an ingredient that is easily available. It is one of the least harmful substances that you can use for the preparation of the lip scrub. So, sugar is the main ingredient in this lip scrub. You can use both white and brown sugar because each has its own benefits.
Since the scrub is for your lips, it has to be nourishing and soft on your lips. For this you can add honey and almond oil. They help in keeping your lips well nourished and moisturized.
Cinnamon is also added to the ingredients because it brings a good flavour to your lip scrub. Cinnamon is also said to act as a good lip plumper. So, cinnamon is also a good addition to the ingredients used in lip scrub.
Procedure to follow:
Step 1:
To begin with, take a clean bowl to add the ingredients. Add one teaspoon of sugar into it. The ingredients that you are taking here is to prepare scrub for 3 uses only. For less or more uses, you can change the quantity accordingly.
Step 2:
Now you have to add half a teaspoon of brown sugar into the bowl. We take less amount of brown sugar because we need more of the granular component in the scrub and this we get from white sugar. Granules help in giving a good scrub to your lips.
Step 3:
Next you have to add half to one teaspoon of pure honey according to your comfort and preference.
Step 4:
As you keep adding the ingredients, the mixture becomes more colourful and attractive.
Step 5:
Now you can add a little of almond oil to the mixture. Almond oil is one of the best oil you can use because it is not very sticky and does not give that oily feeling. It is also very beneficial for the skin.
Step 6:
You need to add only a dash of cinnamon to his mixture. It helps in changing the aroma of your lip scrub. It also provides you plumped lips, although it may not work for everybody. However it is better to give it a try as you have nothing to lose.
Step 7:
Now mix all the ingredients well. You will get a paste like consistency once you mix them properly.
Step 8:
Now your scrub is ready. Take   little of it on your finger tips and scrub your lips with it. Rub over the lips in light strokes with your fingers. Take a tiny amount of the mixture 2 to 3 times while scrubbing and rub it along the corners of your mouth. Once you have finished scrubbing, wash it off with lukewarm water. After scrubbing and washing, you can apply a little Vaseline or lip balm on your lips if needed. This scrub is so nourishing that most of you will not require a lip balm for the next 2 hours.
Other DIY Sugar Lip Scrub you can make:
Lemon lip scrub:
What is required?
1 teaspoon of coconut oil
1 teaspoon of raw honey
1 ½ to 2 treasons of raw/granulated sugar
a dash of lemon juice
Coconut oil – It has anti-aging properties and helps in keeping your lips moisturized.
Raw honey – Honey has antibacterial properties. It also contains amino acids that help in keeping your lips moisturized. Raw is better for the skin because of its healing properties.
Raw sugar – It has great exfoliating power and also promotes the production of collagen.
Lemon juice – Lemon juice is rich in Vitamin C and citric acid, and helps in brightening as well as exfoliating the skin.
Application procedure:
Mix all the ingredients to get a paste. Apply this paste on your lips with your fingertips and rub in circular motions. Rinse with water and then you can apply your favourite lip balm on your lips. Your lips will be soft and silky.
Brown sugar and vanilla lip scrub:
What is required?
2 teaspoons of brown sugar
½ tsp of honey
1 tsp of olive oil
¼ tsp of vanilla extract
You also need a mixing bowl and a small container.
Preparation Method:
Step 1:
Take the bowl and add the honey and olive oil into it. Mix them well.
Step 2:
Add brown sugar and mix. Brown sugar is great for getting rid of dead skin and for treating chapped lips.
Step 3:
Add vanilla extract to the mixture. This gives a yummy smell to the scrub. Mix all the ingredients well.
Step 4:
Store the mixture in a container so that you can use it again.
Application procedure:
Apply a small amount of the mixture on your lips and scrub your lips with your fingers for about 10 seconds. Then you can wash it off and apply a good lip balm. Using this lip scrub helps in exfoliating your lips and keeping your lips soft and beautiful.