Easy and Simple Tricks to make your Hair Grow Faster
Long hair are always desired by most of women all around the world. Women crave for long and silky hair but at times it becomes difficult to maintain it. Even the growth speed gets reduced due to excessive damage to the hair quality and results into hair related issues and problems majorly hair fall. So here are some reasons why your hair falls which includes genetics, improper diet, prolong diseases, stress, cosmetic usage etc. these were the daily natural reasons and improper care regarding yourself but there are some mechanical reasons as well for excessive hair fall like excessive combing, application of bleach, dying, perming etc. and even due to tying tight braids can lead to hair fall problems.
Though there are several ways through which you can make your hair grow faster and make it stronger some tips are easy to try out. Here we present you with some simple tricks and tips for growing your faster without much stress or hard work.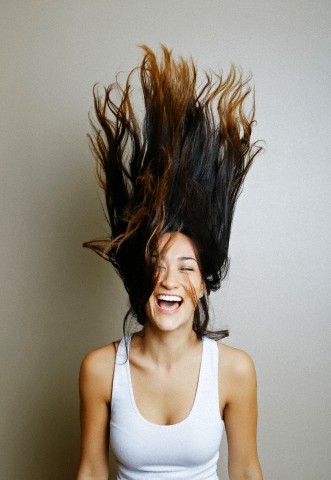 Appropriate Sleep:
Inculcate minimum 8 hours of sleep because lack of sleep causes hair fall, pigmentation, dark circles, dull skin and even stressful mind state. A peaceful sleep is a must for healthy mind and body. Sleep on a pillow which is made of silk as it would be soft and will develop less friction with your hair.
Consume more water:
Drinking more water is always healthy and it is a known fact that 95% of our hair consists of protein and remaining 5% is water!! Thus it is mandatory to consume 12-15 glasses of water each day. This will help in faster hair growth and even nourish your hair keeping it healthy.
Check what you eat:
It has always been observed that diet plan plays an important role in the growth of strong and beautiful hair. It is essential to nourish your hair not only from outside but inside as well. The diet consumed should be well balanced and should contain fresh fruits and vegetables. The diet plan should be follow religiously and maintain punctuality with it. Try including foodstuffs that contain vitamin B12, zinc, iron and calcium as they help in preventing hair loss issues. As we are aware that our hair is composed of a protein named Keratin so for the same reason eat protein rich food stuffs such as soybean, cheese, milk, fish, chicken, etc.
Consult a Dermatologist:

Consult a dermatologist as they would study your hair problem in depth and they would suggest the best supplements and medication depending upon your hair type and related problems.
Cleansing:
The sebum produced by the natural oil glands creates a layer over the scalp and reduces the hair growth. Thus it is mandatory to clean your hair and scalp on a regular basis. Opt for natural hair products, shampoos and conditioners instead of chemical ones. Wash your hair twice a week because even frequent shampooing to your hair will destroy it and make it rough and dry.
Dietary Supplements:
Including omega 3 fatty acids, multivitamins and bio vitamins which are the dietary supplements and help in regulating the natural growth of hair. These supplements are found in green leafy vegetables, cereals, fish, peas, beans, yogurt, etc. In order to avoid allergic reaction, consult a physician before taking tablets or capsules for supplements.
Hot Oil massage:
hot oil massage with aromatic oil can be the best option of all for relaxation. It also provide nourishment to your hair. Massaging on the scalp with hot oil increases the blood circulation to the roots of your hair and helps in hair growth. Oils which can be used are coconut, almond, olive, jojoba or rosemary for regular massage basis. Put a hot towel dipped in hot water over your head after the massage as it would help in opening the pores and penetrate the oil deep into the scalp.
Homeopathy for Hair Loss:
It has less Sid effects as compared to allopathic treatments. They are clinically proven and tested. They proved slow but effective results.
Hair extensions:
Hair extensions look chic and trendy and are the best solutions. They are available in various forms such as straight, wavy, curly depending upon the actual hair type. They are the fastest way to make your hair look long
Natural Hair Pack:
Use amla, fenugreek seeds, onion juice, avocado, etc. to better results but have to maintain your calm for the same as the results for these treatments to appear ma take long time. It has been recently observed that by regulating their diet, sleeping hours, exercising and healthy hair practices and even reducing the stress levels, people are now able to control their hair fall problems.
Protect your hair:
Pollution, dust and sunrays damage the hair badly. It makes your hair dull, dry and dead by stripping off the natural oil from the scalp and reducing the hair growth. Always make it a point to cover your head when you move out. Avoid hairstyles like high ponytail, tight braids or cornrows as it loosen up the hair from it roots causing hair fall. Do not comb your wet hair as they are very much prone too breakage.
Regular Exercise:
Regularly exercising is not only good for your body but also for healthy hair growth as well. Working out daily for 20 minutes may it be yoga, meditation, cycling, walking, jogging, dancing, etc. As the blood circulation increases due to working out it helps in penetrating the nutrients through scalp.
Regular Trimming:
Split ends are the major reasons which causes hair damage and reduces hair growth. You rebound to have split ends if your hair is dry and damaged. Never pick your split ends as it would increase the problems further. Make it a point to trim your hair once in 3 months to avoid hair damage.
Simple tips and tricks to make your hair appear long:
Apart from hair extensions, there are various other solutions which can be obtained in order to make your hair look longer. Haircuts like layering helps in adding volume or even by straightening it or with the help of middle parting.
You can also check this video from MayBaby for some cool tips on growing your hair faster: