Effective and Clever Ways to Use Old Mascara Wand
Women always need to have some essential beauty products in their makeup kit, like tissue papers, primers, oil blotting sheets, makeup setting sprays as well as some basic beauty products like lipsticks, blush, eye shadow and so on. These are essential whether you are a beginner in makeup, go to parties often, or you are a college or office goer. One of the products that you need is the mascara. But when all the mascara is used up, most of you throw it away. But from now onwards, do not throw off the mascara wand. You can reuse it in many ways.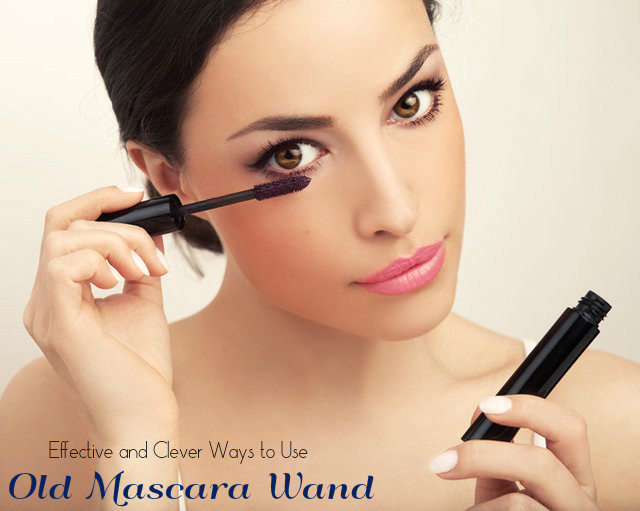 Different Ways to Use Old Mascara Wands:
Hydrating your eyelashes:
You can use mascara wand for keeping your eyelashes hydrated as well. All you have to do is to dip the clean mascara wand in a mixture of castor oil and almond oil, enriched with vitamin E. Apply this on your upper lashes as well as the bottom lashes after you remove your eye makeup. Let this mixture remain on your lashes overnight. Next morning you can wash it off. By applying this mixture on your lashes regularly, you will notice that within a week your eyelashes have become longer and thicker.
Remove cuticles:
For removing cuticles with old mascara wand, apply a little of the hydrating cuticle remover cream and wait for about 2 to 3 minutes. This will make the cuticles soft and easy to remove. You can also use some organic extra virgin olive oil instead of the cuticle remover cream. After the cuticles become soft, take a clean mascara wand and gently buff the base of your nails to remove any ugly bits.
To Brush eyebrows:
First of all, you have to clean your mascara wand well. Wash your mascara wand with detergent solution or by spraying some rubbing alcohol on it. This helps in disinfecting it immediately. Sanitizing the mascara wand prevents bacterial infection. Now smear the clean mascara with Vaseline. You can also use your favourite brow gel instead of Vaseline. Now brush your eyebrows with this mascara wand after you are done with your makeup. These mascara wands can be really useful for brushing your eyebrows and for making your brows appear neat and tidy. You can just brush your eyebrows with the mascara wand or apply your brow gel on it and then brush your brow, whatever you prefer. This is the perfect tool for this purpose and inexpensive too. You can also apply dark brow powder or a dark brown eye shadow on your brows, and then run the mascara wand over it. This helps in making the harsh edges and lines of the eye shadow look softer, and provides a natural look to your eyebrows.
To Exfoliate lips:
You might be surprised to know that you can even exfoliate your lips with mascara wand. Traditionally many people apply a lip scrub on their lips and then use toothbrush and fingers to rub the scrub and exfoliate their lips. But you will see that clean mascara wand can be more effective than a toothbrush. Load your clean mascara wand with a lip scrub or Vaseline and rub your lips with it gently in swift circular motions. You can also use sugar granules for exfoliating your lips this way. This technique helps in removing all chapped bits from your lips. Mascara wands are very effective and at the same time they are not harsh on the lips.
Tame flyaway hair:
Hair flyaways can be very annoying whether you are going for a sleek pony or a fancy tie up bun. It can be really problematic when you try creating the pinned-up hair styles. To tame these hair strands, all you have to do is to take some Vaseline in your mascara wand smoothen and tame the flyways to keep them in place. The jelly formula of Vaseline is very effective for keeping the dry and frizzy hair in proper place. This way you will be able to get a polished and sleek hair style, and look gorgeous. The size of the mascara wand is perfect for coating even the tiniest hair. But you have to keep in mind not to take too much of Vaseline. Instead of Vaseline, you can also apply hair spray on the mascara wand and then move it over the flyways to keep them in place. So, you can see that the tiny mascara wand works more effectively than a big paddle brush.
How to Clean a Mascara Wand:
Cleaning a mascara wand is easy and you can do it at home using shampoo and warm water.
Fill a glass or a sink with warm water and then soak your used mascara wand in the warm water for 10 to 15 minutes.
Now take a tablespoon of shampoo in your hand and work the wand into this shampoo. This helps in removing the mascara from the wand.
Rinse the wand in warm water and repeat the shampoo treatment till all traces of mascara is gone from the wand.
Now you can wash the wand with cold water and let it dry naturally.
The wand is now ready for use.
So, next time when your mascara runs out, do not throw away the mascara wand. Clean it properly and use it for different purposes. You can even clean taps and clean beaded clothing and delicate jewellery with this mascara wand.