Fruits That Help to Prevent or Stop Hair Loss
Hair loss is dreaded by women as well as men. Having long and luscious hair is the dream of all. When you comb your hair, it is natural that you notice a few hair strands falling off. But when the number of hair strands increases, then it may mean that you are experiencing hair loss problems. We all know how important fruits and vegetables are and how we all must include them in our regular diet. They are extremely good for a healthy body. Having at least one fruit a day is very beneficial for preventing hair loss and for an overall well being of the body. You can also apply these fruits on your scalp to treat hair fall.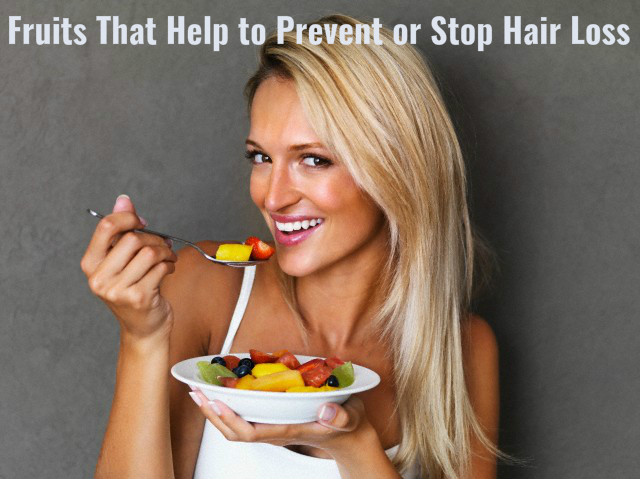 Best Fruits to Eat to Treat Hair Loss Naturally:
Apples:
As the saying goes, 'An apple a day keeps doctor away'. Apple is full of minerals and vitamins and helps in providing you a healthy body. It is also good for your hair. The dietary fiber, vitamins and antioxidants in apple can work well for your hair. By eating an apple daily for some months is sure to provide you healthy hair.
Banana:
Bananas are one of the cheapest of fruits that you can buy. They have lots of benefits and are excellent for treating various skin and hair problems. Take a banana and mash it to get a pulp. Apply this on your scalp and wait for 15 to 20 minutes. Wash off with water. Although a bit sticky and slippery, this hair pack is perfect for treating irritation of the scalp and to reduce hair fall. Try this hair pack and see how lustrous and smooth your hair becomes. Bananas are conspired the best fruits for preventing hair loss.
Berries and cherries:
Berries and cherries are delicious and loved by children as well as adults. They are rich sources of bioflavonoid, which helps in reducing hair fall in a natural way. Bioflavonoid helps in increasing the circulation of blood in the scalp and this causes more nutrients to reach the scalp. This in turn makes your hair grow long and thick. It also imparts a natural shine to your hair.
Grapes:
If you have tried various ways to treat hair fall, you are sure to have experimented with grape seed oil and found it effective.  An interesting fact is that grapes are also as effective as grape seed oil to help you control hair fall. Grapes are rich sources of vitamins and antioxidants, which play a great role in promoting hair growth and checking hair fall. In addition to consuming grapes, you can also make hair packs with grapes and try them. Consuming grapes helps in removing all impurities and toxins from your body and lead to increased growth of hair.
Guava:
Guava is a rich source of Vitamin A and is very effective for promoting the growth of hair. Guava is also good for increasing the activities of the mucous membranes. When you have dandruff in your hair you may suffer from increased hair fall. Guava is an effective remedy to treat dandruff. Mash guava and add honey and lemon to it. Mix them well and apply it on your scalp. Wait for a few minutes and then wash off with water. By using it regularly for a few weeks, you will see all dandruff removed from your scalp. With dandruff removed, there will also be a reduction in hair fall.
Lemon:
Lemon is great for treating your skin and hair. Lemon juice is an important ingredient in many of the packs that you make to treat your skin and hair. It is also an important constituent in many of the lotions, face washes, shampoos and creams that get in the market.
Oranges:
Oranges are loaded with Vitamin C. It is also full of antioxidants, flavonoids, magnesium, fiber, beta-carotene and so on. Have oranges regularly and you will see that your hair has begun to grow thick and beautiful. You can also apply the juice of orange on your scalp and hair to promote hair growth and treat hair fall.
Peaches and strawberries:
There is hardly anybody who does not love peaches and strawberries. They are delicious, and also loaded with lots of nutrients essential for your health as well as for hair and skin. Strawberries are rich sources of silica, which is very beneficial for preventing balding as well as for stimulating hair growth. Buy them when they are available in the market. Since they are seasonal fruits, they are not available throughout the year. When the season comes, try to have them as much as possible. You can have them with your salads, or as milk shake. Consuming them is sure to give you positive results in a few days.
Peaches are also good for reducing hair fall. You can have them in plenty and see how they help in preventing hair fall. You can also make a mask with peaches and apply it on your scalp and hair. This mask cleanses your scalp and thus reduces falling of hair.
Plum:
Plum is an excellent fruit and has lots f health benefits. It is great for promoting hair growth. You can also add the pulp of plum to your hair mask and apply it on your scalp and hair. Wait for a few minutes and then wash off with water. This can help in reducing hair fall.
Papaya:
Papaya is full of Vitamin C, Vitamin A, minerals and other nutrients that are good for your hair. Mix the pulp of papaya with honey and milk and apply this mixture on your scalp. This is very beneficial for treating all problems of the scalp and also helps in reducing hair fall.