5 Fruits to get Healthy and Glowing Skin: You Must Eat
Fruits not only taste good, but they are also rich in vitamins, minerals and other nutrients that are beneficial for your health. Having fruits daily also improves you complexion and give you a glowing skin. Fruits rejuvenate your skin and also keep it hydrated, making it look young and smooth. As they do not contain any chemicals, they are free from toxins and good for your health. Fruits are more cost effective than the creams and lotions that you get in the market promising you a glowing skin. Fruits contain antioxidants that reverse the actions of free radicals in your body and make your skin look young. It slows down signs of ageing and prevents fine lines and wrinkles from appearing on your face.
Some fruits that help you to have a glowing skin are: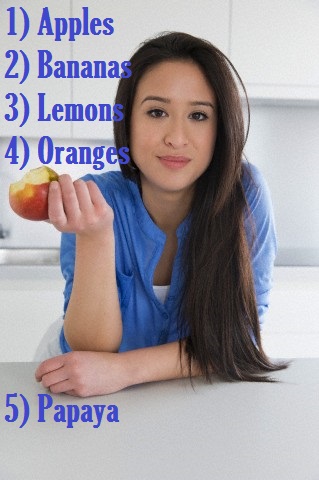 Apples:
Apple has great antioxidant properties, which prevents cells and tissues from getting damaged. It fights against the free radicals that are harmful for the body and acts as an ant-ageing agent. Having apple regularly helps in reducing the fine lines and wrinkles on your skin and also keep the bowels clean. Take apple juice and mix it with honey. Apply this on your face, wait till it dries, and then wash off with water. This keeps your face hydrated and healthy.
Bananas:
Banana contains a number of vitamins like Vitamins A, B and E, and also plays the role of an anti-ageing agent. Instead of taking unhealthy snacks that you get from the market, if you have bananas, you will have a better health. It is rich in fiber, mineral, potassium and magnesium. Bananas are beneficial for the proper blood circulation and make the body immune to various diseases. You will get a glowing skin by applying a face pack made with mashed banana and honey. Take a fresh banana and mash it. Mix it well with some honey and then apply this face pack on your face. Leave for 15 minutes and then wash off with water.
Lemons:
Lemon is a rich source of Vitamin C, which is essential for a healthy skin. Lemon has great cleansing power because of its bleaching properties. Thus it helps in lightening the blemishes, scars formed by acne and spots and makes your skin glow. When you wake up in the morning, take a glass of warm water with little lemon juice and 1 teaspoon honey on an empty stomach. This cleanses and clears your skin from inside and fights cellulite. Mix lemon juice with honey and apply it on your face. This provides you a clean and clear skin without any blemishes.
Oranges:
Like lemon, orange is also rich in Vitamin C and therefore good for your health. It has anti ageing properties and slows down the process of ageing. It also makes your skin free from blemishes and provides you a smooth skin. When you have oranges, do not throw away the peels. Dry the peels and make then into powdered form. You can store this in a container that is airtight. Use this powder as a natural scrub and you will get a glowing skin. You can use it twice a week to get the best results. Applying orange juice on your face is also good for the skin.
Papaya:
Papaya is excellent for your skin and is a rich source of anti-oxidants. The enzyme called papain found in papaya makes your skin free from all impurities and removes dead cells from your skin. Rubbing your face with the inner side of papaya helps in removing dead cells and also cleanses and softens your skin. Mix papaya well with 2 tablespoons of honey or yogurt. Now apply this mixture on your face and keep this mask for 20 minutes. Wash off with lukewarm water and apply a good moisturizer. You will the difference it makes to your face.
Using various fruit packs also help you in getting a glowing skin.
Some of the Fruit Packs are:
Mixed fruit face pack:
Take various fruits that are available in the market and mix one spoon pulp of each fruit. Apply this mixture on your face. Massage this pulp well on your face and neck. This tones your skin and provides a glow.
Kiwi fruit pack:
Mix kiwi fruit puree and 1 spoon yogurt well and massage it on your face. Wait for 20 minutes and wash off with water. This removes tan from your face provides you a glowing skin.
Strawberry face pack:
This is excellent for treating dull and tanned skin. Take some strawberry fruits and make it in to a pulp. Mix the pulp thoroughly with water. Massage your face with this and wash off after a few minutes.
Cucumber face pack:
Cucumber is good for your skin. Grate cucumber and apply the juice on your face and neck. Wait till it dries and then wash with water. This cools your skin a makes your skin glow. The pulp of the cucumber that remains may be put in the refrigerator and used as a pack for your eyes.
Papaya fruit pack:
Mash papaya and make it into a pulp. Wet your face and apply this pulp on the damp skin. Wait for about 20 minutes and then wash away with water. This pulp rejuvenates your skin and provides you a glowing skin.
Honey, lemon juice, Ground oats, yogurt, green tea extract and orange water are other ingredients that are good for your skin. Honey moisturizes your skin and also prevents acne. Ground oats is a good scrub while yogurt is used for reducing the tan on the skin. Green tea extract rejuvenates your skin. Orange juice and lemon juice help in removing scars. So have fruits daily and also use them externally on your skin. This is sure to provide you with a glowing skin that you will be proud of.