How to get rid of Dark spots on Lips Naturally Fast: Top Tips
Every woman yearns for soft and pink lips. Sun tan, dehydration, excess consumption of coffee and tea, and lifestyle changes cause your lips to become dark and discolored. Pigmentation is a serious problem faced by many people. You can easily use some natural lip packs to get rid of pigmentation on your lips. It works much better than the artificial lip products and scrubs available in the market. The effect of these natural products is even long lasting.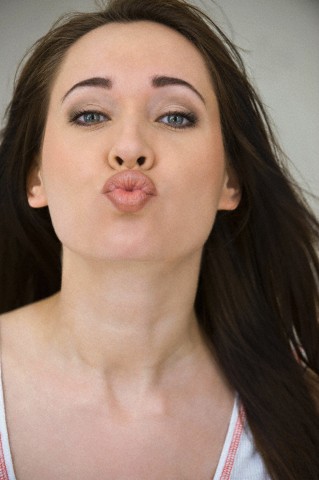 Almond Oil lightens dark lips:
Almond oil is very effective at lightening the tone of your lips. All discoloration and pigmentation is treated using almond oil. The best way to use it is to apply before bed time. Take a small amount of almond oil on your finger and massage it on to your lips before you go to bed. Make sure it blends well in your lips. Leave it on overnight to work all through the night. Use this treatment daily for best results. You will find your discoloration reduced within a few days. Your lips get lightened with continuous application.
Beetroot juice treatment for dark lips:
Beetroot is very effective to treat dark lips and get rid of pigmentation. Take a red beetroot and cut it in to slices. Keep all the slices in your refrigerator to store it properly.  To treat your lips, take a good juicy slice. Massage the slice on your lips when you have free time. You can do it while watching television, or even while doing your work, if your hands are free. Give your lips a good beetroot massage. It really works good at removing tan. The tan is removed and your lips get a natural glow. Use the beetroot treatment daily, and you could see the difference within a few days. Your lips will slowly turn rosy pink and shiny.
Cucumber Juice for dark lips:
Cucumber juice is another ingredient which helps your lips get lighter in color. Take a cucumber and make some juice from it. You can store the juice in your refrigerator for a week. Take some amount of juice and massage it well on to your lips. Make this a daily routine to treat your lips. Give your lips a good massage every single day to get rid of pigmentation, discoloration, and dark lips.
Dehydration effect on dark lips:
Topical treatments do not always work. You need to nourish your body from within to look naturally beautiful. Same is the case with your lips. You need to provide care and nourishment from within. This can be done only if you take good care of your health. Along with topical treatments, take good care of your body from the inside. You need to keep your body well hydrated. It is necessary that you drink a minimum of 8 to 10 glasses of water every day for good health. This prevents your body from getting hydrated, and also keeps your lips well hydrated. As such, dark lips due to dehydration can be prevented.
Glycerin treatment good for dark lips:
You might be wondering is glycerin good for your dark lips? Exposure to sunlight and lack of proper maintenance is the main reason for pigmentation on lips. Other than these, a major reason is dryness. To prevent dryness, you could treat your lips using glycerin. Take a cotton bud and use it to apply glycerin on your lips. Apply this before you go to bed at night, and let it stay overnight. Glycerin effectively locks moisture and prevents your lips from getting dry and patched. It makes your lips soft also, along with retaining moisture.
Lemon and Honey Treatment for dark lips:
Using honey and lemon, you can make a lip serum which works great at removing tan. Take equal parts of honey and lemon juice. Mix them together to make the serum. The citrus extracts help in peeling off the tan. Honey nourishes your lips and gives it a natural pink color. Apply this serum over your lips and let it stay for an hour. After that, use a soft and wet cloth to wipe it off. You could apply this serum a number of times daily. It removes pigmentation and tan. You could preserve this serum in your refrigerator for up to a week.
Lemon and Sugar good for treating dark lips:
Using lemon and sugar together on your lips gives it a good treatment. Take some sugar crystals and take the peel of a lemon. Put the sugar crystals on the lemon peel and rub your lips with it. This is a really good exfoliate. It exfoliates your lips and removes all dead skin. This is an effective treatment for dry lips, too. It retains moisture on your lips. Your lips become clean, soft and supple. Pigmentation and discoloration is also treated well.
Take care of the products you use on your lips:
You must be really careful when you buy any lip products. It is necessary that you check out the ingredients carefully. All lip products are not good. Some may claim to be 100% natural and effective, but it may not actually be so. Most important, do not go for any allergic products. Allergic and cheap products may be the cause for your dark lips. Using local brands is never recommended, as they cannot be trusted fully. So, stay away from wholesale products and local brands. Getting a mild herbal lip balm can prove to be really effective. They help you get rid of the tan and also make your lips soft. Lip masks made using fresh pureed fruits are really good. They are really effective at treating pigmentation and sun tan. Using fruits is the best idea, so include lots of fruits in your regime for lip care.
All these simple remedies help you get rid of discoloration and pigmentation on your lips to make them light and pink. Sun tan is also removed, and your lips become beautiful. Get beautiful lips and stay beautiful.