How to Get Rid of Suntan skin fast and overnight – The Natural Ways
Do you love vacations around the beach front, who doesn't. What about the summer vacations of kids when they have ample time for fun and play. Who doesn't love that. But an outcome of all this fun and frolic out in the sun is a Tan.
What is Tan or Suntan?
Developing a suntan is the skin's mechanism of protecting itself from the harmful ultraviolet rays of the sun.
When exposed to UV radiation from the sun for a period of time, the skin increases the production of melanin to avoid further skin damage. The increase in melanin, however, darkens the skin tone within two days of exposure.
In addition, overexposure to ultraviolet radiation (sun-tanning) tends to cause your skin to age more quickly. It makes the skin, dry, wrinkled, and freckled over time.
We Indians are safer in this department to our counterparts in US or other cold countries where the skin tone is white as they are more prone to developing skin cancer due to over exposure to sun, and India being a naturally hot climate country has its residents who sport a wheatish skin which produces ample melanine to counter the bad effects of exposure to sun rays.
We generally tend to gravitate towards having a fairer skin and have definitely tried over time over the counter medication and also so called fairness creams, but there are definite natural ways to get rid of suntan.
How to Get Rid of a Suntan skin fast and overnight:
Given below are safe and natural cures for suntan.
1)  Coconut Water: Coconut water is an abundant and cheap source to get rid of suntan and also your thirst. One should apply coconut water to the affected area and leave it on for 30 minutes, then wash it off with clean, cold water to reveal a naturally fair looking skin.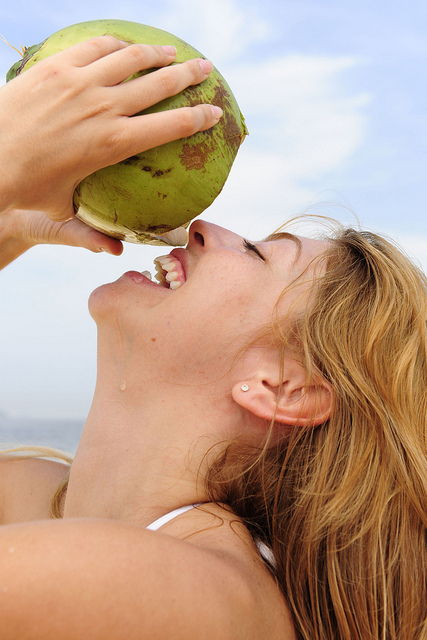 Image credits: cc licensed ( BY ) flickr photo
The use of fresh coconut water on skin is a simple, yet effective natural cure for a suntan.
2)  Tomato Juice and Yogurt: Why? Because, citrus fruits contain ascorbic acid which has high antioxidant properties that help fade the tan and Yogurt contains lactic acid that lightens the tan.
                     To use combine tomato juice with equal parts yogurt and apply to affected skin. Leave it on for 30 minutes and rinse with clean, cool water.
 3) Orange juice:  I love to drink orange juice, but when recently one of my friends told me she uses it to get rid of suntan I was in a shock so tried it by applying to the to the affected area. This remedy is useful in eliminating a suntan because it contains natural alphahydroxy acids.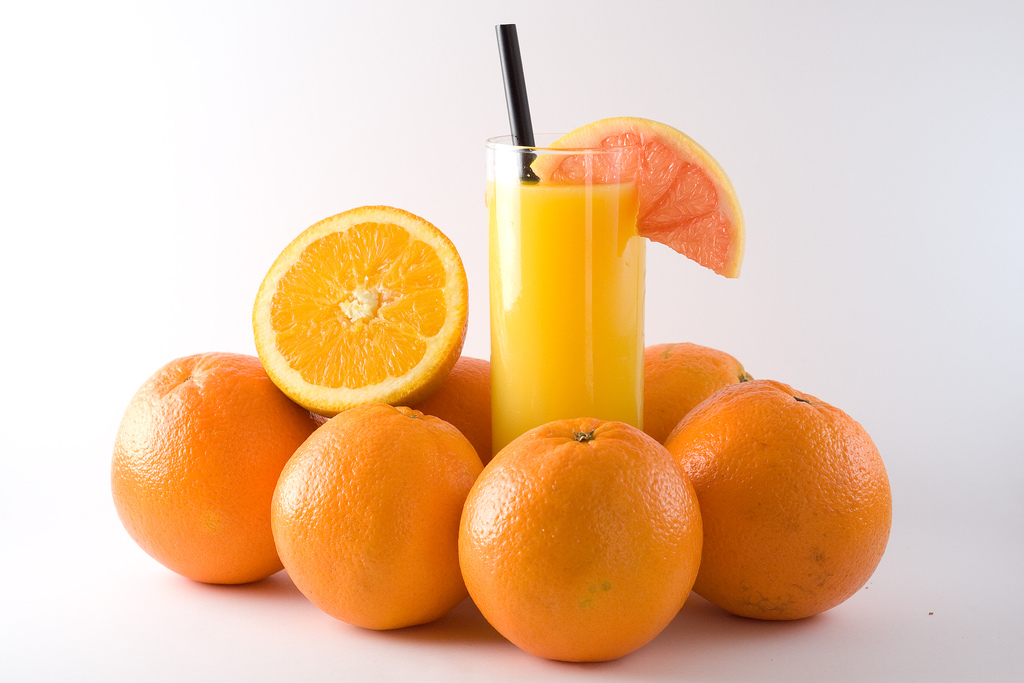 Image credits: cc licensed ( BY ) flickr photo
4) Cucumber with yoghurt: Blend half a cucumber in a blender along with an equal amount of yogurt then add a few drops of rose water, and sandalwood powder to form a paste. Apply to the affected area and leave on for at least 30 minutes then rinse with clean, cool water. Repeat this procedure daily until your sunburn is gone.
Apart from treating a suntan, cucumber also has a cooling effect on the skin.
5) Lemon and Honey: Take honey and mix it with some lemon juice, apply it on the affected area, it is one of the best anti tan packs.
6) Milk and Gram Flour (Besan): This is one of the oldest natural and homemade remedy to get rid of tan. Just mix gram flour and milk and form a thick paste. Use this while bathing as soap and scrub the body to get rid of tan.
7) Aloe Vera gel: It is a perfect remedy; which will make your complexion fair in less than a week if applied regularly. But make sure that you have to use sunscreen while going out in sun as it makes your skin photosynthetic and can bring tanning if used without sunscreen.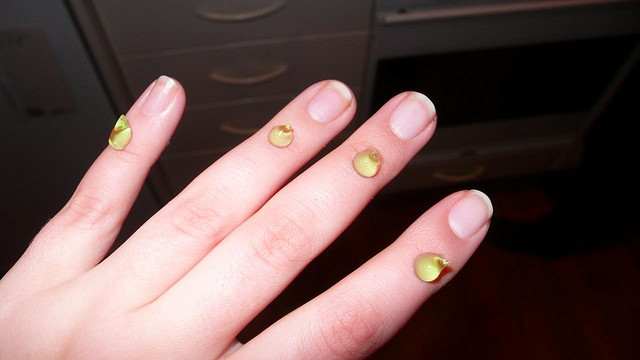 Image credits: cc licensed ( BY ) flickr photo
So, use these natural home tips and get fair complexion with every passing day.