How to get Silky, Shiny, Straight Smooth Hair Naturally
It would be so wonderful if all of us were blessed with long silky hair and not only that with minimum of maintenance it would stay as it forever. But that is not the case we all have to make effort to get our tresses smooth and silky. If you are using some chemicals to get that then you must remember that it comes with side – effects too. Therefore, you have to be extra careful and maintain your hair thoroughly without fail.
                                                                                                                                                                                                       Image by © Blue Jean Images/Corbis
It is very important that you choose your shampoo and conditioner depending on your hair type.
If you are looking for shampoos that will help you get smooth hair, then you can try these options –
Tresseme smooth and shine shampoo
Vitamin H and also the amount of silk protein that it has, helps in the smoothening of your hair. If you are tired of your dry and rough hair, then you can try out this shampoo and as the advertisement says it provides salon like treatment at your home. You don't have to pay extra for getting professional care for our hair.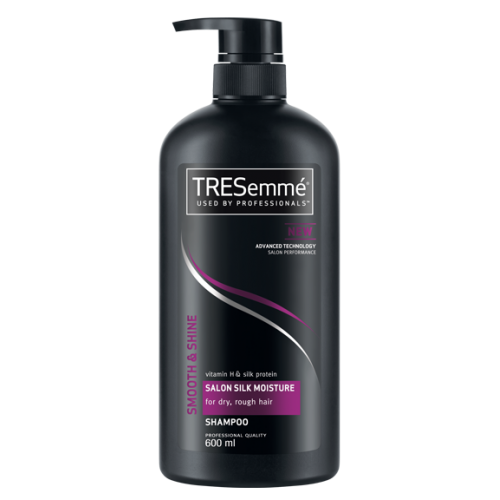 But if you want, you can treat rough hair through natural ingredients as well. You can boil some dried amla, reetha and shikakai, then rub well, so that it starts producing soapy elements and if you use this solution to wash your hair twice a week and you will get naturally silky hair.
Sunsilk Keratinology shampoo
If you want to achieve salon like treatment for your hair at home, then you can try this product of Sunsilk as it is specially produced for them who are suffering from dry hair and wasn't able to get any solution for that. It will help you in achieving not only silky hair, but it provides a bounce to your hair too.
Sunsilk perfect straight shampoo
This one is a boon for frizzy hair as it penetrates deep into the hair and helps your hair maintain its straightness even when it dries out. So all you out there who is having trouble in maintaining your untamed hair can surely give this one a try.
Apart from using these methods to get smooth and silky hair there are various other ways of achieving it. Just read on to unravel the tricks and tips that you can follow to get those lovely locks.
Cold water serves well

– If you thought the cold water was bad, then you were wrong as if you rinse your hair with cold water then you will actually be helping your hair to gain volume.
Conditioning is very essential – There is a simple trick that you can remember while washing off your conditioner from hair. Leave behind a certain amount of conditioner on your hair as it will help you to keep your hair smooth. There are some conditioners which are applied are not meant to wash off. If you have curly hairs then it is advised that you use these kind of conditioners on your hair to smoothen your curly locks.
Avoid blow drying – If you are in a hurry then only reaching out for the blow dryers otherwise try and dry your hair naturally. If at all if you have to use the dryers then use the coolers to dry your hair and avoid heat f drying as it tends to damage your hair.                                                                                                                                                                                                     Image by © Roy McMahon/Corbis
Comb with care – Never ever comb your hair when it is wet as it damages,the above layer of your hair. Let the hair dry and then comb, but make sure you do that using a wide toothed comb. Always untangle your hair from below and then move upward so that you don't face the problem of losing hair.                                                                                                                                                                                                                Image by © A. Inden/Corbis
Avoid heat – Stay away from straightening or curling or perming for that matter as it is quite harmful for your hair. If you are going out for this type of styling daily then before you realize your tresses will lose out on all natural components and will be damaged to such an extent that it will take a long time to repair it. In case if you have to use these techniques, then make sure that you use proper serum first so that it helps in saving your hair from extreme damages.
Stay away from chemicals – You must stay away from products which contain Ammonium Laureth Sulphate and Sodium Lauryl Sulphate as it is generally very harsh on your hair as they are industrial waste. It will be thinning your hair and you will also suffer from hair loss if you are using these products.
If you want some home remedy for your hair, then here are some options for you –
Hot oil massage – This one is a real old trick of getting a nice smooth hair and it is simple too. You just have to heat some oil and massage it 20 minutes prior to taking a bath. You can use olive oil, coconut oil or jojoba oil for treating your hair with some massage. Gently but firmly massage your scalp with fingertips so that the oil penetrates deep into the scalp and then keep your head covered with a shower cap or towel. Now wash your hair with some mild shampoo.                                                                                                                              Image by © Imagemore Co., Ltd./Corbis
Banana pack – Blend in well one ripe banana and yogurt and apply it from the crown to the tips. Keep this mixture on for 45 minutes and then wash it off with a shampoo. It will help you keep your hair smooth and silky all the way.
Apple cider vinegar – After you are done with your shampoo, rinse your hair off with the mixture of apple cider vinegar and water. Then keep it that way and you will see how it makes your hair shine.
Here are some tips that can help you get your hair smooth and silky at home. With the help of some product from the market and with some natural ingredients you can enjoy beautiful hair all along.