Gold Eye Makeup – Step by Step Tutorial for Beginners
Gold is a colour that is always associated with the royalty. This colour is bold enough to make a statement of its own. Many celebrities have experimented with gold eye makeup and looked absolutely stunning in it.  Try to incorporate gold colour in your eye makeup and will make your eyes pop. Gold eye makeup can make you stand out in a party. You can choose from a multitude of shades of gold and you will look stunning in this colour. Here is one of the simplest golden makeups that you can try at home and look gorgeous.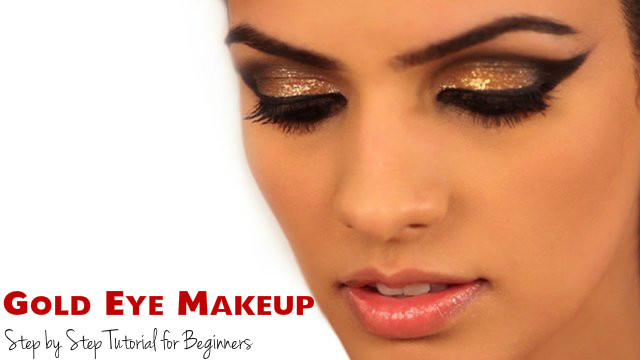 Gold Eye Makeup Tutorial:
Makeup materials needed:
Primer
Base shade
Dark brown eyeshadow
Gold eyeshadow
Liquid eyeliner
Kohl/Kajal
Concealer
Mascara
Golden Eye Makeup Step by Step Instructions:
Step 1: Eyelid Primer
Apply the primer on your eyelids. This will make your eyelids smooth and ready for the makeup. Applying primer is very important because it helps in keeping the makeup you apply on your eyes intact for a longer time. It also prevents the makeup from creasing.
Step 2: Shade Eyelids
Next you have to apply the base shade all over your eyelid. Put the base shade a little above the eyelids as well. This works as a transition shade and prevents the formation of any harsh lines between the gold and the skin.
Step 3: Transform your eyes with eyeshadow
Now you have to apply the gold eyeshadow on your eyelids. Pack on the eyeshadow on the inside of your eyelid as well as the centre of your eyelid. Blend it out near the crease. Make sure that no harsh lines are formed.
Step 4: Dark brown shade is trendy
After applying the gold eyeshadow, you have to add a dark brown shade to the outer corner of your eyes and then blend it into the crease. If you feel that there isn't enough colour on your eyelids, you can pack some more gold eyeshadow on the centre of the eyelid. You can also apply some of the gold eyeshadow on your bottom lash line.
Step 5: Conceal to cover up Imperfections
At this point, you will notice a lot of fallout from the eyeshadow. You need not worry about it. You can solve this problem easily. All you have to do is to apply a little bit of concealer over these areas. This will rectify the problem. Conceal the areas where you think there is heavy fallout and then blend it out well.
Step 6: Make winged eyeliner
To create a winged line, you can use a black liquid or gel liner. You can extend the wing or you may keep it simple. If you are going for a more dramatic look, you can extend the wing. For a more sober look, keep it simple.
Step 7: Kajal accentuates the eyes beautifully in one stroke
Apply kohl or kajal on your upper and lower water lines. This helps in giving your eyes an intense look. You can smudge out the bottom lash line a little. This will help in giving you a softer look.
Step 8: Mascara to eyelashes
Finish your eye makeup with the application of mascara on your eyelashes. This will help to make your eyes look longer and fuller.
Step 9: Shimmer makes your eyes and face super bright
This is optional, but adding a little shimmer to the inner corner of the eyes can make your eyes look brighter.
This is all that you need to do for the golden eye makeup. You can modify this look according to your needs. If you prefer a bolder look, go for a brighter pigment. To keep your gold eye makeup a little subtle, just leave it as it is. So, try out the gold eye makeup and see how it transforms you.
Other than using it as an eye shadow, there are also other Ways to Wear Gold
Chic and Glamorous Ways to Wear Gold:
Mix it with your lipstick:
Put on your favourite lip colour and then pat some pigment over it to get shimmery lip. This will make you look gorgeous at a party.
Create and unexpected cat-eye:
To create this look, first you have to line your eye with black liquid liner. Wing it out and then trace the top of the liner with the gold pigment. For this, you have to dip an angled brush in the mehron mixing liquid and then run it over the pigment a few times. Then you can create the cat-eye look.
Gild your brows:
You can even try it on your brows and look stunning. If you do not prefer golden eyebrows, you can still get golden with your arches. Take a brush and run it over the pigment a few times. Now run it over your brow hairs. This will add some sparkle to your brows. If you want to make it more intense, you can do so.
Use it on your cheeks:
You can highlight your cheeks with gold pigment. Just dab a little of the pigment onto your cheeks and this will highlight your cheeks.
Mix it with your nail colour:
You can mix a little of the pigment into your nail colour and then apply it on your nails. This will give sparkle to your nails. You may also apply the paint on your nails and let the paint dry. Now run your finger over the pigment and then over your nails. The gold will stick to the surface of your nail colour. Now apply another coat of your nail colour on your nails.