How to Create a Graphic Eye Makeup – Complete Tutorial
Are you bored of looking the same every day? Want a change? Then you can try something stylish and fresh. Here is a makeup look that is super sleek and modern. You may not prefer to wear it every day, but you can try it on a special day and look stunning. This graphic makeup is fun to try and looks amazing as well on you. You can try this makeup to match your geometric shirt or one of your abstract neck pieces. So, try it out for your college party or on an evening out with your friends. You are sure to draw attention! If you wish to know more about this makeup, read on.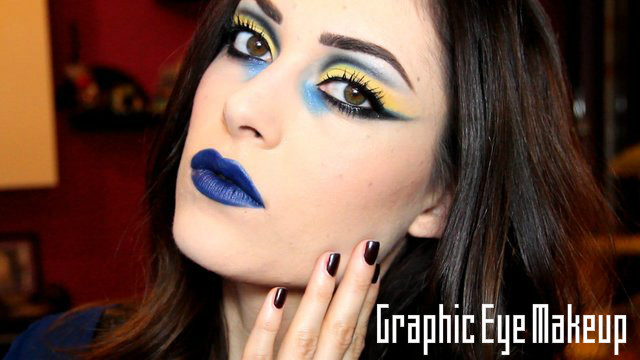 Image credits: Youtube
Modern and Colourful Graphic Makeup Tutorial:
Here is a step by step tutorial on how to wear modern graphic makeup and look amazing.
Step 1:
Start your makeup by applying an eye primer over the eye area. This helps in preventing creasing and fading of the eye shadows. After applying the eye primer, you have to draw a small triangular shape at the outermost corner of your eye. To draw this, start by connecting an imaginary line from your lower lash line to the brow bone area of the eye and locate the outermost v of the eye. Use a creamy kajal for this, as it helps you to blend the product easily later on. Lotus Herbals Kajal in Black is a good product you can use for this. As this makeup is graphic and modern, you can use a cellotape at the outermost corner of your eye. This helps in applying the eye makeup properly and also creates a sharp wing at the corner of the eye.
Step 2:
Next you have to create a thin line in the crease area of your eye. You can start by drawing small strokes from the innermost area of the eye and go all the way to the outermost corner of the crease. You can use the same Lotus Herbals Kajal in Black for this step also.
Step 3:
Now you have to take a smudge brush and blend the sharp edges in the eye makeup gently. You may also use a pencil type brush for this. Blend the kajal softly, with a light hand, inwards to the centre of the eye. But you have to take care to leave a small space empty in the moving lid of the eye. For this step, you can use Colorbar eye smudger brush.
Step 4:
In this step, you have to set the creamy kajal that you have applied, with a matte black shadow. This helps in improving the colour intensity and also sets the formula to prevent creasing. You may use the Kryolan matte black eye shadow for this purpose. Try to keep the crease area of your eye very sharp and neat for this makeup look. So, if you have messed your eye shadow or kajal, you can easily clean out the edges using a cotton swab.
Step 5:
Now take liquid eyeliner that is deep black in colour and mark out the crease area of your eyes. This helps in giving a sharp and clear graphic look you your eyes. You can rest your little finger on your cheeks for balance and then draw short strokes slowly using the eyeliner.  Kryolan Liquid liner in black is a good choice. After marking your crease area, apply a shimmery cream base to the centre of your moving lid area of the eye. This way you can add light to your eye makeup and also make your eyes look bigger. You can use Maybelline Color Tattoo eye shadow in Bad to Bronze.
Step 6:
Now pick light champagne coloured eye shadow in shimmer or satin finish and apply it above the cream shadow that you have applied earlier. You can use your fingers or a brush to apply the eye shadow. Apply creamy black kajal to the waterline area of your eyes and then it is time to apply the mascara. Give your lashes a thick look by applying the required amount of mascara on your lashes. Clean any fall outs and then give a sultry and neat look to your eyes by concealing your under eye area. Next you can highlight your eyes by applying a soft champagne or cream coloured shimmery eye shadow to the innermost corner of your eyes, brow bone area and the tear duct area of your eye. With this your graphic look eye makeup is complete.
So, try this out and be the centre of attraction at any party or special event you attend.
You can also check this GRAPHIC EYES Makeup Video from Mulac Cosmetics on how to get this done in a simple way.
Graphic Eyeliner makeup trends to try:
You can give a graphic touch to your cat-eye by extending the lines and creating sharp edges that is almost polygonal. A soft, slightly sheer finish can help in making it look less severe, and applying a light eye shadow on the lid while focusing on the crease helps in making your eyes look bright. For this look, you can use a pigmented eye shadow, like Urban Decay Eyeshadow in Blackout, and an angled brush to create the lines correctly.
If you love smoky eyes, you can infuse a graphic touch to your eyes by creating thin, pointed lines at the inner and outer corners. Line your upper and lower lash line very close to your eyes and then take it out through the corners. Use a fine-tipped liquid liner to keep the line precise. Next you can smudge a shimmery dark-gray eye shadow on your top lid and a little of it on the bottom.
If you prefer to add some colour to your eye makeup, you can do so. Apply a smear of cream shadow formula from the inner to outer corner of your lid, using your ring finger. Just follow the natural shape of your eye. Now you can clean up the outer edge to create a graphic look. For cleaning the edges, you can use a Q-tip dipped in makeup remover.