Green Tea and Acne – How to Use it for its Treatment
Is acne one of the major problems that you are suffering from? It can mar your otherwise beautiful face. Green tea can be very beneficial for the removal acne and making your face beautiful and glowing. First of all, let us learn about acne and how it is caused.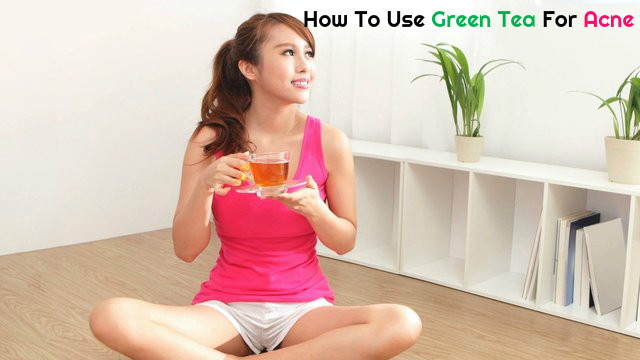 Acne is one of the most common skin conditions that most of us suffer from. Scars, plugged pores, scars etc are formed on the face, shoulders, chest and back. According to studies made, these scars usually appear during the puberty and it can remain till your 20s if you do not treat it in the beginning itself. There are over the top medicines and drugs, and oils to treat acne. There are also natural remedies for acne.
Green tea for acne on your skin:
Green tea has the ability to inhibit the production of sebum by 50%.
It is 50% more effective than benzoyl peroxide.
Green tea is full of antioxidants. Consuming green tea supplies you with these antioxidants. The polyphenols in green tea are chemical compounds that give green tea its antioxidant properties. You can consume green tea or apply it topically. In both cases you will get almost the same results. Antioxidants have the ability to fight against the free radicals on your skin, which can attack your skin cells.
For those who are very health conscious, decaffeinated green tea is now available in the market. This way you can stay assured that you are not consuming too much of caffeine. Green tea will act on the inflammations on the affected area and help in treating acne. You can take a green tea bag and dab the affected area with it, or you can drink a cup of hot green tea.
It is important that you always check your insulin levels as well as your blood sugar. Studies have shown that people with high carbohydrate levels in their body are more prone to disorders of the skin. If you are trying to reduce insulin and blood sugar levels in your body and bring them within normal levels, start drinking green tea. This is because green tea has the power to bring blood sugar under control.
Acne often leads to the appearance of rashes and scars on your skin. Green tea can reduce them by fighting against skin inflammation.
Green tea is also known for its antibacterial properties. This of great benefit for people suffering from acne. This is because acne is formed mainly due the activity of bacteria. Green tea is very effective for killing the bacteria because of its antibacterial properties. As a result, further skin damage is prevented.
Certain groups of hormones can be there in your body, which can play havoc on your skin and lead to various disorders of the skin, including acne. Green tea contains some constituents, having molecules that have the ability to bind on these sex hormones. This way they prevent these hormones from becoming 'bioactive hormones'. Scientists have therefore concluded that green tea has the power to fight cancer. This is because the hormones mentioned here have connection with prostate and breast cancer.
Consuming green tea can help in stimulating the release of cortisol, which is great for reducing stress. This way it helps in reducing stress-induced acne.
How to use green tea for acne scars?
Keep aside all other tea powders and start using green tea. Begin every day with a cup of green tea. According to studies made, having 3 to 6 cups of green tea daily can help you get rid of acne effectively.
Make sure that you always drink a cup of fresh green tea.
If you have blemishes on your skin, trying a green tea facial is very effective. All you have to do is to boil a pot of green tea and dab the green tea bag on areas of the skin affected with blemishes. You can also take some cotton, dip it in green tea and then apply on the affected area. Let it dry naturally and then you can wash it off with cold water.
Another way is to add some green tea to your gel or lotion. This way you will get a green tea-enriched beauty product that is very effective. Apply this on your skin.
Green tea mixed with honey is also good for treating cane. Raw honey can moisturize your skin and kill the bacteria causing acne. Steep green tea bag in boiling water for 3 minutes and then let the tea bag get cool. Open it and take out the leaves, and then add honey to it to get a paste. Wash you face with water and apply this paste on the affected area. Wash it off with water after 20 minutes. Using this regularly can reduce acne and give a refreshing look to your skin.
You can also mix lemon juice with green tea and use it to treat acne. Brew some green tea and take ¼ cup of green tea. Add the juice of 1 lemon to it. Now dip a cotton ball in it and apply it on the affected areas. Leave it on your skin for 10 minutes. It is better if you leave it overnight. Wash it off with cool water and pat dry. Drinking one cup of green tea, to which 1 tablespoon of lemon juice is added, gives you added benefits. Drink it twice a day.
Green tea mask is also good for reducing acne. Open the green tea bag and take the contents in it in a bowl. Grind them well with a pestle to get its powder. Mix 3 drops of tea tree oil and enough grapeseed oil with it to get a paste. Massage this paste on the affected areas with your fingertips, avoiding the skin around your eyes. Wait for 15 to 20 minutes or till it get dry. Now wash it off with warm water.