What is Hair Rebonding – How to do at home step by step Process
Hair is something that all women are conscious about. There are so many ways you can style your hair. Each person has got a different style, hair texture, length, and features. Most women complain that their hair is not manageable. You must have seen a number of ladies out there having smooth, straight, and frizz free locks. Everybody envies such hair. Moreover, all women want their hair to be manageable. This is the only way you can try out any hair style on yourself and make your hair stay in place. Frizzy hair is a common problem. After styling, it just stays for maybe a couple of hours. After that, your hair is back to the old self. All advertisements, models, and actresses sport a straight look on their hair, making it the latest trend. Nowadays, several young and middle aged women try their best to get that look on their hair. The want for poker straight hair makes them spend lots on permanent hair treatments. Hair Re-bonding is a common technique that women resort to. It makes your hair frizz free, manageable, and even beautiful.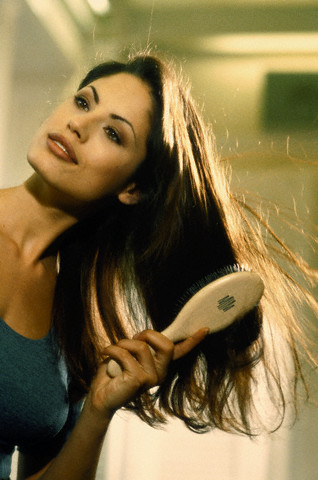 You can use a straightener to straighten your hair. But the effect is just temporary. Hair re-bonding is a similar technique. The difference is that chemicals are used in this case. There are natural bonds of cells in your hair. These bonds are broken when these chemicals are used. Then, they are re-arranged. This re-arrangement makes your hair straight and smooth. The bonds are broken by using a relaxant or softener. After that, a neutralizer I used to re-bond this structure. After re-bonding, your hair gets the bonding and texture that you desire.
Steps for Re-bonding your Hair at home: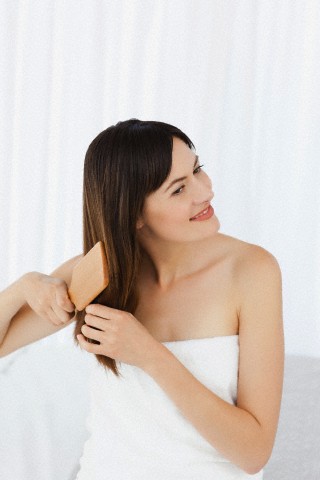 Re-bonding involves a number of simple and easy steps. Usually, the re-bonding process consists of the following steps.
In the first step, the hair is washed. A good shampoo is used to clean the hair completely. Make sure the shampoo is mild and is not too harsh on your hair. After the shampooing, the hair is rinsed well to get rid of any shampoo remaining. A conditioner is not used after shampooing. This is because it is used in the later steps. So, wash your hair and move to step 2.
Leave your hair to dry. You can sit under the fan and let it dry naturally. This is the best way to dry your hair. Naturally drying your hair is good for your hair. In case you are in a hurry, you can opt for a hair dryer. But be sure you use the medium settings. Do not put too much heat on your hair, as it can affect the quality.
Now, the actual process to re-bond your hair starts. Part and divide your hair in to a number of different sections. Depending on the volume and thickness of your hair, use as many partitions as needed. You need to decide the number.
Now comes the time to use the relaxant or conditioner. Take each section that you made, one by one, and apply the relaxant separately to each section. Make sure to keep your hair straight as you do it. Usually, people use thin plastic boards for keeping the hair straight. When you apply the cream, be careful to cover all parts. Each and every strand of your hair must get covered. You must not miss even one strand.
After applying the cream, leave it on to work on your hair. It works like magic on every type of hair. If your hair is normal or wavy, just 30 minutes may be enough for the cream to have its effect. In case your hair is too dry and frizzy, you may need more time. Be careful not to put on for too much time. If you increase the recommended time, it can spoil your hair. So, you must take enough care.
After the time is up, it is time to steam your hair. You need to devote about 10 to 40 minutes for this step. Depending on the condition and the texture of your hair, use it for how much time it is needed. Do this with utmost care.
Once you finish the steaming session, rinse your hair well. The entire product must be removed in this step. After rinsing, use a low dryer to dry your hair. Make your hair completely dry.
When your gets dry totally, use a keratin lotion. Apply this lotion to your hair and use a flat iron to iron your hair. Using this iron helps in straightening all the curls of your hair. The curls are made straight.
Once you finish the straightening, make partitions on your hair again. This time, use a neutralizer on your hair. This neutralizer sets back the bonds on your hair. The hair structure is stabilized after this step. Let the neutralizer stay on your hair for half an hour. After the time is up, wash your hair once more and blow dry.
When your hair gets completely dry, use a hair serum. Apply the serum to nourish your hair after the re-bonding session. After applying the serum on all parts of your hair, iron your hair. It gives your hair the straight look.
All these steps need to be followed exactly as they are, and with extreme caution. Carelessness in any step can cause damage to your hair. It is best not to try it alone. Get someone to help you out. Once you finish the re-bonding, you will get the beautiful, soft, silky, and straight hair you always wanted. Moreover, your hair becomes manageable, so you can try out any hair style. What more do you want to make yourself ready for any occasion?