Halle Berry Beauty, Makeup and Skin Care Tips & Secrets
Halle Berry is one of the most beautiful women in the world. She manages to look gorgeous and elegant even without any makeup. She may be in her 40s, but she is still young looking and radiant. Her natural beauty makes her one of the most admired ladies in Hollywood. If you want to know the beauty secrets of Halle Berry without makeup, read on.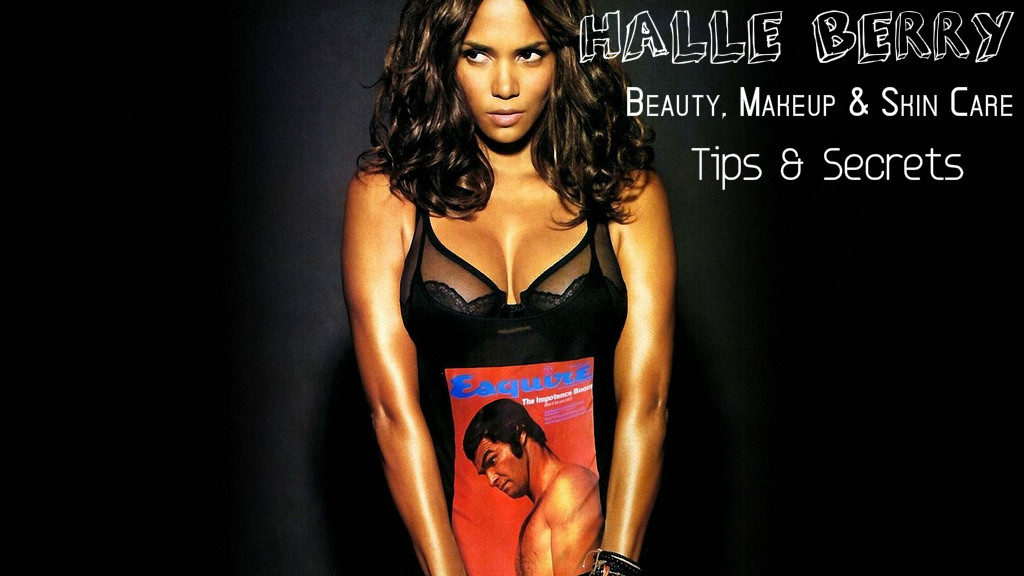 How Halle Berry looks beautiful without makeup?
The first photographs of Halle Berry without makeup made women all over the world envy her. Her features are perfectly balanced and shaped perfectly. As a result, even without makeup she looks stunning. In one of her photos, she is seen wearing a casual dress with a baseball cap put on her head. This is a look which is not very easy for many women to pull off. But Halle Berry manages to look fabulous in this look. She has proved that being natural is beautiful.
The next photo of Halle without makeup was in New York City at the 13th Annual EIF Revlon Run/Walk for Women in May 2010. She took part in it to raise money to fight cancer in women. She looked much younger than her age. Women were envious of her and wondering how anybody look so good without any makeup.
Halle Berry's Secret to Flawless Skin:
To look good without makeup, it is important that have a beautiful skin. Halle is blessed with a beautiful skin. Her skin is flawless and glowing on the screen as well as off the screen. With such glowing skin, no wonder she looks fabulous even without makeup.
If you want to know the secrets behind her flawless and glowing skin, she is ready to share it with you. She reveals how she maintains her skin and gives tips n how to lead a happy and beauty life, which in turn positively affects your skin.
Halle Berry's Anti-Aging Secrets:
To get a skin as flawless as that of Halle Berry, it is important that you take proper care of your skin. This makes you look beautiful even without applying any makeup on your face. One of the things that she is still doing without any change since her 20s is her skin care regimen. She cleanses and moisturizes her skin every day, morning and night.
To get a healthy and beautiful skin, you have to make sure that your skin is devoid of any dirt, grime or makeup. Cleanse your skin and remove all traces of makeup from your face before you go to bed at night. It is also important to keep your skin well moisturized, as this plays an important role in making your skin look young and glowing. Moisturising the skin adds to the radiance of your skin by keeping your skin well hydrated. When your skin is well hydrated, it helps in slowing down the appearance of fine lines and other signs of aging. This is a fact most women are not aware of. Cleansing and moisturizing are two of the best ways to take proper care of your skin.
According to Halle, if you take care of yourself, you age gracefully and it all stays together pretty OK.
Halle Berry Makeup Tips:
Makeup is something that Halle seldom applies. When she is not working, she does not wear makeup often. The daily must haves for Halle are lip balm and sunscreen. These two things are very essential for a woman and she should keep them always in her bag. If you want to keep your skin healthy and beautiful, it is very important that you protect your skin from the harmful rays of the sun. By applying the sunscreen, your skin is well protected from the rays of the sun. It wards off blemishes and wrinkles that are caused by the sun and also protects your skin from skin cancer. Lip balm gives protection to your lips and keeps them soft and smooth even if you do not apply any lipstick.
She says that when she is not working she does not really wear any makeup. She thinks that it is a good chance to give the skin a break. She takes so much care of her skin that she can go without any makeup. She shows that you need not require any fancy treatments to get a beautiful skin. Just take good care of your skin and that is all. You can then go without any makeup and look as stunning as ever.
Definition of Beauty from Halle Berry:
According to Halle Berry, true beauty comes from within. To bring out that inner beauty you need to remain confident and comfortable. Her advice is that just be confident and comfortable and stop caring what people think. Do what you want to do. It is your choice what to wear and what not to wear. This helps in increasing your confidence and your beauty.
When you are comfortable with who you are, your inner beauty will radiate outward and makes you look glowing and beautiful. Your skin will start to glow even without applying any cosmetic or going for any expensive skin treatments. Halle advises women not to hide themselves behind their makeup. Instead let their natural beauty come out.
So, now you know the beauty secrets of Halle Berry, try to follow her example and have beautiful and radiant skin. Halle Berry looks as gorgeous without her make up as she does when she is fully made up and dressed for the Oscars. Take good care of your skin and you will also get flawless skin that you will be proud to flaunt. Pamper your skin every morning and night by keeping your skin well moisturized. Protect your skin from the sun and always remember to remove all your makeup before you go to bed at night. By following these tips, you will also have a beautiful skin that will make you look gorgeous without applying any makeup.