Holiday Skin Care and Best Beauty Tips You Need to Know
Going on a holiday at least once every year is a must for one to forget about all tensions and stress, and unwind oneself. Some of us never learn to travel light, and pack more than what we really want. So, try to pack only what you need and not more. One thing you have to take acre is to pack a few essential skin care and beauty products with you when you go travelling. These help in keeping your skin looking healthy and beautiful throughout your holiday. They will not take much space and are very useful when the need comes.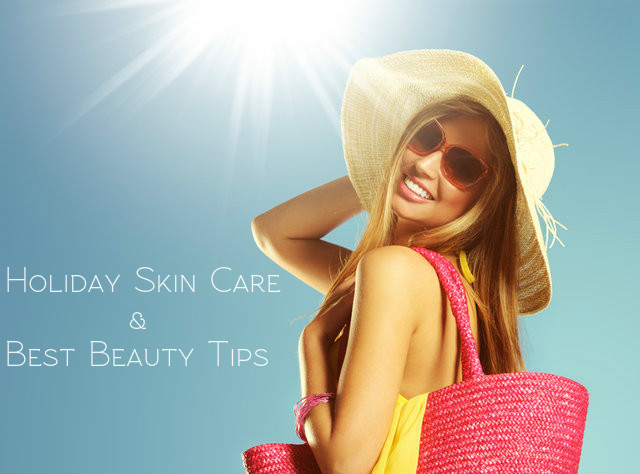 Travel can expose your skin to harsh weather conditions like the sun, dust, humidity and salt water if you are spending your holiday on the beach. If it is a hill station, then dry wind and dehydration can affect your skin. So, you should take proper care of your skin while travelling.
Holiday Skin Care and Beauty Tips:
Check your feet:
Sightseeing and walking on the beach can affect your feet. So, exfoliate and moisturize your feet daily.
Do you use a face mist?
Use face mist to deal with dehydration of the skin. It will hydrate and refresh your skin when you spend time outside. It can make your face look fresh and glowing.
Don't use foundation:
When travelling, no foundation could help your skin to regenerate and reduce dryness. So, it is better not to use a foundation, as it can make your skin look dry.
Daily skin care is important:
Clean your skin daily to protect it from dust, infections and other unwanted stuffs.
Moisturize and tone:
Use a good toner to control the oil formation on your skin, and a moisturizer to keep your skin hydrated and well nourished.
Oily skin needs special care:
If your skin is oily, it is more prone to dust, pollution and so on. So, use a good cleanser and lotion to keep your skin clean and fresh.
Protection  from sun:
Remember to apply a sunscreen on your face and other exposed parts of the skin at least 20 minutes before you go out in the sun, as exposure to sun for a long time can cause sunburns, tanning and wrinkles on your skin.
Regular cleaning of face:
Your skin is exposed to dust, pollution and other elements when you spend most of your time outdoors. So, wash and cleanse your face at regular intervals to keep your skin clean and fresh.
Use lip gloss instead of lipstick:
Lipstick can make your lips look dry and cracked. So, use a lip balm instead. This will prevent dry and cracked lips.
Here are some essential products that you should carry with you when you are travelling:
What to Pack? Summer Holiday Checklist: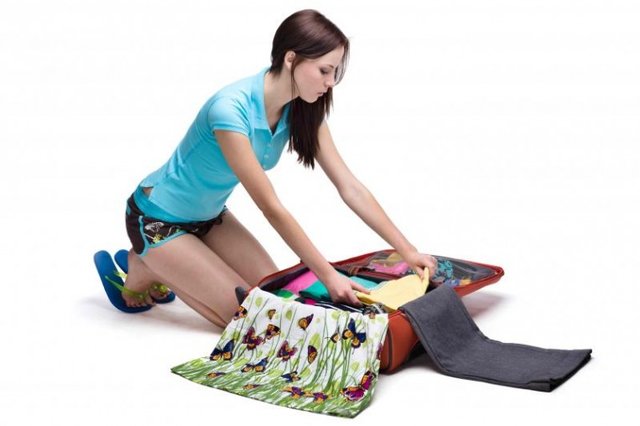 Concealer:
You should not forget to add a concealer in your makeup kit. It helps in covering the blemishes in your face and provides you an evenly toned skin.
Deodorant:
Deodorant is a must and you should never forget to pack it in your kit. During the holidays, your body is exposed to sun, dust and heat, and sweat a lot. So, it is very important that you apply a good deodorant before you go out.
Face Cleansing scrub:
Along with following the CTM routine, it is also important that you exfoliate your skin. It is all the more important when you travel, as your skin is exposed to pollution and dust most of the time. So, it is important that you exfoliate your skin every day. For this, carry a cleansing face scrub with you. This will remove dirt and dead skin cells and keep your face glowing. It also cuts down the production of oil on the skin.
Face pack:
Take your face pack also with you when on a holiday. This can help you tackle a lot of skin problems. Pick the right face pack that is suitable for your skin type. It helps in removing excess oil, flaky skin and impurities from your face.
Hair spray:
Extreme weather conditions can affect your hair badly. Using hair spray can keep your hair looking beautiful and well managed.
Hand sanitizers and antibacterial wipes:
Your hands touch a lot of things when you travel. This way, your hands may harbour bacteria and other germs. So, it is important that you carry a hand sanitizer with you to keep your hands clean and germ free.
Lip balm:
To have those lovely rosy lips, you have to take proper care of your lips. Spending time outdoors, especially in the sun, can make your lips dry. When the weather is cold, it can make the lips chap. So, remember to apply a good quality lip balm on your lips when you travel. This will keep your lips soft, supple and hydrated.
Moisturizer:
Whether you are travelling or not travelling, it is important that you use moisturizer. It helps in sealing the moisture on your skin and also replenishes it. So, make sure that keep a moisturizer with you. It will keep your skin look fresh, healthy and hydrated whether it is summer, winter, spring or autumn. Choose one that is suitable for your skin type.
Makeup wipes:
Sometimes it becomes hard to remove your makeup. In that case, using makeup wipes can help you remove the makeup effectively. So, never forget to pack it in your makeup kit.
Shampoo and conditioner:
Carry a good shampoo and conditioner with you when you travel. This way you can keep your hair clean and in good condition.
Sunscreen:
Never forget to pack your sunscreen when you are travelling. Make sure that you choose one with minimum SPF 30.
Under eye cream that works:
Under eye cream is a must when travelling. It can relax the skin below your eyes and make your tired eyes look fresh and bright. Just dab it before you go to bed at night.
Along with these beauty products, you should also carry a first-aid kit with you, containing antibiotics, antiseptic lotion, eye drops and some medicines for headaches, fever etc.