Homemade Hair Masks for Different Hair Types
Hair is that part of the body with which one makes a lot of experiments like straightening, coloring, cutting into different styles, perm and so on. But we do not take as much care of hair as we do the other parts of the body. Just shampooing the hair and conditioning it is not enough to have a healthy hair. Hair gets affected by pollution, dirt, sun's rays and many external factors. Besides these the stress we undergo also affects the health of the hair. As a result the texture of the hair changes and it becomes brittle and unmanageable. So it is necessary that you take proper care of your hair and ensure that it is kept well nourished, hydrated and healthy.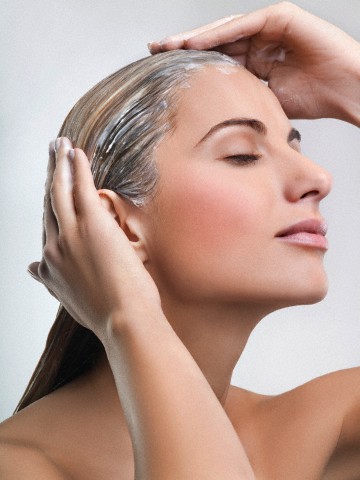 Hair is mainly of three types, which are oily, dry and normal hair. Each type of hair needs a different treatment. What is good for one type of hair may not be good for the other type.
Here are three different hair masks that you can make at home for dry, normal and oily hair:
Homemade Hair Mask for Dry Hair:
The problem with dry hair is that it is too frizzy and not very manageable. The mask for dry hair helps you to get hair that is easily manageable and soft. It also keeps your hair hydrated and smooth.
Take four skinned almonds and blend well with half tablespoon rose water and make into a paste. Now add 4 tablespoons of honey to this paste.
Beat 2 tablespoon of cream and make it slightly fluffy in nature.
Now mix this cream with the honey-almond paste and mix all of them well. After mixing, apply this on your hair, from the root of the hair to the tip.
Let this paste stay on your hair for at least half an hour. If you can keep for 1 hour, it will be all the more better.
After that wash your hair well with cold water and remove all the paste form your hair.
You can wash your hair with a mild shampoo and then let your hair dry.
Homemade Hair Mask for Normal Hair:
Mask for normal hair is the easiest mask that you can make at home and you can keep it in the fridge for about one week. Due to various factors the health of your hair may be affected and it becomes undernourished. This mask helps to get back the lost nutrition and health of your hair rejuvenates your hair, making it soft and lustrous.
Separate yolk and white from an egg.
Now add one teaspoon almond oil, 1 teaspoon fresh lemon juice and one teaspoon of honey to the yolk that you have separated. Mix everything well and apply this mixture thoroughly on your scalp.
Now take the white of the egg and add 4 tablespoons of flat bear to it. Beat well for about two minutes and then apply this mixture well on your hair, from the root to the tip.
After applying this, take a shower cap and cover your hair with it. Wait for about 30 to 40 minutes and then you can wash it off.
Use a good quality shampoo and wash off all the oil from your hair and air dry your hair.
This will make your hair silky and well nourished. It also adds more volume to your hair and your hair will look healthy and glowing.
Homemade Hair Mask for Oily Hair:
Majority of the people tend to avoid using hair masks on oily skin fearing that it may make their hair even oilier. But the hair mask that we are describing below is specially made for people with oily hair and therefore excellent for the oily hair. This mask helps in controlling and reducing the secretion of oil in the hair and at the same time keep your hair well nourished and healthy.
Add one large pinch of fruit salt to one teaspoon of plain water. If you do not have fruit salt at home, you can use eno or baking soda in its place.
Make a paste of 2 amlas and ad this paste to the water. Instead of amlas you may also use the white of an egg, which s beaten well till soft peaks are formed.
Now apply this mixture on your hair from the root to the tip. You must take care not to apply it on the scalp.
Wait for 20 to 30 minutes and the wash well with water so that residue is left.
Then clean the hair with a good shampoo and air dry your hair.
This will make your hair soft, bouncy and manageable.
Few Tips to Maximize the Benefits of Hair Masks:
Always shampoo your hair and then apply the mask. as clean hair absorbs nutrients better than unclean hair.
Apply the mask on the hair from roots to the tip by separating your hair into sections, so that no part of the hair is left without the mask.
After applying the mask, tie your hair in a bun so that the mask does not fall off from the hair.
Cover with a shower cap and wait for about 15 to 30 minutes.
Then remove the cap and cover your hair with a hot towel for 5 minutes. This will open the pores of the scalp and increases the absorption of nutrients.
Now take away the towel and let the sweat on the scalp dry.
Wash your hair well with water and dry with a towel. As you have already shampooed your hair, you need not shampoo again. The mask acts as a conditioner for your hair. Do not rub but pat dry your hair. This will prevent any damage to your hair.
Try these masks on your hair and you will get healthy and shiny hair that you will be proud of.