How to Get Rid of Dark Spots on Your Hands and Legs
Other than your face, your hands are the parts of your body that are most exposed to the sun and other environmental conditions. But we take a lot of care about our face and tend to ignore hands. You may use a number of creams and sunscreens on your face but neglect your hands.  This is the reason why most of us have dark spots and patches on the hand. These make your hands look ugly and unkempt after a long time. The reason for the appearance of dark spots on hands is exposure to the sun. So we will discuss about some measures to treat dark spots on hands and get a hands that are beautiful and without any dark spots or patches.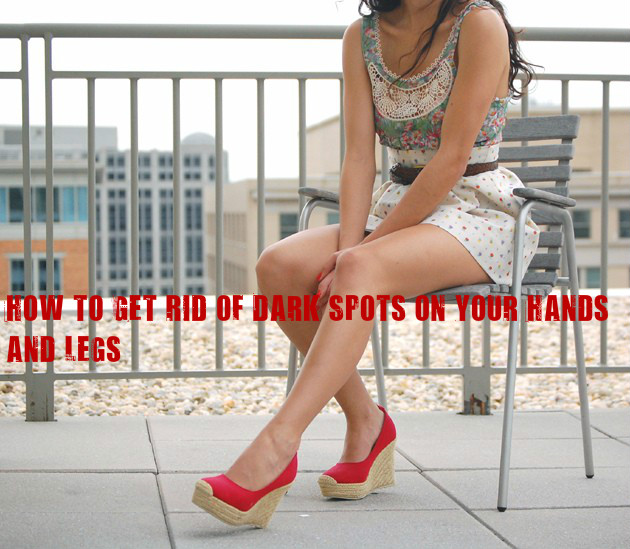 Best Home Remedies for Black Spots on Hands and Legs:
Home Remedy 1:
Aloe vera is known s the magical plant and has lots of skin benefits as well as health benefits. You can treat dark spots and patches on your hand by applying pure aloe vera gel directly on your hands. Apply this regularly for removing dark spots. It is also very effective in making your skin supple and improves the texture of the skin on your hands. During winter times you can mix aloe vera pulp with the moisturizer or cream that you use regularly and then apply this on your hands. If you go out, you may mix aloe vera pulp with the sunscreen that you use. This will protect your hands and legs from the sun and also prevents dark spots from appearing on the skin.
Home Remedy 2:
Potato and onion are very effective in removing dark spots on hand. Take some slices of potato and onion and make them in to a fine paste using a blender. Apply this paste on your hands and then wait till it gets dry. Rinse off with water. This is natural bleach and helps in lightening your skin. If you use it regularly, you will see that the dark spots and patches on your hands and legs get lighter within a few weeks.
Home Remedy 3:
Another easy way to remove dark spots and patches on your hands is to use Vitamin E capsules. Vitamin E, as you know, is great for your skin. You can use Evion capsules to treat your hands and get blemish free skin. Cut open the capsule and apply the vitamin oil on areas where there are dark spots and dark patches. For best results you may leave it on your hands and legs overnight. With regular use you will soon get positive results.
Home Remedy 4:
Cut cucumber in to slices and take the juice of cucumber. Mix this juice with some drops of lemon. Apply this on your hands and wait for 10 to 15 minutes, so that the skin absorbs the nutrients present in it. Rinse off with water. This also has skin lightening properties and is excellent for removing dark spots and patches on your hands. Instead of lemon juice, you can add curd to grated cucumber or cucumber juice and apply on your hands. This provides you beautiful hands and legs with flawless skin if you use it regularly.
Personal Treatment for dark spots on hands:
This is what I tried to remove black spots from my hands. Take Brihans GreenLeaf Pure Aloe Vera Skin Gel and mix it with the Lotus Herbals Whiteglow Skin Whitening & Brightening Hand and Body Lotion, which has an SPF of 25 and PA+++. Because of the presence of sun protection factor in this lotion, you can use it during the day time also. This combination of the two lotions worked well on my hands. All you have to do is to take small quantities of both lotions on your hand and then blend them well. Massage your hands with it and wait for some time before you wash off. Use this regularly and this will provide you blemish free hands.
Medimix with Sandal and Eladi 'oils Bathing Bar is also effective for removing dark spots on your hands and legs. This is one of the best products for removing blemishes on your hand and to keep your hands and legs looking beautiful and supple.
One thing you must take care to do is to exfoliate your hands at least once in a week. Follow this by applying a good moisturizer. This will make your hands well-nourished and hydrated. You can make a hand scrub at home using natural ingredients. Take some olive oil and mix it with sugar and a few drops of lemon juice. Scrub your hands with this till all the sugar granules dissolve. Wash off with plain water. Lemon has the ability to lighten your skin as it has bleaching properties. Olive oil keeps your skin well moisturized and supple. Sugar makes a good scrub and removes all the dead skin cells as well as dirt and grime from your hands. Instead of this homemade scrub, you can also use Oriflame Renewing Hand Scrub, if you do not have time to take the ingredients and mix.
You cannot remove dark spots on your hands and legs in a day. It takes its own time and so you have to be patient and consistent in your effort. Treat your hands and legs by exfoliating them regularly and finally you will get hands with a skin that is free from any dark spots and patches.
Remember never to step outside without applying a sunscreen on your hands. When you apply sunscreen o your face you can apply some on your hands also. Even if the sun is not shining brightly or it is a cloudy day, you have to apply a sunscreen lotion before you go out in the day time. Take care of your hands and love your hands as much as you love your face. This will ensure that you have beautiful hands without and blemishes.